NEWSLETTERS SIGNUP
Enter your e-mail
to get our latest news.
Mattress, Pillow & Bedding Samples
$50.00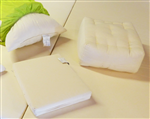 Brand: White Lotus Home
SKU #: ORGANIC
ORGANIC & NATURAL MATTRESSES, PILLOWS AND BEDDING SAMPLES
FREE SHIPPING on all White Lotus Home Organic and Natural Bedding Samples, in the continental (lower) US!
Shipping to: Alaska, Hawaii and International is available by calling, or after placing your organic bedding order online. We will simply get back to you with the best quote.
Since we understand how hard it is for our customers to make a decision without seeing, feeling, smelling or trying out our organic products, we offer some FREE samples and paid samples of everything we handcraft in the USA. Now you can order samples of:
Our fabrics: we can send you small swatches before you pick your cover
The organic and natural fibers we used to make cushions, mattresses, pillows and bedding
Our mattresses, yes an actual small chair cushion size sample of how your organic or natural mattresses will look and feel like, before you purchase it.
Our bedding, sheets, duvets, covers etc...
Think of something, let us know and we will see if we can send you a sample
No samples of non-bedding items are available, like wooden furniture
Please contact us at info@whitelotus.net if what you need samples of, is not listed here. You can also call 732-828-2111
Natural and Organic Samples
This Natural and Organic Fibers Samples Set will include:
A handful of 100% US Organic Cotton
A handful of US grown GREEN Cotton
A handful of Kapok
A handful of New Zealand Virgin Wool
A handful or 100% Organic Buckwheat Hulls
All these fibers are chemical FREE and have no chemical fire retardants added to them. They will be individually bagged with full descriptions. We do sell all our raw goods by the pound or in bulk. View our Ingredients page or contact sales@whitelotus.net for more information.
The pillow set will include a hand size pillow in:
100% Organic Cotton
100% Organic Buckwheat Hulls
Kapok
Wool
The Mattress Samples include:
A seat cushion size of how our mattresses look, feel, smell etc... They are about 16x14x6 for standard sample mattresses, they may vary an inch +/-...This will offer you a good idea of what you may get when you place your order. We send these out all the time and know that it makes it easier for our customers to make a better natural bedding decision.
As a special offer to you, please note that all costs to our customers for sample purchases can be redeemed as a credit toward the future purchase of White Lotus Home hand-crafted products and will be good for 1 year from the date of ordering the sample. Please mention this upon ordering.
PLEASE NOTE: Only two mattress samples can be used for each mattress purchase . If you buy three samples, the third sample would have to be used towards another item or mattress.