NEWSLETTERS SIGNUP
Enter your e-mail
to get our latest news.
Natura Washable Wool Fitted Mattress Pad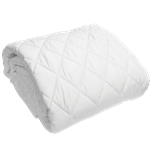 $223.00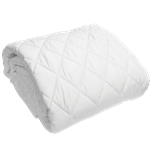 Brand: Natura World
SKU #: TBD
100% ORGANIC MATTRESS PADS & MATTRESS PROTECTORS

Organic Cotton Fitted Mattress Pads made by NATURA World.
All our Organic Mattress pads ship for FREE in the continental US!
Shipping to: Alaska, Hawaii and International is available by calling 732-828-2111, or after placing your organic bedding order online. We will simply get back to you with the best extra fees for shipping to these non continental US areas.
100% Organic Cotton Fitted Mattress Pads are made:
Super natural, they are free of chemicals, pesticides and dyes
The fill is Certified 100% organic cotton fill
The cover is unbleached, 100% organic cotton sateen cover and fill
CARE: Can be washed in cold water and either hung to dry or used the air/low dry setting on a dryer please.
Available Sizes:
Twin, Twin XL, Full, Queen, King, Cal King
100% Organic Cotton NATURA Mattress Pad
100% Certified Organic Cotton fabric
Finished with quilted squares
Accommodates mattresses up to 15" in depth
These organic mattress pads can be washed over and over and will last for many years
* Please note that WLH does not manufacture NATURA World products.