NEWSLETTERS SIGNUP
Enter your e-mail
to get our latest news.
Organic or Natural Cotton Crib Mattress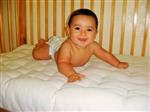 $456.00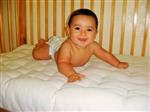 Brand: White Lotus Home
SKU #: NOOCMUM0088
NATURAL AND ORGANIC CRIBS MATTRESSES, US MADE
FREE SHIPPING in the lower 48 states, on all White Lotus Home Organic or Natural Crib Mattresses!
White Lotus Home organic or natural crib mattresses are made differently than any other crib. We have worked for over 33 years, on making a product that is both safe and natural for your baby. For more information please click here.
Why should you strongly consider a White Lotus Home Natural or Organic handmade crib mattress?
Q: Why are the crib mattresses more expensive than the White Lotus Home toddler mattresses, especially since they are normally used for a short time? Our White Lotus Home Organic or Natural crib mattresses are made very firm, this is done to help reduce SIDS and it takes, three days to complete one White Lotus Home crib mattress. We first put in extra layers of cotton, almost twice as many as a standard toddler mattress. After we include 18-20 layers of cotton, which is about 26-30 inches thick when the cotton is nice and fluffy, we then have to compressed the crib for 3 days, so that it compacts into a 3.5 inch thick solid firm mattress. This is very labor intensive but it is the only way to get a very firm natural or organic crib mattress. Like all other White Lotus Home mattresses, you can add a topper to our crib in the future and use it until the baby is ready for a big boy/girl bed which could be 5-6 years later. This crib could also be used as a cushion later on, just by adding an organic or natural cover which we hand make, so your crib can last over 10 years. When you are done using it, you can recycle it by using the cotton as fertilizer or offer it to your local wild life refuge and wild animals can use the fibers to create their nest... So at the end, your crib could last for ever!
CRIB MATTRESS (28"x54"x3.5). Other products sizes and weights
Here are 3 types of Natural and Organic Crib mattresses, you can feel better about!
The MOST Popular Crib Mattress sold at White Lotus Home is: The Organic Cotton and Wool Crib Mattress. We also call this cotton and wool option, the Dreamton. You can buy a Dreamton Mattress to avoid any chemicals to pass the fire test, or the need for a doctor's prescription. Wool acts as a natural fire retardant. This mattress is made with USDA Certified Organic Cotton and the outer fabric is also 100% USDA Certified Organic Cotton. This is the most organic mattress you can buy.
The 2nd MOST: The Green Cotton and Wool Toddler Mattress: We also call it the Dreamton. You can buy a Dreamton Style Mattress to avoid chemicals or the need for a doctor's prescription, since the wool acts as a natural fire retardant. This mattress uses locally grown cotton that is not USDA organic certified but it has not been processed or washed, we call this, Green Cotton.
White Lotus: The All Cotton Crib Mattress: This hand made in the USA all cotton toddler mattress is a great alternative to traditional toddler mattresses. As you may know, traditional mattress manufacturers use many harmful chemicals in their mattresses. This toddler mattress is made of US grown green cotton and is wrapped in a sturdy 35% Poly/65% Cotton case. To ensure compatibility with Federal Flame Retardant Laws, the cotton in this Mattress is treated with borate powder, which has been shown to be less harmful than table salt. This toddler mattress is also offered without borate, if you provide a doctor's note.
All of these crib mattresses fit in a crib frame and offer a safer night sleep.
Puddle pads are highly recommended to keep your kid's mattress fresh and natural...