NEWSLETTERS SIGNUP
Enter your e-mail
to get our latest news.
Organic Buckwool Pillows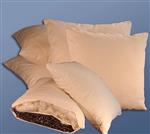 $41.00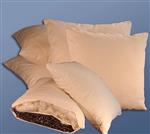 Brand: White Lotus Home
SKU #: OBAWP0069
100% ORGANIC BUCKWHEAT AND WOOL PILLOWS
FREE SHIPPING in the continental US! All prices are below...
Now you can discover what ancient cultures have known for hundreds of years, and White Lotus has known for a quarter century! Buckwheat hulls are amazing!

Our buckwool pillows are handmade with half the pillow filled with organic buckwheat hulls and the other half filled with Virgin Lambswool.

The wool allows a sleeper to rest their head onto the pillow without making direct contact with the sometimes-rustling hulls. If you prefer the molded-feel of the hulls, you can just rest your head on that side. Luxurious options for comfort, one soft and one supportive and firm.

Made with grown in the USA 100% Organic Buckwool hulls and encased in 100% organic cotton.
How Organic Pillows are made in the USA!
These pillows have been known to help people achieve a better night's rest by reducing neck pains, lower back aches, and even insomnia caused by discomfort. The secret is inside the pillow: buckwheat hulls conform to your body, evenly distributing the weight that is placed upon it so that you are given maximum support and comfort while allowing air to circulate. Great for resting, or just lying in bed with a good book, our buckwheat pillows will provide you with many nights of sound sleeping.

Can I wash my White Lotus Home pillows? We recommend spot cleaning or dry clean but for a $8.00 fee, we can include zippers in your pillows, allowing you to restuff them or remove some of the fiber to better meet your comfort preference as well as remove all the fibers so that you can wash the case and have a pillow for a long time. Need samples or to buy 100% organic buckwheat or pillows in bulk, let us know info@whitelotushome.com.

NOTE: Because White Lotus Home does not add perfumes, formaldehyde, or dyes to our natural fibers and materials, some of our items will retain their natural scent. Samples of all of our fibers are available for free by contacting our sales department by email, info@whitelotushome.com or by calling 732-828-2111.