Organic Barrier Cloth Sheets
OBCS020
Sleep Safe NOW Pay Later!
?
Barrier Cloth is on Backorder date is Undetermined.
100% GOTS Certified Organic Cotton Barrier Cloth Fabric
Super dense weave designed to keep your mattress safe and protected.
It can be easily removed and is machine washable (cold water, hang dry).
Handmade in the USA - CUSTOM sizes available.
The Organic Cotton Barrier Cloth fabric used in this product is GOTS Certified and Imported from Pakistan.
While we have not tested this fabric for bed bugs, we know it helps keep dust mites away!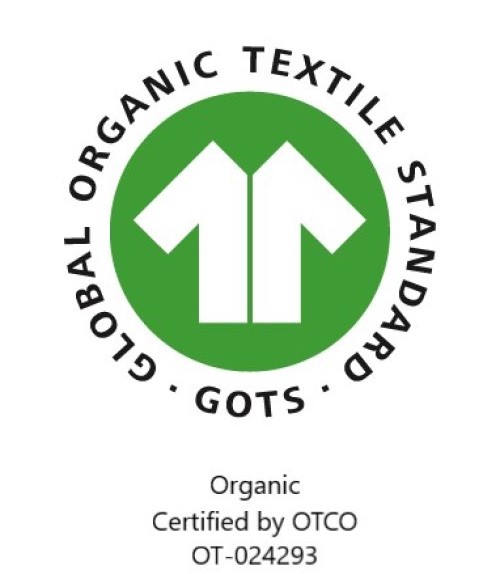 View our GOTS organic certificates for
Organic Tilth (OTCO
).
Complete Sets

Crib Sheet Set

(1 Fitted, 1 Flat)

Twin Sheet Set

(1 Flat, 1 Fitted, 1 Std Case)

Full Sheet Set

(1 Flat, 1 Fitted, 2 Std Cases)

Queen Sheet Set

(1 Flat, 1 Fitted, 2 Queen Cases)

King Sheet Set

(1 Flat, 1 Fitted, 2 King Cases)
Type
Size
Fitted Sheet
Crib
28 x 54 x 6
Twin
39 x 75 x 15
XLTwin
39 x 80 x 15
Double
54 x 75 x 15
Queen
60 x 80 x 15
King
76 x 80 x 15
Cali King
72 x 84 x 15
Flat Sheet
Crib
42 x 72
Twin
66 x 96
XLTwin
66 x 102
Double
81 x 96
Queen
90 x 102
King
104 x 108
Cali King
108 x 102
Slip-on Pillow Cover
Standard Slip-On
20x26
Queen Slip-On
20x30
King Slip-On
20x36
Body Slip-On
20x72
Travel Slip-On
12x16
16 X19 Slip-On
16x19
How will my order ship? Will I be able to track my order?
White Lotus Home offers free shipping within the contiguous United States.

Most orders are shipped via FedEx. When the items leave our facility, you will receive automated tracking information via FedEx. If you do not receive this information, please do not hesitate to email us and our staff can provide a tracking number.

Exceptions are as follows:
Large orders within 100 miles of our manufacturing facility in New Jersey are eligible for complimentary White Glove Service. If your order qualifies for delivery, our Coordinator will contact you via email at least 3 days prior to your tentative appointment window. For additional information and to see if you qualify, please see here.
Furnishings outside of our delivery range will ship directly from the manufacturer unless otherwise notified. We will forward tracking information as it becomes available to us.
Orders shipped internationally, to Alaska and Hawaii, or to APO Boxes may be shipped via the United States Postal Service. Tracking is available upon request.
Certain items, particularly King Mattresses, may exceed the 150 pound limit for FedEx ground shipments and may need to be sent via FedEx Freight or a private shipping company. We will forward tracking information as it becomes available to us.
Do you ship outside the U.S.?
We are happy to offer our handcrafted mattresses and bedding to those outside the United States.

For orders to Alaska and Hawaii, an additional fee may apply. Upon receipt of your order, we will contact you with an estimated shipping cost --- typically around 10-15% more than your original total. Alternatively, you may reach out to us before placing your order for a quote.
For Canadian orders, shipping costs can range between 5% and 25% of your order total, depending on your location. Kindly contact us for a shipping quote prior to placing your order. Please note that most of our soft good products (mattresses, bedding and pillows) fall under the North American Free Trade Agreement (NAFTA) and you should pay little or no tariff cost. Please have the following notice handy when you are receiving your products or dealing with your broker in Canada:
NAFTA: I HEREBY CERTIFY THAT THE GOOD COVERED BY THIS SHIPMENT QUALIFIES AS AN ORIGINATING GOOD FOR PURPOSES OF PREFERENTIAL TARIFF TREATMENT UNDER THE NAFTA.
International buyers may request a shipping quote by email prior to placing an order. We can be reached by email at
info@whitelotushome.com
. Please be aware that the each country has the authority to levy fees, tariffs, and taxes on imported goods. These are left to the discretion of the individual governments and varies from country to country. Foreign tariffs and taxes Sare not visible when purchasing postage and therefore, we cannot provide a quote for these fees. It is the responsibility of the addressee, as he or she was the purchaser of imported goods.
Additional information can be found on our
Shipping Page
.
Cleaning Sheets & Covers
Sheets and covers may be washed in cold water on a gentle cycle and dried on low, though line drying is preferable.
Review Frequently Asked Questions on Product Care Instructions.
What do you think of this product?
Share your thoughts with the White Lotus Home community.
Ira B (New York, New York)
July 07, 2021
Roberta M (Hood River, Oregon)
December 07, 2020
Excellent material used on the barrier cloth.
Paulette D (Saskatoon, Saskatchewan)
June 05, 2020
Used for bedding this high quality product Is suitable for those who which to protect their mattress and themselves from dust and allergens
Lily G (Alameda, California)
August 03, 2019
This is my second time ordering these sheets. They are smooth, crisp, yet soft. Better yet, my cats love lounging and napping on them -- and so do I!
Lindsay M (Brentwood Bay , British Columbia)
June 26, 2019
Caroline Wyrosdick-Webb
April 23, 2018
We have been using this barrier sheet for the past week on our son's organic mattress that we also purchased from White Lotus Home. We love this barrier sheet because it seems to be of good quality material and protects the mattress very well (our three year old sleeps on this mattress and barrier cover). We are so grateful to White Lotus Home.
Kathleen F (Evanston, Illinois)
February 09, 2018
Best ever! Wonderful fabric and workmanship
Can this be used in place of barrier cloth with zipper for mattress protection from dust mites ect.?
Hello and thank you for your inquiry.

Customers do purchase barrier cloth sheets as a layer of protection for their bedding. In order to provide full protection against dust mites, we would suggest that you use our Organic Barrier Cloth Mattress Protector. It is handcrafted from the same tightly woven fabric but encases the entire mattress with a zipper that goes on 3 sides of the cover. Let us know if you have any further questions by emailing us at info@whitelotushome.com or calling 732-828-2111.