Buckwheat filled ZAFU Meditation Pillow in Natural Barrier Cloth -WLH C
BWZAFUWLC058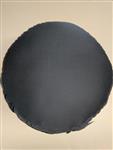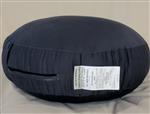 Sleep Safe NOW Pay Later!
?
Barrier Cloth is on Backorder until the end of OCTOBER 2021.
Buckwheat Zafu (11D x 7H)
Zafus have been used for meditation since the early 1900s. Used for cross-legged and kneeling postures. Buckwheat hulls are more pliable than kapok, shifting more readily to where you want them; the cushion can be shaped to your preference, while still providing good support for your lower back.
100% Buckwheat Hulls
Buckwheat hulls are the shells derived from buckwheat plants. Naturally resistant to pests and competitive with weeds, buckwheats are a sustainable crop to grow and require very little input from the land to mature. We source buckwheat hulls to ensure our happy customers never come into contact with pesticides in their pillows.
Outer Casing
100% Organic Barrier Cloth Fabric
What do you think of this product?
Share your thoughts with the White Lotus Home community.