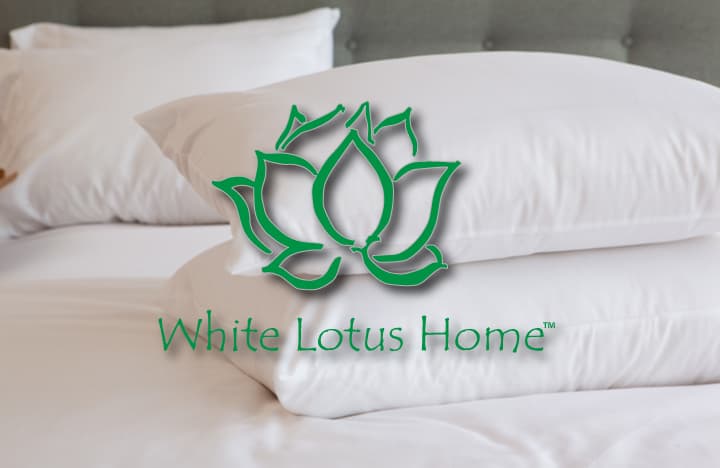 FIND THE PERFECT PILLOW
Whether you're preparing for the new school year or replacing your tried-and-true favorites, now is the perfect time to stock up on handcrafted pillows by White Lotus Home!
How to Choose a Natural Pillow...The best inner fill for your needs would depend on your comfort level. Do you enjoy a firm, dense pillow, or something fluffy and giving? Do you look for a pillow with a low profile? Do you like the feel of a traditional pillow, or are you open to organic buckwheat? Each fiber has its own "personality", and our Organic Bedding Professionals are here to help you find your best match.
Let's find a match...

Our Kapok pillows are our number-one best-seller! Due to the luxurious feel of the fiber, these universally beloved pillows work well for a wide range of individuals, from those who prefer something soft and giving to those who need some support from their sleep surface.

Kapok is a vegan, sustainable fiber from the ceiba tree that offers a similar feel to down. Unlike feathers and down, however, Kapok has many hypoallergenic properties and ethically sourced. In our experience, many individuals with chemical sensitivities, as well as those with physical challenges, do well with Kapok pillows.

Our Organic Cotton pillows offer a dense, even surface. Cotton pillows are breathable and work well for those who prefer a firm-yet-supportive feel.

Our Wool Pillows are wonderful for those who want an even surface like cotton but the fluffiness of kapok. Those with allergies are quick to pick wool, as the fiber itself is naturally dust-mite resistant. Our pure, virgin wool is soft, resilient, and naturally regulates body temperature.

Do note that due to the nature of the fiber, wool may compress with time. Therefore, we strongly encourage our customers to add a zipper to their wool pillow, as this can extend the lifespan of the product.

Organic Buckwheat

& BuckWool




Our Organic Buckwheat and Buckwool pillows utilize the three-cornered hull of the buckwheat seed in a pillow that is firm yet supportive. The hulls allow air to flow through the pillow, keeping your head cool and dry.

The beanbag-like fill contours to the head and neck, providing excellent support. While certainly a different "feel" from conventionally fluffy pillows, many of our customers with neck and back issues have found success with our Buckwheat and Buckwool pillows!

Our Shredded Latex pillows are temperature-neutral, dust mite resistant, and naturally antimicrobial. Our natural Dunlop latex provides ample neck and head support without causing overheating. Unlike many other fibers, the latex holds its shape for many years without harboring allergens.




Change it up!
All of our pillows are offered with or without a zipper. If you are unsure of which firmness to purchase, we recommend you select pillow with a zipper. The zipper allows you to adjust the inner fibers to reach your own personal comfort level, as you can add or remove filling to your liking.
Many pillows, such as cotton and wool, may compress over time: purchasing a pillow with a zipper allows you to add fibers back over time to maintain your preferred level of comfort. Others, such as kapok, may absorb the healthy oils from your face and hair and may benefit from the occasional manual readjustment. Consider it insurance for your bedding!