NEWSLETTERS SIGNUP
Enter your e-mail
to get our latest news.
Organic or Natural Cotton Toddler Mattress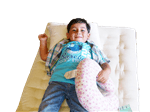 $416.00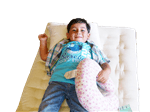 Brand: White Lotus Home
SKU #: OONCTM0089
ORGANIC OR NATURAL COTTON TODDLER MATTRESS
FREE SHIPPING in the continental US for all handmade White Lotus Home Toddler Mattresses!
Here are four natural and organic Toddler mattresses, you can feel better about!
The All Cotton Toddler Mattress: This hand made in the USA all cotton toddler mattress is a great alternative to traditional toddler mattresses. As you may know, traditional mattress manufacturers use many harmful chemicals in their mattresses. This toddler mattress is made of US grown cotton and it includes a sturdy poly/cotton case. The fabric to make this case uses 35% Poly and 65% Cotton. To pass the Fire Retardant tests, the cotton includes borate power, which is a white powder less harmful than table salt. This toddler mattress also comes with out borate. If you get a doctor's prescription, we can make you one with out FRs.This mattress is semi firm.
The Cotton and Wool Toddler Mattress: We also call it the Dreamton. You can buy a Dreamton Style Toddles Mattresss to avoid the borate or the need for a doctor's prescription. Our dreamton mattresses have wool as the outer most layer. The wool acts as a natural fire retardant and you do not need a doctor's prescription to order one.This mattress is semi firm.
The Organic Cotton, Latex and Wool Toddler Mattress: This has to be the best mattress you can buy your toddler. It is supportive, not firm but not too soft. It includes a 3 inch, Natural Talalay Latex core which will can last for over 15 years. The Cotton is USDA Certified Organic, it includes wool as the natural fire retardant and the outer fabric is 100% Organic Cotton. Made in USA and by hand just for your baby.
The Organic Cotton and Wool Mattress: This mattress is just like the Cotton and Wool described above but the main difference, is that the cotton is USDA Certified Organic and the outer fabric is also 100% Organic Cotton. This is the most organic mattress you can buy for sure.
All of these toddler mattresses fit in a crib frame and offers a safer nights sleep.