CONTACT US

We are here to help you save the Earth while you sleep!
White Lotus Green Products & Services Guide
White Lotus Home is committed to helping the environment: from aiding our local communities, promoting green farming practices nationally, to supporting global green initiatives on a global level. Our focus is to educate the world on the importance living in a healthier home and the benefits these changes bring to our health. We believe that we can make a difference in the green and organic bedding industry by setting an example for others. We believe that quality and fair value are more important than low prices and a quick profit. We are opposed to the exploitation of the planet and all its inhabitants. Above all, our people, products, and business practices are socially, politically and environmentally responsible. We wish all homes could be White Lotus Homes! With more people than ever are looking for ways to bring natural, chemical-free products into their homes, White Lotus Home is here to help you create your own organic home environment.White Lotus Home offers over 22 ways to start making your home --- and the Earth --- a little greener. Here are some of the steps we take as a company:
Our entire line of products is crafted by hand from natural and organic materials. We offer both standard and custom products, giving you the flexibility to choose exactly what you need for your home.
We proudly manufacture in the United States, supporting local workers and the local economy. We utilize American-grown fibers and fabrics whenever possible. We are proud members of the Made in America Movement.
We have dozens of retail partners that bring natural, handcrafted products across the USA and Canada.
Have a great organic bedding idea? Want to extend your product line to branded, high-quality natural and chemical-free goods without the hassle of investing in a new manufacturing operation? Our Private Label Program can bring your dreams to reality.
We carry beautiful hardwood furniture designed and manufactured in the United States.
It's never too young to go green. A full product line is available for the smallest members of your family, from organic cribs, organic toddler mattresses, organic sheeting, and more.
We offer bulk discounts for large orders, nonprofit services, special events, and more.
Additionally, we offer special rates for hospitals, medical practitioners, yoga and massage practitioners, hotels, bed & breakfasts, and commercial properties.
Each year, we make monetary donations to a range of local and national nonprofit organizations.
Our loft, Lotus Studios, can be donated for use by local nonprofits.
Our main showroom in Highland Park, New Jersey has partnered with local artists through the Highland Park Artist's Collective, displaying a range of paints, photography, and sculpture. We are proud supporters of the arts in New Jersey!
Every family has its own story. We understand the investment that can go into purchasing substantial items such as natural mattresses and bedding.Each year, we raffle off or give away bedding, pillows, and more, many to families in need. We also offer financing options --- we feel strongly that natural, healthy options should never be out of your family's reach.
With our Free Delivery & White Glove Service, White Lotus Home keeps the Earth in mind, whether that means grouping together deliveries for the lowest environmental impact or driving hybrid vehicles whenever possible.
We are active in expos and shows that cater to those interested in handcrafting, green goods and services, and wellness. Look for us at Green Festivals, the International Esthetics, Cosmetics, & Spa Show, and organically-minded shows across the United States. Hosting a local green show, festival, or media event? We welcome any information at info@whitelotushome.com.
We support fair labor practices. All of our manufacturing takes place in our New Jersey facility by workers paid a living wage and benefits. Whenever possible, we source our fibers and fabrics from GOTS-certified providers.
Our natural fibers are all certified by the leading agencies in the organic industries, from Oeko-Tek, the USDA Organic Seal, and more, giving consumers the peace of mind that your purchase will be safe and nontoxic.
White Lotus Home always looks for ways to reduce our carbon footprint, from reducing paper waste, recycling, and cleaning with only nontoxic cleaning agents.
A White Lotus Home product is built to last. Rather than pumping out inexpensive, disposable items, we handcraft mattresses and bedding that can stand the test of time, reducing waste. Our All-Latex & Wool mattress has a 20-year manufacturer's warranty, as well as customers who have used and loved their mattresses for upwards of 30 years!
Did anybody say house calls? Our organic bedding professionals can visit your home to help you find the mattress that will work in your individual home. This is a great option if you're looking to fit a custom piece.
One word: upcycling! We are always looking for ways to repurpose materials and reduce waste. Our toss pillows and "wooly" stows are great examples, utilizing scrap materials that would otherwise be thrown away to craft a durable, comfortable product for your home.
We are a clearinghouse for Green, Organic, Natural and Recycling information. With dozens of contacts in the Organic industry, we may be able to assist in your search.
We offer FREE tours of our facilities, which includes our handcrafting areas. For parties of ten or more, kindly make an appointment by calling 732-828-2111or emailing info@whitelotushome.com with the following information:

Date of intended visit;
Reason for visiting;
Number of guests

How have you and your family made changes to your house and routine? What is your goal for reducing toxins in your home? White Lotus Home will be happy to help you there!
About GREEN cotton
I've heard that it takes a tremendous amount of pesticides to grow cotton. Is that true?
No. According to the U.S. Department of Agriculture, only about 1.2 pounds of insecticides and 2.1 pounds of herbicides are applied to each acre of cotton. The average acre in the U.S. produces about 800 pounds of cotton. That works out to around 0.09 ounces of total pesticides applied per pound of cotton produced. More importantly, with the advent of new technology, the number of pesticide applications has dropped dramatically in the United States. Farmers who live and work on their land have every personal and economic incentive to use FEWER chemicals in production, not more! Globally, only 8.5% of all pesticides applied to crops are used to grow cotton.
Even so, aren't there toxins left on cotton products that could be harmful to one's health?
No. In the United States, cotton is regulated as a food crop by the Food and Drug Administration (FDA). Cotton is grown just like other major food crops, meaning that there are tight restrictions. Worldwide studies consistently show no pesticide residue on the raw fiber or the textile products made from the fiber.
What about organic cotton as an alternative?
Organic cotton is another sustainable alternative to chemically-based or synthetic fibers. There are strict standards in the United States for organic cotton, and it is not easy to become a certified organic cotton operation. "Organic" means the cotton is produced to a set of strict USDA standards, enforced by USDA-certifying agents who must annually inspect fields and the operation for adherence to National Organic Program (NOP) standards. NOP standards require a 3-year conversion for land before organic crops can be harvested, so becoming an organic cotton producer is a long-term decision.
Interest in organic cotton has increased among retailers and brands but there is no sustained, measurable increase in the organic cotton supply, which is estimated at only 0.1% of global cotton production. In fact, the entire world supply of organic cotton would fit on one medium-sized cargo ship. And that's understandable when you look at what it takes to become organic – tough standards and more management because of the standards that prohibit various synthetic inputs and practices. Generally, organic production means higher costs, which typically translate into premiums of 50% to 100% in raw fiber prices. From a production perspective alone, it would take an additional 6 million acres – 40 percent of the current harvested cotton acreage in the U.S. — to meet the current market demand for U.S. cotton.
You can read more at www.cottoninc.com
Products
All Cotton vs. Foam Core
Despite what most people think, the difference between these two mattresses is NOT a quality issue, but rather a usage issue. If you are going to be using your mattress as a couch that folds into a ("bi-fold") couch the foam helps the mattress to keep it's shape, maintain a straight line across the back and sit up straight. The foam gives it good posture. If you're going to use your mattress on an "A-Frame" or a "tri-fold" frame then an All Cotton mattress will work better because it will fold more flexibly. If you're going to be using your mattress as a bed only then it is up to you - a Foam Core mattress will be a little more resilient, a bit more bouncy and tends to wear a bit more evenly. All Cotton mattress will definitely be firmer.
Are your natural mattresses comfortable?
Yes, our natural mattresses are comfortable. Our 100% organic mattresses and our cotton mattresses offer the support your doctor would recommend and we can adjust them, to meet your own comfort level. All White Lotus Home natural mattresses were made with sleeping in mind and they also make great long lasting futon mattresses for couches.
Everyone who works at White Lotus Home sleeps on a White Lotus mattress and we believe that everyone in the world should be so lucky. Of course, what you like to sleep on is a personal choice - a subjective issue - and certainly there are people who can't get used to not having springs, but we know that no one makes a finer mattress than White Lotus Home.
We suggest you call us and tell us your comfort level so that we may suggest a suitable product. We can make cotton mattresses and cotton futons from 1 to 9 inches thick and include wool, 100% organic cotton or 100% natural cotton. We also have great guest bed options and ways you can increase the comfort level on your existing mattress...
Our standard mattresses start firm but can be handcrafted so that they are firmer or soft. Learn more about our different natural or organic mattress options on our Mattresses page.
Can I recycle my mattress?
We recommend contacting your local Salvation Army (since some homeless shelters accept mattressess). Also, Craigslist is a good place to recycle your mattress (there is an area on thier site for people to give things away for free). Freecycle.org is another popular option. You might also find some success in contacting a wildlife reservation: they might find a use with the cotton and other fibers for nests for their animals.
Catalog Request
In order to save trees we have decided to discontinue our printed catalogues. The vast majority of our products are available for viewing on our site. However, if you are still not satisfied and would like to know more about a specific product, we woud be happy to send you more information via Email or regular USPS. Feel free to send such requests to sales@whitelotushome.com, be sure to include your name and address.
Did my Organic or Natural mattress/bedding shrink?
Your mattress is fine and will return to its natural size shortly. In an effort to reduce our carbon footprint, we vacuum the air out of the mattress before shipping.
This creates a smaller package and makes sure that you won't have to accept oversize charges from the shipper. When you receive your mattress or other softgoods, please remove it from its bag and unroll the White Lotus Home item(s).
To increase the airflow back into the mattress, you may want to have two people pull each end or give it a toss or two so that the oxygen can begin to circulate through the natural fibers and materials.
Do I need a Doctor's note for chemical-free mattresses?
WHAT ARE MY OPTIONS FOR FLAME RETARDANTS?
Federal Regulation 1633, effective as of July, 1, 2007, requires all mattress manufacturers use a flame retardant (FR) to pass these laws. This latest FR law helps to increase escape time for victims trapped in a fire which should save hundreds of lives. If you find others claiming that they make 100% organic or 100% natural mattresses without the use of a flame retardant, please request details of how they are meeting the FR1633 law. Our Dreamton mattresses, which contain no added chemicals, are wrapped with wool and fulfill all federal requirements for flame retardants.
A doctor's prescription can be provided as an exemption, allowing you to purchase all-cotton mattresses without wool or borate powder. The note needs to be on a formal prescription block or official doctor's letterhead with DEA number and should read to the effect of: "My patient requires a chemical-free mattress".
Alternatively, we can utilize Borate Powder on Green Cotton mattresses as a flame retardant. This option is not available for Organic Cotton mattresses. We manufacture a limited number of mattresses with flame retardant --- this allows us to provide a vegan option at a lower price point for individuals who are unable to provide a doctor's prescription or would like the peace of mind of a mattress that passes the flame retardant test.
About Boric Powder: Cotton treated with boric powder assist in passing the Federal Flammability Laws. A study, done by Intertox, Inc. of Seattle, WA, presents conclusive proof that boric acid, under the specific trade name Boron#10(TM), which is sodium polyborate, is not toxic. The report states, "Four of the six studies reviewed indicate no observed adverse health effects from exposure of the test animals to the Boron#10 added to cotton batting." Richard Pleus, the author of the report also stated that in an oral toxicity study a benchmark toxicity measure, LD50, for the product Boron#10 was successfully established. The LD50, defined as the dose of a compound that would be lethal for 50% of a group of test animals, was extrapolated to be 3,339 mg/kg, a number similar to the toxicity of table salt. This report, A Review of General Acute Toxicity Studies of Boron#10 in Cotton-Based Batting Product, is available by sending a letter of request and a 9" x 12" SASE to: Mr. Jim Blasius, Incide Technologies, Inc., 50 N 41st Avenue, Phoenix, AZ 85009.
Do you do custom work?
Yes we custom make all pillows, mattresses and cushions, send us your address and specifications to info@whitelotushome.com and we will send you a quote with delivery charges.
Do you make Organic or natural King size mattresses?
Yes, we handcraft all standard and custom mattresses. For a natural or organic mattress to last (7 to 10+ years) and be comfortable, flipping it is essential. We recommed flipping them every cahnge of season. King size mattresses, which are the biggest standard mattress made (we have made bigger as custom orders) can be a bit harder to flip. This is why our mattreses now have handles at both sides, so that one or two people can easy move the mattresses around. Please see our other FAQs about kingswhich explain other options. There are NO oversize surcharge to ship a king, unless they are going outside the lower USA. All our online prices include FREE delivery, unless you live in Hawaii, Alaska, Canada or other countries, in this case a shipping surcharge will apply. Please contact your local White Lotus Home retailer for cost. You can also pick it up.

We suggest purchasing two extra long twin mattresses and laying them side by size making a king size mattress. Or you can also purchase 3 inch king size mattresses, which we call stowaways and you can place them on top of each other. The stow would you the flexibility of getting a 3, 6, 9 (inch) or thicker mattress, to meet the comfort level you desire. You may also request a 4-inch or more mattress, we are very flexible and these mattresses are standard for us so you would NOT incur the 10% CUSTOM FEE for thickness customization.
Customers from Canada and other countries should send a message to info@whitelotushome.com with details of what you would like to order and your complete mailing address. We will then reply with a quote and details on how to complete your order.
Futon/Furniture assembly instructions or help
Sorry to hear about your troubles, we do have instructions available online. Please tell us the brand name and style of furniture you have purchased and we will be happy to send you instructions via email, fax or US postal service.
Also, please know that we do house calls. We can visit your home and help you fix/correct the problem. Our fee is $35 for the first hour/minimum and $25 an hour after that. We can normally tell what the problem is rather fast, we would also bring extra hardware to be able to fix the problem upon visit. This service is available within 100 miles of our location in Highland Park, NJ, includes NY, NJ, PA, CT, MA. Please call or email to request such house call services. Thank you.
Click here for Assembly Instructions for the Bedworks Futon Frames.
How do i take care of/clean my mattress and bedding?
How do i care for my wool bedding?
Care: We recommend flipping your White Lotus Home mattresses regularly to ensure even wear. Slatted surfaces are recommended, as they allow air to circulate, and should be flipped every 4 months or at the change of seasons. On a solid surface or box spring, we recommend flipping the mattress every few weeks. Airing out the mattress will also refresh the fibers. White Lotus Home always recommends using an organic mattress pad to prevent spills and stains. Pillows and duvets can be periodically refreshed by putting them into the dryer on "Cold Air/ Fluff" for 10-20 minutes with a clean tennis ball or specially designed dryer ball.
Cleaning: We recommend spot cleaning your White Lotus Home bedding and mattresses with a solution of 3 parts water to one part vinegar. Spray the solution onto the stain and expose to sunlight. Let dry and repeat until the stain fades and odors dissipate. You can also substitute vinegar with a mild laundry detergent.
Mattresses should not remain damp. Following a spill or cleaning, dry any moisture by placing the mattress in the sun or by using a hair dryer.
Wool bedding: Wool bedding, such as duvets and toppers, occasionally require special care. We recommend exposing it to direct sunlight and air once a month — sunlight works as a natural sanitizer. If you prefer to send them to the cleaners, use a dry-cleaning process only.
Natura products:
Organic Cotton Mattress Pads: Machine wash GENTLE in a front load washer with mild detergent. Do not sure a top loading machine with an agitator. Tumble dry LOW - NO HEAT - or line dry.
Organic Wool Mattress Pads: Spot clean only.
Organic Wool Puddle Pads: Machine wash in cold water, gentle cycle. Line dry or lay flat only - do not machine dry.
Sheets: Machine was cold water, line dry or light heat cycle.
Please note that all this suggestions are at your own risk. We hope these suggestions help!
What are your mattresses treated with?
An easy answer is that White Lotus Home does this naturally! How? Without the need of any chemicals in their mattresses by simply, using WOOL as the natural fire retardant (FR). For more details on how these mattresses are made please go to: http://www.whitelotushome.com/mattresses/
The mattresses are made by wrapping a layer of wool (Not just any wool, it has to pure as natural as it can be) around the outer most fiber layer inside the mattresses. This wool just like all the fibers in the mattresses, do not touch your body, since it is inside the casing. Cotton, Natural latex, Eco-friendly foam and/or other layers (depending on your final choice) are encased in a fabric casing. This outer casing material can be made with 100% Cotton or 100% USDA Certified Cotton fabric.
The Cotton and Wool Dreamton Mattress is a White Lotus original mattress, which is how most of the natural and organic mattresses are ordered and made at White Lotus Home. They are many firmness and softness options for the Dreamton, since it can include other fibers to meet your needs.
The wool wrap also acts as a:

Natural Dust Mite repellant
Body temperature regulator, because the wool wicks away moisture during hot months and keeps your body warm during cold months.
Another chioce: While White Lotus Home also offers 100% organic and green cotton mattresses, without the need of WOOL as the natural fire retardant, we do require a doctor's note before we can make one for you. This is the law and since a White Lotus Home mattress without wool as the natural FR, will not meet the FR1633 Law requirement, we need this note. It is what the CPSC requires. The doctor's note must be on a prescription pad that includes the doctor's registered drug number which works the same as when they prescribe medicine.
ABOUT THE FR LAW: The FR1633 effective July, 1, 2007, includes that all USA mattress manufacturers need to meet this law and normally, traditional manufacturers use chemical flame retardants (FR) to pass this law. This FR law helps increase escape time for victims trapped in a fire which should save hundreds of lives. If you find others claiming that they make 100% organic or 100% natural mattresses without the use of an FR, please request details of how they are meeting the FR1633 law.
How long should my mattress last?
With proper care and cleaning, a White Lotus Home mattress should last 7-15 years, with 10 years being average. With time and use, a mattress will become firmer and the cotton may settle according to the size, shape and sleeping patterns of the user.
If you enjoy a really firm sleeping surface, then the lifespan of your cotton mattress will be even longer - you may even find it more comfortable with age! Our Evergreen Foam mattresses should last 7-10 years, while our LOTUS Talalay Latex mattresses should last upwards of 15 years.
How long should my topper last?
ith proper care, a Wool Topper should last a looooooong time. It's hard to give an accurate number; about 15 years would be an educated guess. Please read more about the endless virtues of wool.
How thick are your mattresses?
Our standard mattresses in 100% Organic Cotton or Green Cotton are crafted with 6" corners, though we can make mattresses up to 9" thick. Futon mattresses are 5" thick, allowing us to offer a quality product at a lower cost. These are one inch thinner than our standard mattresses and do not have handles. Our Evergreen Foam mattresses are 7" thick and are offered with an optional 3" topper. Our LOTUS All-Latex Mattresses are 6" thick, along with a 2" topper.
Our standard cotton mattresses are stuffed with 8-10 layers of cotton batting, each batting beginning at about 2" in thickness. We then hand compress the cotton into a 6" case to handcraft a longer lasting cotton mattress for you. It is next to impossible to accurately measure something as soft and as giving as cotton - the only accurate measurement is the sewn corner of the case. Since we have been hand crafting mattresses since 1981, we have found the ideal mattress thickness for the majority but do offer custom sizes to accommodate all of your needs. All of our mattresses come with handles and side panels for ease of care and flipping.
Need a custom mattress? Please email your specifications to sales@whitelotushome.com. Thank you!
How to choose a Natural Bed?
Thank you for thinking about White Lotus Home for your natural bed needs.
In order to choose the natural bed that is right for you, you need to understand what your goals are in your natural bed. White Lotus Home has been in business since 1981 and we understand that a natural bed means many things to our customers. It sometimes means a chemical free mattress and bedding to go with their unfinished hardwood furniture. A natural bed also means a 100% organic cotton mattress and sometimes it just means a mattress and bed that has the least amount of chemicals at an affordable price. We cater to people with chemical sensitivities, kids with autism, folks with allergies, held reduce SIDS and most of our clients are GREEN, going GREEN\ORGANIC or going ORGANIC and want to make a statement and Help Save the Earth While they Sleep. Once you know what you goals are for your natural bed, we strongly suggest that you call us Toll Free at 877-HANDMADE (426-3623).
Feel free to send your natural bed questions to info@whitelotushome.com.
We normally respond to all emails and calls with in 24 to 48 hours. Our business hours are 10:00 am to 5:30 pm Monday - Saturday and 12 Noon to 4:00 pm on Sundays. We do answer emails more often.
What is a natural bed? Again, that all depends on what a natural bed means to you. At White Lotus Home we offer a number of different natural beds options, we are sure to find you a natural bed that would best fit your needs. We offer anything from 100% natural cotton hand crafted mattresses and bedding with finished or unfinished furniture to 100% organic and natural latex mattresses. We offer natural beds made of cherry, maple, oak, tulip and other American grown hardwood. All of our furniture, mattresses, pillows and bedding are handcrafted in the USA.
What is a White Lotus Home 100% Organic Mattresses? Please visit our Traditional vs. White Lotus Matresses page for a more detailed explanation. When White Lotus Home says 100% organic mattress, pillow or bedding, we really mean it from the hand crafting to using only certified organic fabrics and fibers.
I need a king but do not want a 100 lb. mattress.
What is a split king?
Our mattresses are crafted by hand by compressing 8-10 layers of cotton, each beginning at about 2" in thickness. This results in a thick, sturdy mattress of superior quality - but it also means that a king mattress can run upwards of over 100 pounds. Many customers enjoy the luxury of a King mattress, but are looking for something easier to move, as routine flipping is necessary for proper care and cleaning. For the ease of our customers, we offer the option of a Split King.
Two XL Twin mattresses can be placed side-by-side to create a King mattress surface. The exact dimensions depend on the type of king bed frame you have. Our standard sizes are as follows:
King: 76" W x 80" L x 6" D
California King: 72" W x 84" L x 6" D
Split King (2x Twin XL): 78" W x 80" L x 6" D
Another option would be to purchase two King Stowaway Mattresses, each of which is 3 inches in depth; they are also available in 4" thickness for an additional charge. The stow would allow you to move your mattresses more while providing a solid sleep surface. One stow could also be removed to use as a guest mattress if necessary.
Whether combining two XL Twin mattresses or two King Stowaways to create your Split King Mattresses, these sizes are standard for us would therefore NOT incur the 15% CUSTOM FEE.
We can also create a Split Queen Mattress. However, as the individual pieces do not correspond with any standard sizes, the creation of a Split Queen would require a 15% CUSTOM FEE.
How do i choose the pillow that's right for me?
Soft, medium, or firm pillow?
For your comfort, we offer our pillows in three different levels of density: Soft, Medium, and Firm. A standard "Medium" pillow fill is what you would get if you purchased a pillow from any local store. The soft contains less fill than the standard, while the firm contains more fiber filling than the standard.
All of our pillows are offered with an optional zipper. If you are unsure of which firmness to purchase, we recommend you choose a firm pillow with a zipper. This allows you to remove or add the pillow fiber filling (kapok, cotton, wool, buckwheat) to your liking. Many pillows become stiff and compact over time: purchasing a pillow with a zipper allows you to add fibers back over time to maintain your preferred level of comfort. We also sell our fibers in various weights so you can keep your pillows at the right firmness for years to come. For fiber storage, choose a cool, dry location; we recommend recycling the bag in which you received your pillows.
Adding a zipper also makes your pillow greener! How? You can remove the filling, wash the case, and re-stuff with fresh filling. You can remove stains and refresh the case while reducing the water you would use washing a standard pillow. This is a great way to extend the lifespan of your pillow case without the need to replace it entirely.
So what, exactly, is that earthy scent in my mattress?
A customer writes: "My new green cotton and wool mattress has a scent, not unpleasant, but I just wonder what it is. Can you identify it? Will it go away? Thanks (it's a beautiful bed!)."
Dear @Merlin Saami,
What you're experiencing are the great scents and feel of sleeping as mother nature intended.
White Lotus Home uses the most natural and organic fibers on Earth, so when you go to sleep on our cotton and wool mattresses, you'll smell what it's like to be in the middle of a cotton field. And yes, the scent, just like the smell of flowers, will dissipate over.
Thanks for the compliment and for supporting US jobs, and for helping save the Earth while you sleep and for creating a healthier sleeping environment for you and your family :)
What are your customization fees?
We custom make all pillows, mattresses and cushions, the fee is usually 15% per customization added to our closest standard product. Please send us your address and specifications to sales@whitelotushome.com and we will send you a quote.
What does FR stand for?
FR is an acronym for Flame Retardant. With the exception of our wool wrapped mattresses - such as the LOTUS and Dreamton, which are both naturally flame retardant--federal regulations require White Lotus Home to treat our mattresses with a flame retardant or to get a doctor's note from our customers. We use a flame retardant called boric powder. Almost all of our mattresses are available in a FR-free style, either by wrapping them in wool or by sending White Lotus Home a doctor's note. If you have any questions about doctor's notes, boric powder, or our mattress options, please feel free to email sales@whitelotushome.com or to call us at 732.828.2111.
Why are hand-made mattresses better than machine-made mattresses?
Some machine-made mattresses actually blow cotton into a case instead of layering it so what you're buying is a big sack of air with some cotton. After a few weeks the air will seep out and you'll be left with something resembling a big Stitleine cracker. Not so comfy.
Also, machine-made mattresses are often quilted with thick punctures through the cotton which tend to break up the bats. Our mattresses are layered - one layer at a time - by hand. We hand-quilt our mattresses with a thin, sharp needle to ensure that the batting won't break, shift or lump. There really is no finer mattress.
Why buy Organic Bedding Products?
As mentioned at the Organic Trade Association Because U.S. national organic standards and industry practices do not allow the use of genetic engineering in the production and processing of organic products, organic agriculture gives consumers who wish to avoid genetically modified foods a choice in the marketplace. Although genetic engineering (GE) proponents claim GE crops will cut pesticide use, this is not necessarily true. On the other hand, organic agriculture does reduce such exposure because it avoids the use of toxic and persistent pesticides. Make more than your bed with White Lotus Home organic products, make a political statement: support organic farming and save the earth while you sleep.
Not only are White Lotus Home Organic Mattresses and pillows comfortable, but they are socially responsible as well. 100% Organic, from the fill to the casing, this is the bedding to have.
We offer all of our mattresses in an 100% organic version.
Cotton makes a firm pillow that works great in conjunction with more pillows. Hand stuffed to avoid lumping, Organic cotton pillows are soft to the touch and great to snuggle up to. They will not off-gas any chemicals so they are good for folks with chemical sensitivities or allergies. We have a great line of natural and organic pillows to offer you.
Thank you for choosing White Lotus Home!
Why sustainable?
White Lotus Home cares and is doing something about the Earth we live in today, tomorrow and hundreds of years from now... We recycle and reuse and save all that we can. Before we toss something out, we think about how we could use it otherwise, or try and help find a match. We simply care!
If every family in the US replaced one regular light bulb with an energy saving model, we'd reduce global warming pollution by more than 90 billion pounds, the same as taking 7.5 million cars off the road.
The average driver releases 25 pounds of global warming pollution for every gallon of gas used--if you drive a car that gets 35 mpg, you'll create 40% less global warming pollution than the average driver.
Just 2% of our nation's electricity comes from clean, sustainable sources like wind, solar and other renewable technologies. Yet, our nation is blessed with enough renewable resources to meet more than 4.5 times our current electricity needs.
Our oil habit is expensive - Every minute we send $200,000 overseas to buy oil.
Shipping, Returns, & Exchanges
Free Delivery and White Glove Service Information
White Lotus Home is proud to offer FREE DELIVERY and WHITE GLOVE SERVICE for qualifying mattress orders.
We value our customers and strive to ensure a relaxing experience every step of the way, from shopping to purchasing to delivery. Our Free Delivery and White Glove Service means you enjoy your new natural and organic bedding and we'll take care of the rest! Here's how it works:
Do i qualify for free delivery?
All purchases within 100 miles of our showroom and manufacturing facility in Highland Park, New Jersey are automatically reviewed for Delivery. See the map, below, generally, all of New Jersey, New York City, most of Long Island, the Hudson Valley, parts of Connecticut, and eastern Pennsylvania, qualify.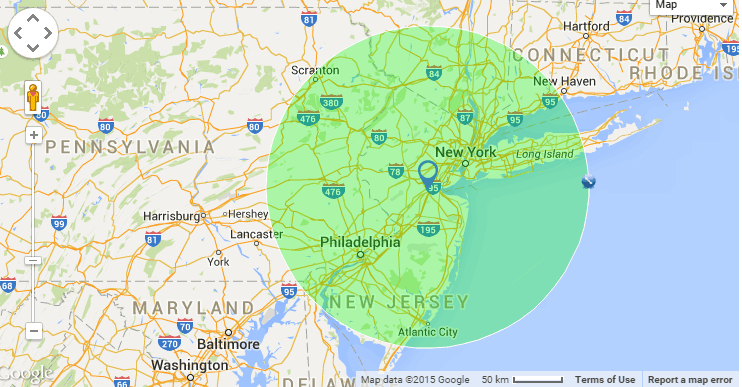 How do we schedule a delivery time?
Upon completion of your order, our Delivery Department will reach out to you via email with a tentative delivery date and two-hour time window. All of our deliveries are grouped by geographic area, which allows us to accomplish the greatest number of deliveries in the least amount of time with the smallest ecological footprint. As a courtesy, we will call 30 minutes prior to arrival.
We ask you to review a series of questions that allow us to adequately prepare for your delivery. Upon receipt of your response, we will review our itinerary and send final confirmation. Your scheduling email will look like this: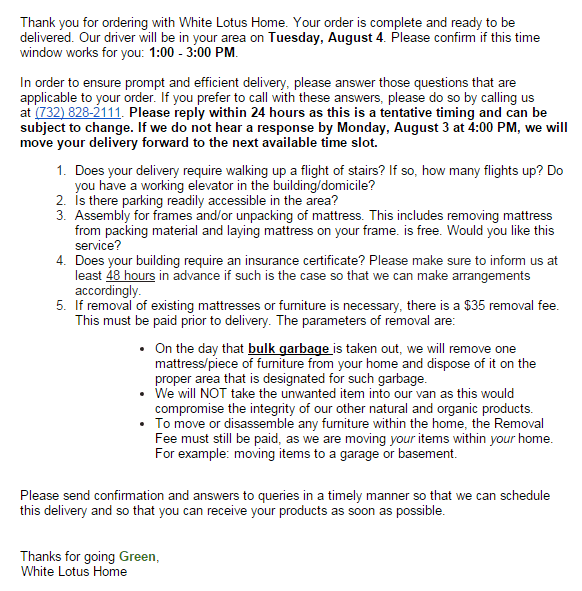 What is included in your white glove service?
Our White Glove Service includes delivery of your mattress, topper, furniture, or and soft goods. We will unroll and lay your mattress on the frame, removing and disposing of all packaging. If your purchase includes furniture, we assemble your frame.
There is an additional $35 fee for the removal of your existing mattress, which must be paid prior to the delivery. The mattress or piece of furniture removed from your home will be disposed on premises in designated area, such as garbage. The Removal Fee must also be paid for White Lotus Home to move items within your residence. For instance if we move to a garage or basement. We cannot take your unwanted mattress or furniture away in our van, as this may compromise the integrity of our other natural and organic products.
Additional information
Please note that all deliveries are accomplished at our discretion. Qualification for delivery is dependent upon the order size, distance from manufacturing facility, availability of our driver, and other delivery schedules. As a courtesy, we will call 30 minutes prior to arrival.
If we experience any delay due to inclement weather, traffic, or other circumstances, our driver will be in contact with you. If there is any cancellation of a scheduled delivery, we would appreciate one-day advance. We can always leave purchases with a doorman upon your written request.
Do you have an expedited service?
Yes, we can reduce our turn around time in half if you pay $100.00 per order or 20% more which is ever is less. I.E. If your order is on a current 3-5 week turn around time, paying the extra fee will move your item to 2-3 weeks.
Please email sales@whitelotushome.com or call 732-828-2111 to make sure this service is available during the time of your order.
Please note, we cannot always provide a rush option depending on current order volume.
Do you ship outside the U.S.?
Yes, but please read our Shipping page for more information.
Customers from Canada and other countries should send a message to sales@whitelotushome.com with details of what you would like to order and your complete mailing address. We will then reply with a quote and details on how to complete your order.
What is your normal turn around time?
Smaller items (e.g.: most bedding, pillows, etc.) will ship within 1-3 weeks, while larger items (e.g. toppers, mattresses) will ship within 4-6 weeks. Please allow 2-5 business days for shipping depending on your location. When the shipment is processed, we will send you tracking information.
Rush service is typically available on WLH products for items over $50.00. Rush services are available, items will ship approximately 2-3 weeks after your order is placed, for an extra $50.00. A 2-Business Day Rush Service is also available when applicable for an extra $100. Please contact us at sales@whitelotushome.com if you have any questions or if you would like to request expedited services.
Furniture orders can take up to 8-12 weeks to ship after you place your order. All lead times are subject to change. Please feel free to contact us if you have questions about your order's lead time.
Orders, insurance & payment
What forms of payment do you accept?
All forms of payment are accepted. Credit cards and Paypal can be used during check out on our website. If you'd like to pay via a personal check, please call in your order @ 732-828-2111, and a Sales Associate will assist you.
Lay-Away Plans
No need to wait to pick out your organic mattress, pillow, or bedding etc...You can choose now and pay little by little.
At whitelotushome.com we offer Lay-Away plans, financing and accept barters. Send your questions and request about this to info@whitelotushome.com.
How Lay-Away Plans Work at White Lotus Home:
You send us a link(s) to the product(s) you would like
Send us your complete contact information, including address, email and #.
You tell us how long you will take to finish paying off your Lay-away plan
You tell us how much you will be paying each month
We prefer to have a credit card on file and arrange automatic payments. We will charge your card on the same day (you choose) of every month.
You send us the above info to info@whitelotushome.com and if we agree, we will process your Lay-Away plan. If we do not agree, we will reply with a more suitable Lay-away option
Once you have made 2/3 of your total (you can choose to pay more at any time), your order will go into production and it should be ready to ship before we charge your last payment.
I placed an order with White Lotus Home, can you send me my UPS Tracking Number?
Please draft an email and title the message UPS Tracking Number Request. Just send us the name of the person who purchased the item as well as the name of the person due to receive the order (if different than purchaser) to info@whitelotushome.com and we will send you a tracking number, as soon as possible. Thanks!
Return, order modification and cancellation policy?
Order Modification
Most orders may be adjusted or modified the same day the order is placed. You will be charged a fee that is 20% of your order total to make any modifications or cancellations after the day of your order. This excludes any charge resulting from a upgrade of materials. Any items added to an order the day after it is placed will be accepted as a new order.
Exchanges & Returns
Ineligible for Return or Exchange
Used Bedding
Washed bedding
Custom pieces
Clearance items
Acceptable for Return or Exchange
New, unused bedding
Original condition
Within 30 days of receipt
Exchanges
Unused bedding can be exchanged in its original condition within 30 days of purchase. For items of lesser value than the original purchase, a credit will be issued for the difference, or a refund can be given minus a 20% restocking fee of the original item. The credit will be valid for one year from the date of issue. For items of equal of greater value than the original purchase, the restocking fee will be waived. All returned items must pass a manufacturing inspection before a refund or credit can be issued.
Returns
Unused bedding can be exchanged in its original condition within 30 days of purchase. A credit will be issued for the full purchase price, or a refund can be issued minus a 20% restocking fee of the original item. The credit will be valid for one year from the date of issue. All returned items must pass a manufacturing inspection before a refund or credit can be issued.
The customer is responsible for bringing, shipping and returning the item to White Lotus Home. If you'd like to begin a return or exchange, please visit our showroom, call (732) 828-2111 or email info@whitelotushome.com. You will need a copy of your original receipt to be eligible for a refund or exchange. Please allow 2-5 business days for the processing of refunds. Please send all returns to: White Lotus Home, 431 Raritan Avenue, Highland Park, NJ 08904
White Lotus Home has the option to refuse any return or exchange.
What is your warranty policy?
White Lotus Home Warranty
Everything you purchase from White Lotus Home is crafted with the finest materials. We seek out the finest hardwoods, the best fibers, great fabrics and offer you superior finished goods.
Everything that we make ourselves, from bolsters to mattresses, has been crafted with the utmost care. Each piece is hand made, one at a time, to ensure the quality that you demand and the uniqueness that our customers have come to value since 1981. Everything that we have not made ourselves has been carefully scrutinized before we consider offering it for sale, and need to meet the standards that we hold for our own handcrafted products.
Your feedback is essential. If anything you purchase from White Lotus Home fails to live up to your every expectation, we want to know immediately.
Each woodworker with whom we deal has their own warranties for their frames and furniture, ranging from one year to lifetime coverage. During the warranty period of these pieces, we will act as agent for the woodworker and assist them in fulfilling the obligations they have made to you, the consumer. It is our duty to adhere to the guidelines they have set forth for their own warranties, including, but not limited to, the woodworker's option to repair or replace items at their discretion, as well as any limitations due to negligence or misuse of the item.
If due to normal wear and tear, any item becomes limited in its use, White Lotus will make every effort, for as long as you own the item, to repair or replace it, at our option. Depending on the item, the length of time used, and any signs of negligence or misuse, there may be a charge for this service. This is a personal promise from a company who values its reputation for fairness and ethics in business.
That promise notwithstanding, proper care is essential for the longevity and comfort of a mattress, as it is for most quality pieces. Care instructions are provided with every mattress and we urge anyone with questions about care to call us at any time. Improper care or use of your White Lotus Home product may invalidate this warranty. With time and use, a mattress will become firmer and the cotton may settle according to the size, shape and sleeping patterns of the user. This is a normal occurrence and in no way reflects a manufacturing defect or a compromise of our warranty. Any and all warranty claims, whether the item was crafted by White Lotus Home or one of its agents, must be accompanied by the original sales receipt. The item must be sent to a White Lotus store and, with few exceptions, be brought by the original purchaser. As well, these warranties can not be transferred to any other party.
The two exceptions to these rules are as follows: If the item was delivered or shipped from White Lotus, it may be returned by shipping or delivery service. If return shipping is necessary, the purchaser will be responsible for proper packaging and insurance. For valid warranty claims within thirty days of receipt of goods, White Lotus Home will reimburse for shipping expenses. Validity of claims will be at the sole discretion of White Lotus. A copy of the original sales receipt must accompany the item and White Lotus must be notified prior to shipment. The other exception is if the original purchaser is a minor, aged or infirm, a proxy may of course conduct all business.
A note from the purchaser to this effect would be appreciated. Otherwise, there are no exceptions. Above all, we promise that any purchase you make from White Lotus is a quality product, that we have offered it to you at a fair price and that we have made every effort to assure that you will enjoy your purchase for as long as you own it. We take great pride in our work and value your trust in us and our shared commitment to our Earth above all else. We are always eager to hear of your experiences, so please call or write us at any time with comments, criticisms, or questions. Thank you for your business.
About our customer's privacy: We will never sell, abuse, or jeopardize our customers' contact or personal information. Our customers and their information are held in the highest regard at White Lotus Home.