NEWSLETTERS SIGNUP
Enter your e-mail
to get our latest news.
100% Organic Cotton Pillows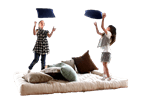 $51.00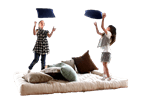 Brand: White Lotus Home
SKU #: OCDP01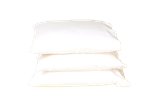 $70.00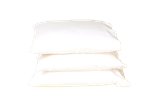 Brand: White Lotus Home
SKU #: OPUCC0064
ORGANIC CASE COTTON PILLOWS
FREE SHIPPING in the continental US! All prices are below...
100% cotton pillows have no boric powder and you do not need a doctor's note to order them. They are not the softest but are not firm. 100% cotton pillows are perfect for those that prefer to sleep on 100% cotton surfaces. This pillow has an organic casing (outer fabric is organic).
Learn more about our GREEN cotton
.
How Organic Pillows are made in the USA!
Our pillows come in standard fill, you can request a firmer or softer pillow at info@whitelotus.net.
Can I wash my White Lotus Home pillows?
We recommend spot cleaning or dry clean but for an $8.00 fee, we can include zippers in your pillows, allowing you to restuff them or remove some of the fiber to better meet your comfort preference as well as remove all the fibers so that you can wash the case and have a pillow for a long time. Need samples or to buy GREEN cotton or pillows in bulk, let us know info@whitelotus.net.
NOTE: Because White Lotus Home does not add perfumes, formaldehyde, or dyes to our natural fibers and materials, some of our items will retain their natural scent. Samples of all of our fibers are available for free by contacting our sales department by email, info@whitelotus.net or by calling 732-828-2111.
PILLOW WEIGHTS
| | | |
| --- | --- | --- |
| PILLOW | SIZE | LBS |
| Standard Cotton soft | 20x26 | 2.7 |
| Standard Cotton med | 20x26 | 3.3 |
| Standard Cotton firm | 20x26 | 4.0 |
| Queen Cotton med | 20x30 | 3.5 |
| Queen Cotton soft | 20x30 | 2.9 |
| Queen Cotton firm | 20x30 | 4.4 |
| King Cotton soft | 20x36 | 3.7 |
| King Cotton med | 20x36 | 4.5 |
| King Cotton firm | 20x36 | 5.5 |
| Body Pillow Cotton | 20x72 | 10.0 |
| Travel Pillow Cotton | 12x16 | 0.8 |
| 17x17 Cotton | 17x17 | 1.5 |
| 20x20 Cotton | 20x20 | 2.5 |
| 24x24 Cotton | 24x24 | 3.0 |
| Round Bolster | 21x8 | 4.0 |
Cotton Pillows Average Thickness
Standard 20x26
Soft - 3.5 inches
Medium - 5 inches
Firm - 5.5 inches
Queen 20x30
Soft - 4 inches
Medium - 5 inches
FIRM - 5.5 inches
King 20x36
Soft - 4 inches
Medium - 4.5 inches
Firm - 5 inches