Organic Cotton Sateen Sheets in Prints and Solids
OCSHA021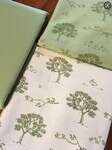 $88.00


Sleep Safe NOW Pay Later!
?
✅Stock items ship in 48 hours, new ones are handmade in 1 - 4 weeks. STOCK LIST!
GOTS Certified Organic Cotton Sateen Sheets
Indulge in Layers of Pure Organic Luxury
Sink into blissful sleep, surrounded by silky smooth organic cotton sateen.
You spend a third of your life in bed, wrapped up with your sheets against your skin for hours on end. Why not make sure those sheets are 100% healthy and non-toxic? As one of the world's top consumers of insecticides, it's more important than ever to sleep on organic cotton sheets.
GOTS-Certified Organic Cotton
Where cotton goes to get its degree, GOTS-certified organic cotton is held to the highest standards for health and sustainability. These sheets are made of 100% organic cotton that's raised sustainably, from our farms to your bed. That means they are:
Pesticide and insecticide free

100% natural and biodegradable

Safe for sensitive skin

Eco-friendly, consuming 91% less water to grow than regular cotton

Ethical, protecting farmers from pesticide exposure
Oh So Silky, Organic Cotton Sateen
With a smoother, sleeker finish than our standard Certified Organic Cotton Sheets, this Organic Cotton Sateen is every bit as sustainable and healthy as organic cotton, and a whole lot softer. The Organic Cotton Sateen fabric used in this product is GOTS Certified and Imported from Pakistan.
Like a Fine Wine, These Sheets Get Better with Time
Like most things in life, we know more isn't necessarily better, which is why our sheets are designed to age like a fine wine instead of an expensive beer. All of our sheets are made of 230-thread count cotton that gets softer and softer every time you wash it.
Made in the USA by Happy Hands
Like all of our products, our sheets are made right here in the US, so you can always feel good about knowing you're buying from us.
What makes 100% Organic Cotton so great?
Aside from being super soft and comfy, these sheets are wonderful for a number of more practical reasons too. They are:
Light and breathable, which makes them a great fit for sweaty sleepers

More comfortable and healthier than synthetic alternatives like polyester

Vegan, sustainable, and ethically made for a 100% guilt-free purchase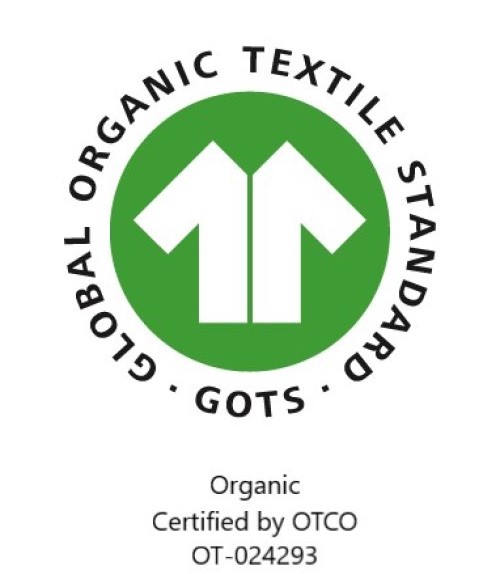 View our GOTS organic certificate Organic Tilth (OTCO).


Dyeing process: "Low-impact fiber-reactive or natural dyes with low metal and sulfur content."
Printing process: "Low-impact or natural pigments with no heavy metals."

Why Harmony Art GOTS Organic Cotton?
Complete Sets

Crib Sheet Set

(1 Fitted, 1 Flat)

Twin Sheet Set

(1 Flat, 1 Fitted, 1 Std Case)

Full Sheet Set

(1 Flat, 1 Fitted, 2 Std Cases)

Queen Sheet Set

(1 Flat, 1 Fitted, 2 Queen Cases)

King Sheet Set

(1 Flat, 1 Fitted, 2 King Cases)
Type
Size
Fitted Sheet
Crib
28 x 54 x 6
Twin
39 x 75 x 15
XLTwin
39 x 80 x 15
Double
54 x 75 x 15
Queen
60 x 80 x 15
King
76 x 80 x 15
Cali King
72 x 84 x 15
Flat Sheet
Crib
42 x 72
Twin
66 x 96
XLTwin
66 x 102
Double
81 x 96
Queen
90 x 102
King
104 x 108
Cali King
108 x 102
Slip-on Pillow Cover
Standard Slip-On
20x26
Queen Slip-On
20x30
King Slip-On
20x36
Body Slip-On
20x72
Travel Slip-On
12x16
16 X19 Slip-On
16x19
How will my order ship? Will I be able to track my order?
White Lotus Home offers free shipping within the contiguous United States.

Most orders are shipped via FedEx. When the items leave our facility, you will receive automated tracking information via FedEx. If you do not receive this information, please do not hesitate to email us and our staff can provide a tracking number.

Exceptions are as follows:
Large orders within 100 miles of our manufacturing facility in New Jersey are eligible for complimentary White Glove Service. If your order qualifies for delivery, our Coordinator will contact you via email at least 3 days prior to your tentative appointment window. For additional information and to see if you qualify, please see here.
Furnishings outside of our delivery range will ship directly from the manufacturer unless otherwise notified. We will forward tracking information as it becomes available to us.
Orders shipped internationally, to Alaska and Hawaii, or to APO Boxes may be shipped via the United States Postal Service. Tracking is available upon request.
Certain items, particularly King Mattresses, may exceed the 150 pound limit for FedEx ground shipments and may need to be sent via FedEx Freight or a private shipping company. We will forward tracking information as it becomes available to us.
Do you ship outside the U.S.?
We are happy to offer our handcrafted mattresses and bedding to those outside the United States.

For orders to Alaska and Hawaii, an additional fee may apply. Upon receipt of your order, we will contact you with an estimated shipping cost --- typically around 10-15% more than your original total. Alternatively, you may reach out to us before placing your order for a quote.
For Canadian orders, shipping costs can range between 5% and 25% of your order total, depending on your location. Kindly contact us for a shipping quote prior to placing your order. Please note that most of our soft good products (mattresses, bedding and pillows) fall under the North American Free Trade Agreement (NAFTA) and you should pay little or no tariff cost. Please have the following notice handy when you are receiving your products or dealing with your broker in Canada:
NAFTA: I HEREBY CERTIFY THAT THE GOOD COVERED BY THIS SHIPMENT QUALIFIES AS AN ORIGINATING GOOD FOR PURPOSES OF PREFERENTIAL TARIFF TREATMENT UNDER THE NAFTA.
International buyers may request a shipping quote by email prior to placing an order. We can be reached by email at
info@whitelotushome.com
. Please be aware that the each country has the authority to levy fees, tariffs, and taxes on imported goods. These are left to the discretion of the individual governments and varies from country to country. Foreign tariffs and taxes Sare not visible when purchasing postage and therefore, we cannot provide a quote for these fees. It is the responsibility of the addressee, as he or she was the purchaser of imported goods.
Additional information can be found on our
Shipping Page
.
Cleaning Sheets & Covers
Sheets and covers may be washed in cold water on a gentle cycle and dried on low, though line drying is preferable.
Review Frequently Asked Questions on Product Care Instructions.
What do you think of this product?
Share your thoughts with the White Lotus Home community.
vandan k (Frisco, TX)
March 06, 2023
soft beautiful designs great work
Inga S (asheville, NC)
January 24, 2022
very fast and wonderful feeling.
Arminda G (Topeka, Kansas)
June 26, 2021
Whitney L (Bainbridge Island, Washington)
January 31, 2021
Whitney L (Bainbridge Island, Washington)
December 27, 2020
They are really great and lovely to sleep on. The fabric is very good quality and thicker than most commercial organic sheets. My only frustration is apparently the fabric is not pre shrunk and so I have to dry the sheets on low. They tell you that ahead of time. I just did not think it through and one would need to see that fine print. I have not had this issue with commercial organic sheets. These sheets are very expensive however so I did not want to risk them shrinking if I dried them on high as I normally would. That said these sheets are SUCH better quality than say sheets from Pottery Barn where I have bought organic sheets before.The fabric is thicker and feels really good. One of the sheets was a design and I guess they did not realize that the direction of the print needed to go cross wise so that the trees on the design would be right side up when they were horizontal on my bed. White Lotus was willing to make me a new set with them going the "right' direction. Obviously when I am asleep I don't know the difference and they function just fine as a pillow case but when they are displayed on my bed it looked a bit odd.
Poldi B (Highland Park, New Jersey)
December 08, 2020
This set of sheets is the second I bought of its kind. They feel great on the body and look wonderful - the pattern is very attractive and the colors are vibrant. The sheets wash great and the fabric feels even softer after a few washes. I highly recommend this product. *** ***, Highland Park, NJ
Robert P (Anderson, Indiana)
July 30, 2019
Pauline S (Highland Park, New Jersey)
June 26, 2019
I bought a set of king sized sheets they are get nice. I don't know if I will every pay that kind of money for sheets again.
Maureen Madden
December 15, 2018
The organic cotton sheets are delightfully comfortable and soft.
Leah Z (New Freedom, Pennsylvania)
February 09, 2018
Great sheet, soft and thick.
Do you have solid white organic sheets?
The Organic White Sateen is currently not available at this time, we do have it in Natural here: https://www.whitelotushome.com/bedding/organic-cotton-sateen-sheets-natural-by-wlh.html
where is the cotton used in these sheets grown?
The sateen used is GOTS certified organic and grown in India. 

The fact that our cotton and processing is 3rd party certified by the well known and respected OneCert makes the decision to import from India one we can feel good about. GOTS certification by OneCert also addresses fair trade issues so that we can rest assured that the people and the planet are being treated with respect.

Are the pillow cases sold as a pair or is it just one pillow case being sold?
The are listed as individual pillow cases, if you need a pair, please make sure you add 2 to your order.

Thank you for choosing White Lotus Home!
Sales and Customer Service Department
Direct: 732-828-2111 ​