NATURAL FABRICS + COVERS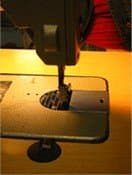 FREE SHIPPING in the contiguous US!
We sew our covers ourselves. They're made with two zippered sides with a double flap enclosure. This makes them much easier to put on and take off as well as ensuring a snugger, cleaner fit. Covers are sewn so that the seams are as invisible as possible. If you want to know where the seams will fall on a finished cover, please call. On almost all of our fabrics we match the seams on the pattern to the extent possible. Our futon covers are designed to fit a White Lotus 6" cornered futon. If your futon is not from White Lotus please call us to place your order. We make a lot of covers and not all may be listed on this site. If you have a specific size cover you are looking for that is not listed, please email us your measurements and specifications to: info@whitelotus.net and we will get back to you with a quote.
White Lotus Home Natural Fabrics
Categories below are listed in alphabetical order by price. The "A" categories are the least expensive, "B" is next etc...
Please select a Category to see the full line of color options for each category. If you need a samples, please send your request to sales@whitelotushome.com.
---
{{/if}}