Pillow Covers in Organic Cotton Sateen Prints or Solids
BPCWLE094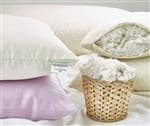 $42.00


Sleep Safe NOW Pay Later!
?
✅Stock items ship in 48 hours, new ones are handmade in 1 - 4 weeks. STOCK LIST!
100% GOTS Certified Organic Cotton Sateen Bed Pillow Covers
You spend a third of your life in bed, so make sure that the sheets you're snuggling up against every night are made of healthy, non-toxic materials. As one of the world's top consumers of insecticides, it's more important than ever to sleep on organic cotton sheets.
GOTS-Certified Organic Cotton
Where cotton goes to get its degree, GOTS-certified organic cotton is held to the highest standards for health and sustainability.
Pesticide and insecticide free
100% natural and biodegradable
Safe for sensitive skin
Consumes 91% less water to grow than regular cotton
Protects farmers from pesticide exposure
Organic Cotton Sateen
With a smoother, sleeker finish than our standard Certified Organic Cotton Sheets, our Organic Cotton Sateen is every bit as sustainable and healthy as organic cotton, and a whole lot softer. The Organic Cotton Sateen fabric used in this product is GOTS Certified and Imported from Pakistan.
Our Thread Counts
Like most things in life, we know more isn't necessarily better, which is why our sheets are designed to age like a fine wine instead of an expensive beer. All of our sheets are made of 230-thread count cotton that gets softer and softer every time you wash it.
Made in the USA by Happy Hands
Like all of our products, our sheets are made right here in the US, so you can always feel good about knowing you're buying from us.
Click here to view our GOTS Organic Certificate from Oregon Tilth!

Dyeing process: "Low-impact fiber-reactive or natural dyes with low metal and sulfur content."
Printing process: "Low-impact or natural pigments with no heavy metals."

Why Harmony Art GOTS Organic Cotton?


What do you think of this product?
Share your thoughts with the White Lotus Home community.
Darcy B (Acme, MI)
May 23, 2023
Beautiful pillow case - excellent quality!
Pamela J (Longmont, CO)
April 13, 2023
Love there products!!! Well worth the price
Robin R (Williamston, Michigan)
August 12, 2021
The cover fits the pillow perfectly and feels nice on my face. I chose a print that doesn't blend in with the hotel pillows. I don't want to leave it behind!
Shon B (Lake Mary, Florida)
June 30, 2020
So soft. Awesome print. Made in the USA!