Green Cotton Latex Core Stow
GCLCNFRSTOW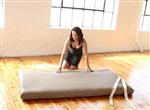 $593.00


Our Natural Cotton Stowaways beds (sometimes used as shikibutons) are great for overnight guests, traveling, kids rooms, or as an exercise mat.
Made of 100% US Grown Green Cotton plus a 2-inch Natural Latex core and it comes in 3-inch thickness.
We recommend this stowaway to be used on the floor or a flat surface.

The Stowaway is a smaller version of our futon mattresses are good for short-term sleep.
We do have customers that enjoy this stowaway for everyday sleep but White Lotus Home recommends a minimum 5" thickness for everyday use.
You can order the stowaway with or without a cover. The cover has straps sewn right on it so you can roll it up for easy storage. Click here to review natural and organic COVERS options.
They can also help you increase your comfort level by placing one on top of your current mattress.


These mattresses bi-fold, tri-fold and roll up but are not recommended to be used with bi-fold or tri-fold frames.
The standard stow is 30x75x3 and it is 30" high and approximately 20" in diameter when rolled up.
The stow also comes in all standard mattress sizes as well as custom sizes.
Flame Retardant: None
| | |
| --- | --- |
| Fabric Case: | |
| Fire Retardant: | |
What do you think of this product?
Share your thoughts with the White Lotus Home community.