Green Cotton Stow
GCMNFRSTOW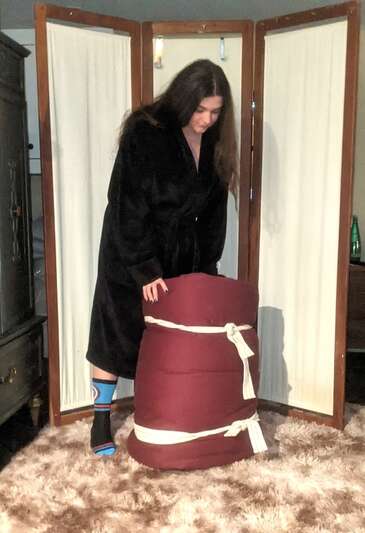 $270.00


Sleep Safe NOW Pay Later!
?
✅Stock items ship in 48 hours, new ones are handmade in 1 - 4 weeks. STOCK LIST!

Green Cotton Stow
Give Your Guests the Best!
Enjoy the convenience of a supremely comfortable stowaway sleep solution, without the hassle of an air mattress or exposure to artificial chemicals. This Natural Cotton Stowaway bed is the perfect solution for anyone who needs a comfortable, temporary sleeping arrangement that can easily be stored away when not in use. It will fit conveniently beneath a bed frame, or it can be rolled up and stored away in a closet or other storage area.
This Green Cotton Stow is perfect for:
Accommodating overnight guests

Creating extra sleeping space in a kids room or playroom

Enjoying comfortable sleep while traveling or camping

Quickly and easily turning floor space into a comfortable spot to rest and relax
Say "NO!" to awkward air mattresses and artificial memory foam!
Not only is this mattress easy to set up and put away, it's an all-natural chemical-free alternative to conventional air mattresses and memory foam sleeping pads. When you use this Green Cotton Stow, you'll be giving your guests the gift of healthy, natural sleep, with an eco-friendly purchase that is kind to our planet. Sometimes called a Shikibuton (or Shikifuton), this stowaway bed was inspired by Japanese-style mattresses. True to the Japanese tradition, it's handmade with high-quality materials, without springs, foam, or wool - simple, clean, natural, and pure.
This Green Cotton Stow can:
Bi-fold, tri-fold, and roll up (but are not recommended to be used with bi-fold or tri-fold frames).

Be used on the floor or other flat surfaces, for short-term or long-term sleep.

Be rolled up and placed in a cover for easy storage. (Check out our natural and organic cover options here!)

Be ordered in any standard mattress size or custom size, with or without a cover.

Help you increase your comfort level by being placed on top of your current mattress.
Quality You Can Trust
Made with 100% US-grown "green" cotton, this stowaway bed is handmade with sustainable, high quality, eco-friendly materials.
Flame Retardant-Free
Our Green Cotton Stow is 100% natural and does not contain any flame retardants or artificial chemicals.
Standard and Custom Sizes
A smaller version of our futon mattress, the standard Green Cotton Stow is 30x75x3". When rolled up, it is 30" high and approximately 20" in diameter. This stow comes in all standard mattress sizes as well as custom sizes. You can order the stowaway with or without a cover. The cover has straps sewn right on it so you can roll it up for easy storage.
Please note: This Green Cotton Stow is 3-inches thick. While we do have customers that enjoy this stowaway for everyday sleep, White Lotus Home recommends a minimum 5" thickness for everyday use.


Standard Stow Sizes & Weights
Lower weights generally reflect a Latex Core or Evergreen Foam Core stowaways, while higher weights are more typical of a Boulder Style (extra firm) stowaways. As all White Lotus Home products are unique, all dimensions and weights are approximate. A variation of up to 1" in all directions is appropriate.
| | | | | |
| --- | --- | --- | --- | --- |
| Stow Style | | Dimensions | | Weight |
| Stow | ∙ | 30 x 75 x 3" | ∙ | 20 - 30 lbs. |
| Twin Stow | ∙ | 39 x 75 x 3" | ∙ | 30 - 40 lbs. |
| Double/Full Stow | ∙ | 54 x 75 x 3" | ∙ | 35 - 50 lbs. |
| Queen Stow | ∙ | 60 x 80 x 3" | ∙ | 40 - 55 lbs. |
| King Stow | ∙ | 76 x 80 x 3" | ∙ | 45 - 60 lbs. |
| | |
| --- | --- |
| Fabric Case: | |
| Fire Retardant: | |
What do you think of this product?
Share your thoughts with the White Lotus Home community.
Sarah P (Roanoke, VA)
January 04, 2022
I always love your futons. I have lost count how many we have ordered since the *** To be honest, I do wish you had a thinner version available.
Marisa Q (Eighty Four, Pennsylvania)
February 08, 2021
Great substitute for an air mattress! So comfortable and you don't have to worry about deflating overnight!
What type of bed you recommend for this 3" stow
Thanks for your email. Since our stows are mainly used as guest beds, they are most recommended to be on a flat surface like the floor or platform style bed. If the bed had slats, there is a higher chance they can be felt. Keep in mind, while some folks may be ok using this for everyday sleep, we do usually recommend at least a 5" thickness or more for proper support.

What is the firm scale of this stow (Green Cotton Stow) - Soft , medium , firm?
Great question, here is a link the expands on how we determine firmness: https://www.whitelotushome.com/faq/#2edc42dc-2cfb-e511-ae3b-002590d0ccf1

The standard stow is close to an 8

What are White Lotus Home Mattress Firmness Levels?

1 (very soft): The softest mattress set up that White Lotus Home handcrafts. White Lotus Home and most back doctors do not recommend very soft mattresses but, if this is what you are comfortable with we recommend adding a Wool Topper EXTRA on top of an All Natural Latex Mattress and a Natural Latex Topper. This 3 piece set should feel like you are on a cloud! If this trio ever becomes too soft, you could always remove a layer or two.
2-3 (soft): A Natural Latex Mattress and/or Topper Set. Good for contouring and reasonable soft sinking feeling which cradles the pressure points. If this ever feels too soft, you could remove the topper.
4-6 (medium-firm): The Natural Latex Core and/or choice of a topper. You could always start with just the mattress which is a good balance of firmness, support, and comfortability. If this surface feels too soft, you could remove the topper. If this feels too FIRM you could always add another topper with EXTRA fill.
7-9 (firm): The all Cotton and Wool, all Cotton without wool and the Evergreen foam cores are considered firm. Offering sufficiently firm feel without compromising too much comfort or conformability.
10 (very firm): Extremely firm with little to no padding or conformability. The Boulder style fits the bill in firmness, as does our Evergreen Foam mattress. This type of mattress is loved by customers that lived in India, Japan, and other international countries where sleeping on firm surfaces is a way of life. If this ever becomes too firm, you could always add a topper.

Thanks, Marlon


Is this machine washable?
Sorry none of our natural or organic stows, mattresses and toppers are washable, but please do see care instructions here: https://www.whitelotushome.com/faq/#019f5027-5f36-e611-80c0-0cc47a7c10db Thanks, Marlon
How much does this mattress weigh?
Here are the estimated weights for our Stowaways:

Stow ∙ 30 x 75 x 3" ∙ 20 - 30 lbs.
Twin Stow ∙ 39 x 75 x 3" ∙ 30 - 40 lbs.
Double/Full Stow ∙ 54 x 75 x 3" ∙ 35 - 50 lbs.
Queen Stow ∙ 60 x 80 x 3" ∙ 40 - 55 lbs.
King Stow ∙ 76 x 80 x 3" ∙ 45 - 60 lbs.

Sales and Customer Service Department
Call: 732-828-2111 from 10 am to 6 pm Monday to Saturdays