Cotton Zabuton Meditation Covers
ZABPCCOV064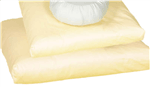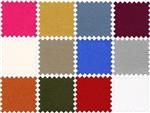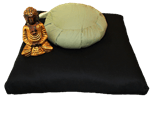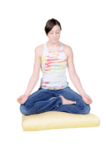 $48.00


Sleep Safe NOW Pay Later!
?
✅Stock items ship in 48 hours, new ones are handmade in 1 - 4 weeks. STOCK LIST!
Zabuton Meditation Covers ONLY*
(25"W x 25"L x 3"H)
A zabuton is a Japanese cushion for sitting. In Zen meditation, practitioners sit on zafu which is typically placed on top of a zabuton. They provide cushioning to your knees, ankles, and legs when used for meditation. The zabuton is the everyday cushion found in homes also used for eating, watching television, reading at the kotatsu, and other daily activities.
The "B" Fabrics by White Lotus Home are Organic Cotton Twill Fabrics.
The "A" Fabrics by White Lotus Home are 100% Cotton Twill Fabrics.
All zabuton covers are made in the USA and include a zipper on two sides.

CARE: Washable in COLD Water and low heat or air dry is highly recommended.

NEED a ZABUTON Meditation insert to go with your COVER? Click here.

White Lotus Home has been handcrafting Yoga, Meditation, and Massage equipment for decades. We use all natural and organic fibers and fabrics, including organic cotton, kapok, and buckwheat hulls. Our Zabutons and Zafus are in use by yoga studios and students around the world, and our neck rolls are favored by medical practitioners and chiropractors. If you're looking for a healthy yoga, meditation, or massage pillow or accessory, White Lotus Home can help you. Interested in a custom item? Please inquire via email at sales@whitelotushome.co
What do you think of this product?
Share your thoughts with the White Lotus Home community.