Solid Wood Chest, Armoire or Wardrobe
SWW0021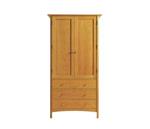 $1,813.00


Sleep Safe NOW Pay Later!
?
Vermont Furniture Designs strives to build the most beautiful and durable furniture possible. They combine traditional techniques, with an emphasis on color and grain selection and matching boards, with technology that is most appropriate for the application, such as smooth-operating slides and hardware. Those parts that are not visible are chosen because they deliver uncompromising performance.
30% additional fee for WALNUT - will be added to your order after it has been placed.

What do you think of this product?
Share your thoughts with the White Lotus Home community.