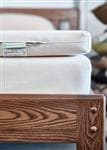 $377.00


Sleep Safe NOW Pay Later!
?
✅Stock items ship in 48 hours, new ones are handmade in 1 - 4 weeks. STOCK LIST!
The Evergreen Foam Topper
FIRM and supportive handmade topper at a great price.
The Evergreen foam topper made with a 2" foam core wrapped in Pure US Wool and encased in a 100% cotton casing.
This eco-friendly foam topper has been very well received by our customers that want a conventional topper look but want to sleep in a natural environment.
For those looking to invest in your personal health while keeping the environment in mind, this is the sleep solution for you!
The wool wrap also acts as a: Natural Dust Mite repellant & Body temperature regulator: the wool wicks away moisture during hot months and keeps your body warm during cold months keeps your body warm during cold months
Some additional info on our Evergreen Foam:
All foam is comprised of oils. These oils, regardless of origin, form the organic compound polyurethane --- it's an umbrella term that describes the chemical compound, not the source. While most conventional oils will use damaging petroleum as their base, our Evergreen Foam will only use soy, castor, and other vegetable oils. To process the liquid oil into a foam product, polyols are added; polyol is sugar-based alcohol derived from castor and vegetable oils that burns off in the manufacturing process. In short, even though foam is a man-made product, all components of our Evergreen Foam are naturally derived from plant-based oils. It's as natural as foam can come!
You can think of the process much like baking a whisky cake: the batter starts out as a liquid, but baking chemically transforms the mixture from liquid to solid, while the alcohol burns off almost entirely.
If a customer is looking for the most natural product possible, we would recommend mattresses and bedding made from raw fibers such as cotton, kapok, and wool: these are unprocessed and close to their natural source. However, we do try to offer foam cores and all-foam mattresses for comfort, budgetary, and sensitivity reasons.
NOTE: Because White Lotus Home does not add perfumes, formaldehyde, or dyes to our natural fibers and materials, some of our items will retain their natural scent. Samples of our fibers are available for free by contacting our sales department by email: sales@whitelotushome.com or by calling 732-828-2111.
Topper Sizes & Weights: Evergreen Foam Topper
As all White Lotus Home products are unique, all dimensions and weights are approximate and may vary +/- 1 inch or pound.
| | | | | |
| --- | --- | --- | --- | --- |
| Toddler | ∙ | 28 x 54 x 3" | ∙ | 5 lbs. |
| Twin | ∙ | 39 x 75 x 3" | ∙ | 11 lbs. |
| XL Twin | ∙ | 39 x 80 x 3" | ∙ | 12 lbs. |
| Double/Full | ∙ | 54 x 75 x 3" | ∙ | 17 lbs. |
| Queen | ∙ | 60 x 80 x 3" | ∙ | 20 lbs. |
| King | ∙ | 76 x 80 x 3" | ∙ | 25 lbs. |
| Cali King | ∙ | 72 x 84 x 3" | ∙ | 26 lbs. |
How will my order ship? Will I be able to track my order?
White Lotus Home offers free shipping within the contiguous United States.

Most orders are shipped via FedEx. When the items leave our facility, you will receive automated tracking information via FedEx. If you do not receive this information, please do not hesitate to email us and our staff can provide a tracking number.

Exceptions are as follows:
Large orders within 100 miles of our manufacturing facility in New Jersey are eligible for complimentary White Glove Service. If your order qualifies for delivery, our Coordinator will contact you via email at least 3 days prior to your tentative appointment window. For additional information and to see if you qualify, please see here.
Furnishings outside of our delivery range will ship directly from the manufacturer unless otherwise notified. We will forward tracking information as it becomes available to us.
Orders shipped internationally, to Alaska and Hawaii, or to APO Boxes may be shipped via the United States Postal Service. Tracking is available upon request.
Certain items, particularly King Mattresses, may exceed the 150 pound limit for FedEx ground shipments and may need to be sent via FedEx Freight or a private shipping company. We will forward tracking information as it becomes available to us.
Do you ship outside the U.S.?
We are happy to offer our handcrafted mattresses and bedding to those outside the United States.

For orders to Alaska and Hawaii, an additional fee may apply. Upon receipt of your order, we will contact you with an estimated shipping cost --- typically around 10-15% more than your original total. Alternatively, you may reach out to us before placing your order for a quote.
For Canadian orders, shipping costs can range between 5% and 25% of your order total, depending on your location. Kindly contact us for a shipping quote prior to placing your order. Please note that most of our soft good products (mattresses, bedding and pillows) fall under the North American Free Trade Agreement (NAFTA) and you should pay little or no tariff cost. Please have the following notice handy when you are receiving your products or dealing with your broker in Canada:
NAFTA: I HEREBY CERTIFY THAT THE GOOD COVERED BY THIS SHIPMENT QUALIFIES AS AN ORIGINATING GOOD FOR PURPOSES OF PREFERENTIAL TARIFF TREATMENT UNDER THE NAFTA.
International buyers may request a shipping quote by email prior to placing an order. We can be reached by email at
info@whitelotushome.com
. Please be aware that the each country has the authority to levy fees, tariffs, and taxes on imported goods. These are left to the discretion of the individual governments and varies from country to country. Foreign tariffs and taxes Sare not visible when purchasing postage and therefore, we cannot provide a quote for these fees. It is the responsibility of the addressee, as he or she was the purchaser of imported goods.
Additional information can be found on our
Shipping Page
.
Care and Cleaning: Pillows, Duvets, and Bedding
As they are raw, minimally processed fibers, our products cannot be completely submerged in water without damaging the fibers within. This includes pillows and duvets.
We recommend spot cleaning your White Lotus Home pillows, duvets, and bedding with a solution of 3 parts water to one part vinegar. Spray the solution onto the stain and expose to sunlight. Let dry and repeat until the stain fades and odors dissipate. You can also substitute vinegar with a mild laundry detergent. For surface stains, hydrogen peroxide works well for blood, whereas rubbing alcohol can help to remove oils from cosmetics.
Bedding should not remain damp, as it may encourage uneven wear or mold growth. Following a spill or cleaning, dry any moisture by placing the item in the sun or by using a hair dryer. Ensure it is fully dry before re-adding sheets or protective covers, such as our
Organic Barrier Cloth Covers
.
Please note that these suggestions are at your own risk. Results may vary.
Refreshing Wool Bedding
Wool bedding, such as duvets and toppers, occasionally require special care. We recommend exposing it to direct sunlight and air once a month --- sunlight works as a natural sanitizer. If you prefer to send them to the cleaners, use a dry-cleaning process only. Never submerge wool bedding in water or place it in the washing machine, as this can cause irreversible felting of the wool.
Review more Frequently Asked Questions.
What do you think of this product?
Share your thoughts with the White Lotus Home community.
Charles O (Newnan, GA)
March 23, 2022
Diane K. K (Brunswick, Ohio)
February 20, 2020
I tried other toppers but this one has the best support and cushioning and is the lightest and easiest to maintain. This is my 2nd one. The first one got ruined by a terrified cat (another of our cats was terrorizing her. We found a good home for the bad cat where she can be the only female and be spoiled rotten.). But, it would have lasted a lot longer than 3 years if Cica hadn't happened to it. :)
I am wodering if this will make my casper mattress firmer. Also, do you have a firmer option?
Sorry, we are not familiar with that companies products. In regards to our Toppers, we do find that the Evergreen Foam topper would be the one that is considered denser than any of our other toppers. Toppers are also meant to provide a layer of softness to a firmer surface so I don't know if this is what you may need. Hope this helps!
What is the lifespan of this topper? Is it expected to compress with nightly use?
This topper is made with a 2" piece of Evergreen Foam and wrapped in a layer of wool. It can last 10+ years just like our mattresses. It is a denser type of foam and would not compress with nightly use.
How dense is this topper?
I would say from a range of 1-10 possibly, 6-7.
Does the foam topper qualify for the return policy?
The foam topper does not fall under our 120 NIGHT MATTRESS Guarantee as that is just meant for mattresses. We only accept returns of UNUSED items within 30 days of purchase. We do not accept any returns of used bedding. Please let us know if you have any further questions. The full RETURN Policy can be found in our FAQs. LINKED HERE: https://www.whitelotushome.com/faq/#1d1db192-222c-e611-80c0-0cc47a7c10db