Pure Cotton and Foam Futon
OCFCMNFRFuton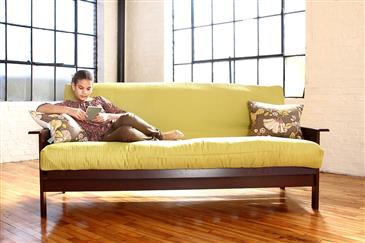 $1,653.00


Sleep Safe NOW Pay Later!
?
This futon requires a prescription from a licensed physician for purchase.
Organic Cotton & Foam Futon
Supportive and responsive, you'll fall in love with the cloud-like luxury of our Organic Cotton and Foam Futon. Softer than the 100% cotton futons we sell, this futon is perfect for those who prefer to sink into their beds — without the harsh chemicals found in memory foam.
Made with 100% USDA and GOTS-Certified organic cotton and Evergreen Foam, our organic futons are free from flame-retardants, dyes, perfumes, and chemical processes. From babies to bad backs, everybody loves the simplicity of this classic design.
From Cot to California King — and in custom sizes, too — these organic futons offer a natural and hypoallergenic alternative in almost every size.
GOTS-Certified Organic Cotton
Where cotton goes to get its degree, GOTS-certified organic cotton is held to the highest standards for health and sustainability. Our organic futons are made of endless fluffy layers of 100% pesticide-free organic cotton raised sustainably, from our farms to your bed.
Pesticide and insecticide free

100% natural and biodegradable

Safe for sensitive skin

Firm, yet soft

Consumes 91% less water to grow than regular cotton

Protects farmers from pesticide exposure
Evergreen Foam

Most foams are made of petroleum-based products that produce toxic off-gassing and create a lot of environmental pollution.
Our signature Evergreen Foam is made from vegetable, soy, and castor oils, making it more sustainable and completely non-toxic. Evergreen Foam is:
Flame retardant free

Paraben-free

Formaldehyde-free
Sleeping on Our Organic Cotton Futon
The Organic Cotton and Foam Futon is one without springs, and as such won't transfer motion between sleepers. We recommend putting it on a box spring set or platform bed, or on a bi-fold or tri-fold futon frame and even using it as a floor bed. A slatted bed frame is recommended for air circulation and the slats should be at least 2.5" wide and no more than 2" apart from each other. When the slats are more than 2" apart, that may affect the longevity and comfort of your futon. Soft and decadently plush, our Organic Cotton and Foam futon is unlike any you've ever slept on – and is the all natural sustainable futon of your dreams.
Please note: This futon requires a prescription from a licensed physician for purchase. After purchase, please fax, email, or mail a copy of your prescription in a timely manner, so that we can begin handcrafting your futon .
Send prescriptions to: Info@whitelotushome.com OR White Lotus Home 745 Joyce Kilmer Avenue, Ste E New Brunswick, NJ 08901
Want to skip the prescription? Check out our line of Dreamton futons, which include a layer of luxurious wool that acts as a natural flame retardant! No prescriptions needed, and no flame retardants.
Some additional info on our Evergreen Foam:
All foam is comprised of oils. These oils, regardless of origin, form the organic compound
polyurethane
--- it's an umbrella term that describes the chemical compound, not the source. While most conventional oils will use damaging petroleum as their base, our Evergreen Foam will only use soy, castor, and other vegetable oils. To process the liquid oil into a foam product,
polyols
are added; polyol is sugar-based alcohol derived from castor and vegetable oils that burns off in the manufacturing process. In short, even though foam is a man-made product, all components of our Evergreen Foam are naturally derived from plant-based oils. It's as natural as foam can come!
You can think of the process much like baking a whisky cake: the batter starts out as a liquid, but baking chemically transforms the mixture from liquid to solid, while the alcohol burns off almost entirely.
If a customer is looking for the most natural product possible, we would recommend futons and bedding made from raw fibers such as cotton, kapok, and wool: these are unprocessed and close to their natural source. However, we do try to offer foam cores for comfort, budgetary, and sensitivity reasons.
I've attached a
letter
from the foam manufacturer. You will find page 10 most relevant, as it provides certification that the product is created without fire retardants, formaldehyde, nickle, mercury, parabens, and other hazardous materials.
Foam Density: 35 ILD
Weight Density: 1.8 LBS
What is the difference between a White Lotus Home Futon and a White Lotus Home Mattress?
You can watch this video about our Futon Mattresses but the differences between the two are simple:
1. A mattress is made standard at 6" thick, while a futon is 5" thick.
2. A mattress comes with side handles to help maneuver its size, but a futon is made without handles.
3. A mattress has side panels that give it a boxier shape, while a futon has rounded sides. These differences allow us to make futons out of the same high-quality material as mattresses, but for less cost. White Lotus Home mattresses can be made up to 8" inches thick.
All of our mattress options can be made in "Futon" and "Mattress" styles.
We know how hard it can be to shop for futons and mattresses online and that is why we offer a way for you to try them first!
Click here to review our SAMPLE options.
Any monies paid towards samples can then be used as a credit towards your order.

Contact us for your FREE Natural Bedding Consultation at info@whitelotushome.com or call 877 HANDMADE or 732-828-2111.
Standard Futon Sizes & Weights

Lower weights generally reflect a Latex Core or Evergreen Foam Core futons, while higher weights are more typical of a Boulder Style (extra firm) futons. As all White Lotus Home products are unique, all dimensions and weights are approximate. A variation of up to 1" in all directions is appropriate.
| | | | | |
| --- | --- | --- | --- | --- |
| Futon Style | | Dimensions | | Weight |
| Twin 5" Futon | ∙ | 39 x 75 x 5" | ∙ | 65 - 75 lbs. |
| XL Twin 5" Futon | ∙ | 39 x 80 x 5" | ∙ | 70 - 80 lbs. |
| Double/Full 5" Futon | ∙ | 54 x 75 x 5" | ∙ | 80 - 90 lbs. |
| Queen 5" Futon | ∙ | 60 x 80 x 5" | ∙ | 95 - 115 lbs. |
| King 5" Futon | ∙ | 76 x 80 x 5" | ∙ | 135 - 160 lbs. |
How will my order ship? Will I be able to track my order?
White Lotus Home offers free shipping within the contiguous United States.

Most orders are shipped via FedEx. When the items leave our facility, you will receive automated tracking information via FedEx. If you do not receive this information, please do not hesitate to email us and our staff can provide a tracking number.

Exceptions are as follows:
Large orders within 100 miles of our manufacturing facility in New Jersey are eligible for complimentary White Glove Service. If your order qualifies for delivery, our Coordinator will contact you via email at least 3 days prior to your tentative appointment window. For additional information and to see if you qualify, please see here.
Furnishings outside of our delivery range will ship directly from the manufacturer unless otherwise notified. We will forward tracking information as it becomes available to us.
Orders shipped internationally, to Alaska and Hawaii, or to APO Boxes may be shipped via the United States Postal Service. Tracking is available upon request.
Certain items, particularly King Mattresses, may exceed the 150 pound limit for FedEx ground shipments and may need to be sent via FedEx Freight or a private shipping company. We will forward tracking information as it becomes available to us.
Care and Cleaning: Pillows, Duvets, and Bedding
As they are raw, minimally processed fibers, our products cannot be completely submerged in water without damaging the fibers within. This includes pillows and duvets.
We recommend spot cleaning your White Lotus Home pillows, duvets, and bedding with a solution of 3 parts water to one part vinegar. Spray the solution onto the stain and expose to sunlight. Let dry and repeat until the stain fades and odors dissipate. You can also substitute vinegar with a mild laundry detergent. For surface stains, hydrogen peroxide works well for blood, whereas rubbing alcohol can help to remove oils from cosmetics.
Bedding should not remain damp, as it may encourage uneven wear or mold growth. Following a spill or cleaning, dry any moisture by placing the item in the sun or by using a hair dryer. Ensure it is fully dry before re-adding sheets or protective covers, such as our Organic Barrier Cloth Covers.
Please note that these suggestions are at your own risk. Results may vary.


Refreshing Pillows & Duvets
Some fibers, particularly kapok, can absorb the natural oils that keep our face and skin healthy. To restore loft and fluffiness, pillows may be placed in the dryer on the "Cold Air/ Fluff" setting for 15 to 20 minutes. Specially-designed wool dryer balls or clean tennis balls can aid in fluffing the inner fibers. To prevent any damage to the inner fibers, never use a heated setting.
Refreshing Wool Bedding
Wool bedding, such as duvets and toppers, occasionally require special care. We recommend exposing it to direct sunlight and air once a month --- sunlight works as a natural sanitizer. If you prefer to send them to the cleaners, use a dry-cleaning process only. Never submerge wool bedding in water or place it in the washing machine, as this can cause irreversible felting of the wool.
Cleaning Sheets & Covers
Sheets and covers may be washed in cold water on a gentle cycle and dried on low, though line drying is preferable.
Cleaning Cotton Belle Covers
For Cotton Belle Covers, please consult this chart for fiber content and care instructions specific to your fabric. Any fabric marked with a * is machine washable on the gentle cycle. Line drying is preferred.
Cleaning Coyuchi Blankets & Sheets
All of Coyuchi's cotton and linen products are machine washable. For whites and light colors: We recommend machine washing on the gentle or delicate cycle with warm water and non-phosphate soap. For dark colors: We recommend machine washing on gentle or delicate cycle with cold water and non-phosphate soap. Line dry, or tumble dry low and remove promptly. Use a warm iron on cotton, or a hot iron on linen, as needed. We do not recommend using whiteners as bleaching agents may diminish the brilliance and depth of the colors; when needed, use only non-chlorine bleach. Please refer to the product tag for more specific instructions. Place a set of our wool dryer balls inside the dryer to naturally soften the fabric and reduce drying time.
Cleaning Coyuchi Organic Cotton Mattress Pads
All Coyuchi organic cotton mattress pads are machine washable. We recommend machine washing on the gentle or delicate cycle with like colors, with cold water and a natural, plant based laundry detergent. We do not recommend using whiteners, as bleaching agents may diminish the brilliance and depth of the colors; when needed, use only non-chlorine bleach. Line dry, or tumble dry low and remove promptly. Fabric softeners and dryer sheets reduce the absorbency of cotton textiles and are not recommended. Place a set of wool dryer balls inside the dryer to naturally soften the fabric and reduce drying time. Use a warm iron as needed.
What do you think of this product?
Share your thoughts with the White Lotus Home community.