Finalist for Martha Stewart American Made Awards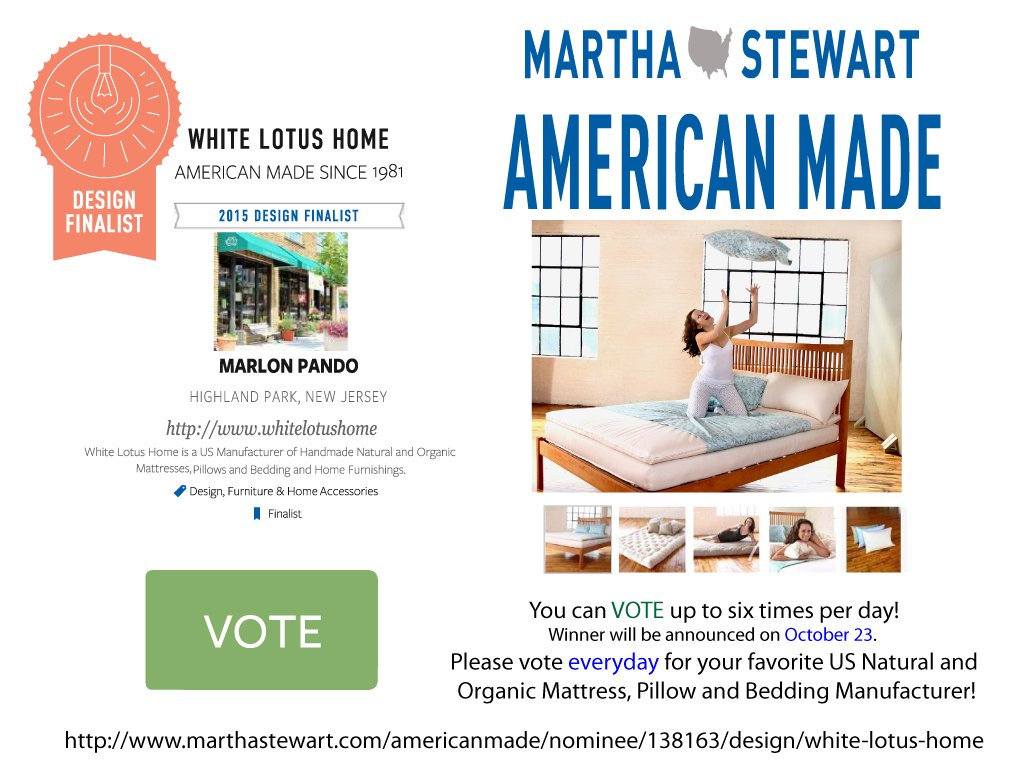 NEWS RELEASE
Contacts

George E. Jordan

Griot MediaWorks

George@griotpr.com

201-707-4906

Marlon Pando

President, White Lotus Home

marlon@whitelotushome.com

(732) 828-2111



WHITE LOTUS HOME -
FINALIST FOR MARTHA STEWART LIVING'S
2015 AMERICAN MADE AWARD
HIGHLAND PARK, NJ ¬– Martha Stewart Living, the nation's preeminent lifestyle company, has selected White Lotus Home as a finalist for its American Made Award, which celebrates quality craftsmanship and well-designed goods.
White Lotus Home is among 15 finalists, all recognized for their dedication to creating beautiful, quality products and building successful business and communities.
"We're very proud to be selected by Martha Stewart Living," said Marlon Pando, White Lotus Home's president. "It validates our dedication to handcrafted organic mattresses, pillows and bedding from natural products, such as cotton and wool.
"We are all about American Made. We value this very much as we have been handcrafting our products in the US since 1981! We have a wonderful sewing department and skilled artisans that take so much pride in the beautiful products they make."
Persons wishing to vote must enter their name and valid e-mail address, and complete the online registration form on the Contest Website. Winners will be announced next month.
About White Lotus Home. ?White Lotus Home is a leading manufacturer and distributor of organic bedding dedicated to our customers, our employees and our planet. Founded in 1981, our company provides consumers with certified organic bedding created by hand from pure American-grown cotton, wool and other natural products. White Lotus Home is dedicated to educating consumers about indoor air quality and toxic chemicals in mattress foams, glues, and fire retardant substances. Our fabrication plant in Highland Park, N.J., supplies White Lotus stores in New Jersey, New York and Florida as well as a network of 100 online resellers, including Amazon.com, and retail outlets in the U.S. and Canada. White Lotus believes that quality and fair value are more important than low prices and a quick profit. We oppose the exploitation of the planet and its inhabitants. Above all, our people, products and business practices are socially, politically and environmentally responsible.
About our name: The White Lotus (nelumbo nucifera), a sacred symbol of Indian cultural heritage, sprouts in muddy lakes and ponds, its stalks rising from the murky waters to unfurl magnificent ornamental blossoms that reach for the sun. To White Lotus Home, the flower is an allegory of the human condition's triumph over chemicals and toxins in the environment as we work to enlighten and inspire others of the benefits of handcrafted organic and natural products, thereby partaking of the White Lotus flower's endless destiny.