Green Cotton & Wool Dreamton Mattress
GCDRM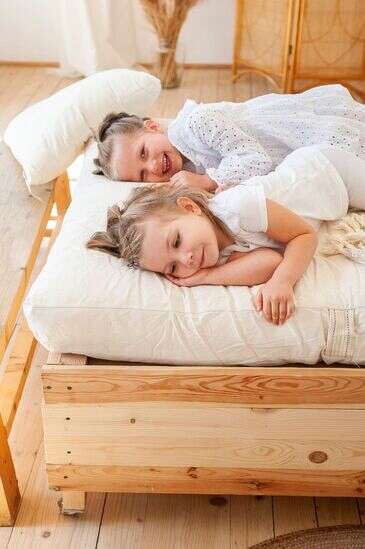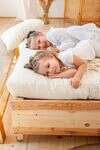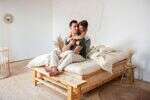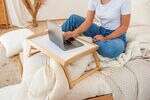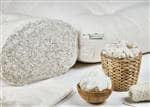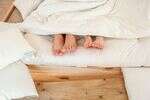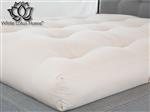 $732.00


Sleep Safe NOW Pay Later!
?
✅Stock items ship in 48 hours, new ones are handmade in 1 - 4 weeks. STOCK LIST!
Green Cotton & Wool Dreamton Mattress
The Dreamton Mattress is our signature mattress design, made in a variety of materials, sizes, and firmnesses for a feel that's all luxury, and all about your preferences. With a soft yet supportive feel, our Green Cotton and Wool Dreamton is a little on the firmer side, but still more yielding than our Boulder Dreamton line — perfect for sleepers who like a medium-firm feel to their mattress. With a fluffy Green Cotton core wrapped in our most luxurious natural wool, this mattress is 100% natural and spring-free and doesn't transfer motion between sleepers. It comes in all standard and custom sizes. They offer an organic and hypoallergenic alternative in every size.
Does this sound like you?

✔ You enjoy sleeping on your side or back.

✔ You often have a partner or pet sleeping alongside you.

✔ You sometimes wake up with stiffness or back pain, and have found that a firmer mattress helps keep the pain away…

✔ However, you still like a little soft, cozy fluff for extra comfort.
Did you just nod your head 4 times?If you did...The Green Cotton & Wool Dreamton Mattress is your new best friend!
What Is Green Cotton?
A more affordable option to our organic cotton products, our Green Cotton is grown in the United States — it just isn't certified organic. This more affordable material is slightly firmer than organic cotton, but the real beauty is in what it doesn't have:
NO dyes

NO perfumes

NO flame retardants
Grown by farmers right here in the US, Green Cotton is a fabulous cost-saving material that doesn't put you in contact with harmful chemicals typically found in conventional cotton.
Wool from Happy Sheep
Here at White Lotus Home, we hold our shepherds to the highest standards of quality and ethics. Our sheep are raised on rotating pastures to prevent erosion and overgrazing, and their beautiful wool is never treated with chemicals or flame retardants. Wrapped in a layer of the finest wool we source, the Dreamton mattresses are naturally antimicrobial and dust mite resistant, and require no flame-retardant chemical treatments to be safe. Wool is comfortable in the summer and winter, thanks to its natural insulative properties.
Sleeping on the Green Cotton and Wool Dreamton Mattress
The Dreamton is a mattress without springs, and as such won't transfer motion between sleepers. We recommend putting it on a box spring set or platform bed, or even using it as a floor bed. A slatted bed frame is recommended for air circulation and the slats should be at least no more than 2" - 2.5" apart from each other. When the slats are more than 2.5" apart, that may affect the longevity and comfort of your mattress. Supportive and soft, the Dreamton offers a medium-firm feel, in healthy and non-toxic materials you can feel good about curling up against.
Standard Mattress Sizes & Weights
Lower weights generally reflect a Latex Core or Evergreen Foam Core mattresses, while higher weights are more typical of a Boulder Style (extra firm) mattress. As all White Lotus Home products are unique, all dimensions and weights are approximate. A variation of up to 1" in all directions is appropriate.
| | | | | |
| --- | --- | --- | --- | --- |
| Mattress Style | | Dimensions | | Weight |
| Twin 6" Mattress | ∙ | 39 x 75 x 6" | ∙ | 70 - 80 lbs. |
| Twin 7" Mattress | ∙ | 39 x 75 x 7" | ∙ | 75 - 85 lbs. |
| Twin 8" Mattress | ∙ | 39 x 75 x 8" | ∙ | 75 - 90 lbs. |
| XL Twin 6" Mattress | ∙ | 39 x 80 x 6" | ∙ | 75 - 85 lbs. |
| XL Twin 7" Mattress | ∙ | 39 x 80 x 7" | ∙ | 75 - 85 lbs. |
| XL Twin 8" Mattress | ∙ | 39 x 80 x 8" | ∙ | 85 - 95 lbs |
| Double/Full 6" Mattress | ∙ | 54 x 75 x 6" | ∙ | 85 - 95 lbs. |
| Double/Full 7" Mattress | ∙ | 54 x 75 x 7" | ∙ | 90 - 100 lbs. |
| Double/Full 8" Mattress | ∙ | 54 x 75 x 8" | ∙ | 95 - 115 lbs. |
| Queen 6" Mattress | ∙ | 60 x 80 x 6" | ∙ | 105 - 120 lbs. |
| Queen 7" Mattress | ∙ | 60 x 80 x 7" | ∙ | 110 - 130 lbs. |
| Queen 8" Mattress | ∙ | 60 x 80 x 8" | ∙ | 120 - 135 lbs. |
| King 6" Mattress | ∙ | 76 x 80 x 6" | ∙ | 145 - 165 lbs. |
| King 7" Mattress | ∙ | 76 x 80 x 7" | ∙ | 155 - 175 lbs. |
| King 8" Mattress | ∙ | 76 x 80 x 8" | ∙ | 160 - 180 lbs. |
| Cali-King 6" Mattress | ∙ | 84 x 72 x 6" | ∙ | 145 - 165 lbs. |
| Toddler Mattress | ∙ | 28 x 54 x 3.5" | ∙ | 20 - 30 lbs. |
Shipping
All orders from White Lotus Home ship FREE in the contiguous United States.
If your order qualifies, our dedicated Dream Team will reach out to you at least 3 days before your tentative delivery date. To see if you qualify for our White Glove Delivery Service, click here.
Larger orders may need to ship via freight services.
Flipping Your Mattress
We recommend you flip your White Lotus Home mattress approximately every three months if placed on a slatted surface, and every month if on a solid surface (like a box spring) to avoid compaction and allow the materials to air out.
Cleaning Your Mattress
We always recommend spot cleaning our mattresses — never saturate them with any liquid. We always recommend to our customers that they add one of our protective Barrier Cloth mattress covers, to ensure spills never get out of hand.
To spot clean, we suggest a mild solution of three parts water to one part vinegar in a spray bottle, but for particularly stubborn spills, a mild detergent is perfectly fine to add to the bottle as well.
Always ensure your mattress is thoroughly dried after a spot cleaning, either by using a hair dryer or placing it in the sun to air out.
| | |
| --- | --- |
| Core: | |
| Firmness Style: | |
| Fabric Case: | |
What do you think of this product?
Share your thoughts with the White Lotus Home community.
Nikett S (Elizabethtown, KY)
March 09, 2023
The sleep quality of the mattress is great. Highly Recommended.
Nichols M (Spartanburg, SC)
December 11, 2022
I recently purchased this mattress in queen size (7") and am absolutely loving it!! This is my first time buying and consistently using a WLH mattress. I love the level firmness - I don't wake up with back pain. Whereas I've been sleeping on softer latex mattresses for the last few years and notice a considerable difference in how much more supportive this WLH mattress is for my body. I also love the natural smell. It puts my nervous system at ease to know it is natural and non-toxic. After a couple months of sleeping on it, I plan to rotate the mattress to wear it evenly as the cotton and wool compresses slightly over time. I would joyfully recommend this mattress to others!
Pamela C (Windsor, ON)
April 28, 2022
I replaced my old mattress with this one. It's very comfortable and well made. I have a topper over it to make it softer but I like it without it as well. I would recommend it to anyone looking for a natural mattress. Flipping it is a little hard because it's heavy but I can manage.
Kimberly S (Tomball, TX)
March 29, 2022
Lyndon O (Malibu, CA)
March 07, 2022
Super high quality mattress. Better than mass market brands
Melissa E (Glendora, CA)
November 12, 2021
Product is just the right amount of firmness, comfortable and soft. Has a delightful natural smell to it.
Philip A (Saint Paul, MN)
November 01, 2021
Alyssa M (Newfields, New Hampshire)
July 14, 2021
We bedshare with our two year old so as he has been growing, a king size mattress was necessary to all fit in bed! We found this mattress and absolutely LOVE it. It is hard when we travel now because we love the firmness of this. A mattress without springs really feels so much better. Flipping it is no small task as the mattress weighs more than I do but it is well made and we love it. We recommend it to everyone, especially families who bed share! Firmness is great for babes to sleep on too!
Maryann B (San Diego, California)
June 04, 2021
Please see the review I left in the previous section.
Katherine O (Keller, Texas)
January 15, 2021
Feels like we are sleeping in heaven - and feels good we are not sleeping in a chemical laden mattress - well made product and exceeded what We were looking for - - highly recommended
Amy S (Poughkeepsie, New York)
December 01, 2020
Harshada K (San Jose, California)
November 24, 2020
D Edward S (Niagara Falls, New York)
November 04, 2020
as good as my grandparents
Lisa M (N SYRACUSE, New York)
April 16, 2020
This is made well but it needs a topper. If you like a firm mattress this is fine but I need a topper with it.
Graziella L (Natick, Massachusetts)
February 04, 2020
I have bought 2. One for the master and one for the guest room. Would recommend to anyone interested in buying a mattress without chemicals. So far the mattresses have hold up very well.
Stephanie (Brookyn, NY)
December 13, 2019
We have numerous pillows from White Lotus (the body pillows are amaaaaaazing), and we trusted them for our child's mattress. We wanted something chemical-free that was still within the realm of affordable, and are so happy we found this mattress. Our daughter LOVES it, and lying on it ourselves, we can see why - it's firm yet still resilient - very comfortable. When we had an issue because we forgot to flip & rotate, the staff was incredible with guiding us in how to rectify the situation, and sent videos to help us figure out the best ways to fix it. They're also just incredibly friendly in general. I'd be happy to support them because of their quality products alone, but the fact that it's a family business run by incredibly nice people makes it that much easier to support them! Yay White Lotus!
Heather H (Beaverton, Oregon)
October 17, 2019
Jake O (Wainscott , New York)
September 27, 2019
Anyone who supports America and does not want to sleep on petro chemical products or on toxic chemical laden fabrics should buy this product.
Michaela H (Madison, Wisconsin)
September 10, 2019
I adore this bed. I bought it for my guest room with a topper and it is a hit.
Celeste J (Lititz, Pennsylvania)
September 04, 2019
Sent this product to college with our daughter! She loves her dorm "nest."
Juddha T (Morgantown, West Virginia)
August 03, 2019
I am using for sleeping. Recommend to everyone. High quality products.
Tracy W (Lake Havasu City, Arizona)
July 29, 2019
We love our mattress No chemicals Firm, supportive, comfortable
Second mattress! Live this company and the product. My first bolder mattress is 9 years old and still exceptional and in perfect shape. Thank you for being and honest hard-working company.
Lindsey C (Portland, Oregon)
June 26, 2019
Both of my children (5 1/2 and 3) sleep on the green cotton and wool dreamton mattress. The quality and craftsmanship is excellent, I would recommend this product to everyone. I wanted the safest, healthiest and most comfortable mattress for my children, which is white lotus! I bought my first mattress from you all for my oldest child over two years ago and just ordered another recently for my younger child. We love your products.
Anita S (Keller, Texas)
June 26, 2019
I purchased this matress my last year of college and it made a difference in my sleep. I used to have neck and back pain, or felt more sore than when I went to sleep, but I no longer have pains and feel refreshed when I start my day. I love my White Lotus mattress! It has a nice smell to it and I rotate and fluff it about once a month. My dog even loves it!
Brianna L
February 19, 2019
Great mattress! Supportive without being too firm. Easy care and peace of mind that my husband and I are sleeping on a super healthy mattress means everything to me!
Cassandra
January 18, 2019
We are thrilled to have this beautiful company and product in our life. It's a memorable moment when you purchase, receive and LOVE the first bed you've given to your son. The weight is just right. It's firm but giving, and you seem to melt into it. The service has been remarkable wonderful too.
Sherry Lynne
February 24, 2018
I bought one of your mattresses because of allergies related to off-gassing of mainstream mattresses and am happy to report that I have had NO problems since sleeping on a white lotus cotton and wool mattress!!!!
Ashley C (Amelia, Ohio)
February 17, 2018
Alison E (Phoenix, AZ)
February 17, 2018
I purchased the same mattress for my daughter 3 years ago, I wouldn't have ordered another if I didn't love it. Both have proven to be comfortable for the kids and I don't mind staying in bed with them for snuggles.
Joanne M (Beaufort, SC)
February 17, 2018
Love the mattresses! Have 3!
Robin C (Lakewood, Washington)
February 17, 2018
Organic bed mattress was great. Very high quality except for the upholstery pin sticking up. I let the company know and they gave me a free pillow of my choice. I like their products.
Sophia M (Ann Arbor, Michigan)
February 17, 2018
Used daily as a bed, regular rotation makes a noticeable difference. Love it so far!
Michelle H (Patchoug, New York)
February 17, 2018
Rosalynn S (Houston, Texas)
February 17, 2018
I purchased a mattress for my son, who seemed to have allergies to his previous foam mattress.\n\nI would recommend to anyone whom is concerned about the chemicals that are used to make most mattresses available.\n\nAwesome. Does not sink like every other mattress we have had.
Cooper, T
January 25, 2018
December 2013 Tania Cooper We have two all green cotton twin mattresses for our children. I end up sleeping with our toddler at some point most night because she is still nursing. The mattresses are so comfortable and I feel good knowing my children aren't breathing in any harmful chemicals. They have a wonderful natural cotton aroma - my son's still does after nearly five years! His mattress is still in excellent shape with rotating it every couple months. I will go back to White Lotus again and again! We are saving up for a King mattress of our own.
Best mattress I've ever had
November 22, 2017
I am so comfortable on this mattress. I bought an ikea bed frame (Hemnes) and it seems to work. My bed feels so cozy and snuggly but very firm. It smelled like wool for the first couple of months and I wish it still did.
Hi there, 1. Do you ship to Canada? 2. what is your return policy?
1. Yes, We ship to Canada! We can give you a quote for the additional shipping fees if you send us the size and type of mattress your interested in plus your address.
2. We have a 120 NIGHT Mattress Guarantee: https://www.whitelotushome.com/faq/120-night-guarantee/


How heavy is the 7" twin mattress?
Here are the approximate weights of our Green Cotton & Wool Mattress.

Mattress Style Dimensions Weight
Twin 6" Mattress ∙ 39 x 75 x 6" ∙ 70 - 80 lbs.
Twin 7" Mattress ∙ 39 x 75 x 7" ∙ 75 - 85 lbs.
Twin 8" Mattress ∙ 39 x 75 x 8" ∙ 75 - 90 lbs.
XL Twin 6" Mattress ∙ 39 x 80 x 6" ∙ 75 - 85 lbs.
XL Twin 7" Mattress ∙ 39 x 80 x 7" ∙ 75 - 85 lbs.
XL Twin 8" Mattress ∙ 39 x 80 x 8" ∙ 85 - 95 lbs
Double/Full 6" Mattress ∙ 54 x 75 x 6" ∙ 85 - 95 lbs.
Double/Full 7" Mattress ∙ 54 x 75 x 7" ∙ 90 - 100 lbs.
Double/Full 8" Mattress ∙ 54 x 75 x 8" ∙ 95 - 115 lbs.
Queen 6" Mattress ∙ 60 x 80 x 6" ∙ 105 - 120 lbs.
Queen 7" Mattress ∙ 60 x 80 x 7" ∙ 110 - 130 lbs.
Queen 8" Mattress ∙ 60 x 80 x 8" ∙ 120 - 135 lbs.
King 6" Mattress ∙ 76 x 80 x 6" ∙ 145 - 165 lbs.
King 7" Mattress ∙ 76 x 80 x 7" ∙ 155 - 175 lbs.
King 8" Mattress ∙ 76 x 80 x 8" ∙ 160 - 180 lbs.
Cali-King 6" Mattress ∙ 84 x 72 x 6" ∙ 145 - 165 lbs.
Toddler Mattress ∙ 28 x 54 x 3.5" ∙ 20 - 30 lbs.

I am trying to decide between 6inch vs 7inch mattress. Why should one choose 7/8 inch over 6inch? What are the advantages of thicker mattress? Is it more comfortable?
White Lotus Home recommends at least 5" or more for everyday sleep. We do offer our mattress in 6, 7 or 8" thickness, mainly due to customers' personal preferences. Some customers prefer that their mattress reach a higher level on their bedframes, usually, a thicker option would last you a little longer. The different thicknesses do not affect the comfort of the mattress and each of those thicknesses should all feel the same.
Hello, What's the difference in firmness between different thickness mattresses?
Hello,
Thank you for your interest in our handcrafted bedding. Our standard cotton mattresses (with or without an inner core) measure 6" deep, though we do offer mattresses as thick as 8". The 6" standard comprises the majority of our mattress sales, as most customers find this to be sufficient. The thicker varieties are constructed less to generate a different "feel" and more to provide options for those whose bed frames or personal preferences necessitate a deeper mattress.

In regards to firmness, most people do not experience a difference in feel after the initial loft settles. The raw fibers within should be proportionate to the width of the case and, therefore, be comparably firm.

If you have any further questions, we can be reached by email or by phone at (732) 828-2111.

Hello, I would like to know that is the difference between futon & mattress? more specifically between Green Cotton & Wool Dreamton Mattress & Futon? Thank you
Thank you for your inquiry. The main difference is the thickness and the 6" mattress has handles on the sides. The futon is made at a 5" thickness where a mattress starts at 6" and can go up to 8" thick.

Please let us know if you have more questions.

White Lotus Home
info@whitelotushome.com
877-426-3623