Buckwool Pillows
BWOOLSP085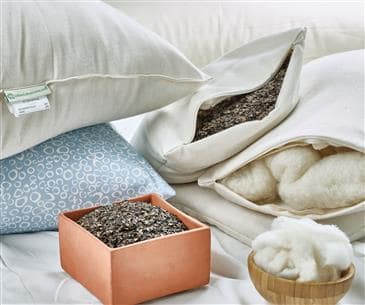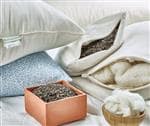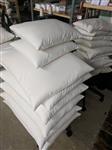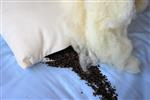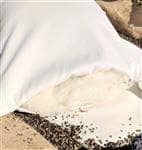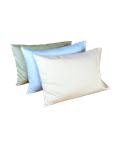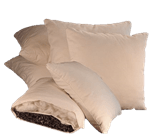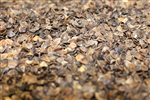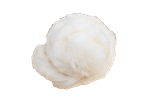 $49.00


Sleep Safe NOW Pay Later!
?
✅Stock items ship in 48 hours, new ones are handmade in 1 - 4 weeks. STOCK LIST!
Buckwool Pillows in GOTS Organic Case
Meet our hybrid pillow — the half buckwheat hull, half wool pillow that conforms to your body, but gives you an escape from the rustling of seed hulls.
Perfect for sleepers sensitive to the fine noises buckwheat hulls can make in a pillow casing, our unique Buckwool pillows offer the best of both worlds:
The quiet, plushness of wool

The conforming support of buckwheat hulls
Buckwool - Best for people with neck or back pain who still want a soft, breathable pillow; Great middle ground for many, can be flipped from wool side to buckwheat side depending on personal preferences.
🌳 Firm & Supportive
💨 Breathable for a cooler night of sleep
🌾 Made with Sustainably Grown Buckwheat
🐑 Stuffed with wool from ethically raised sheep
🌿 Encased in soft and luxurious GOTS Certified Organic Cotton Twill
🌱 Naturally antimicrobial & dust mite resistant
🌤 Comfortable year-round, especially during summer months
Buckwheat Hulls
Buckwheat hulls are the shells derived from buckwheat plants. Naturally resistant to pests and competitive with weeds, buckwheats are a sustainable crop to grow and require very little input from the land to mature. We source buckwheat hulls to ensure our happy customers never come into contact with pesticides in their pillows.
Wool from Happy Sheep
Here at White Lotus Home, we hold our shepherds to the highest standards of quality and ethics. Our sheep are raised on rotating pastures to prevent erosion and overgrazing, and their beautiful wool is never treated with chemicals or flame retardants.
Our Buckwool pillows are naturally antimicrobial and dust mite resistant, and require no flame retardant chemical treatments to be safe. Wool is comfortable in the summer and winter, thanks to its natural insulative properties.
The Organic Cotton Twill fabric used in this product is GOTS Certified and Imported.
Buckwool Pillow Sizes and Weights

Pillow

Fill

Size

Weight

Case

Travel Buckwool

Buckwheat hulls and wool

12x16

2 lbs

Organic Cotton Twill

16x19 Buckwool

Buckwheat hulls and wool

16x19

4 lbs

Organic Cotton Twill

Standard Buckwool

Buckwheat hulls and wool

20x26

8 lbs

Organic Cotton Twill

Queen Buckwool

Buckwheat hulls and wool

20x30

10 lbs

Organic Cotton Twill

King Buckwool

Buckwheat hulls and wool

20x36

12 lbs

Organic Cotton Twill
What do you think of this product?
Share your thoughts with the White Lotus Home community.
Michael P (Newport, RI)
July 18, 2023
Amanda H (Ambler, PA)
November 16, 2021
Buckwool is the perfect combination of materials for exactly the right amount of support. Genius! Seriously so, so happy with my purchase. Nothing makes me happier than when a nontoxic product is better than the standard option, and the buckwool pillows are by far more comfortable and supportive than any of the typical fluff or foam filled pillows on the market.
I've had my buckwool pillow for 5 years now. Twice a year I empty out the buckwheat and use a wool delicate wash and gently dip and swish my pillow. ( I know spot cleaning is recommended but? I am a drooler when I sleep hard, which for me is the most restorative sleep.) Then I rig up a fan, and a tube like a paper towel roll, to blow air up into the pillow. If we had more sun I would utilize that to dry it as well. I love my pillow! The buckwheat allows me to push the fill around to support under my neck, or make a space for my ear if I am sleeping on my side. I love how cool this pillow sleeps as well.
Catherine H (Weaverville, North Carolina)
August 24, 2021
I sleep on the pillow every night. Recommend for anyone who needs good support while sleeping in any position. The quality is excellent.
TAMAR R (DAVIS, California)
July 04, 2021
Bought these for myself, significant other, my parents and a friend. Had to buy the little travel sized one to take on trips! Wonderful pillows. The buckwheat keeps whatever shape you push it to form, and the wool side against your head prevents you from hearing buckwheat hulls shift around as you move, and also wool layer provides perfect insulation year round. Very well constructed too. Highly recommend.
Juliette R (Lemoore, California)
January 25, 2021
Buck wool pillows are amazing, firm from the buckwheat but the wool makes it soft. The new zippered feature really improves on the design, now we can adjust the level of product if needed, wash the cover, and fluff the wool better.
I purchased the STD buckwool pillow for my husband, as he was having neck pain and the chiropractor recommended a more supportive pillow. I asked questions and got prompt responses from White Lotus staff. Very pleased with the customer service and my husbands sleep has greatly improved with this additon.
Dawn D (Watertown, New York)
October 30, 2020
Love this pillow!!! We are a chiropractic office and sell many buck wool pillows...they are loved here!
Alyssa B
September 09, 2020
I've had neck pain for ages. I've tried different pillows, a rolled up towel, constant stretching and chiropractic visits, just the mattress without a pillow, etc, and it only seemed to be getting worse. When I woke up the first morning after getting a buckwool pillow, I had ZERO pain. I can't get over it. I'd forgotten what it felt like to wake up and feel just fine! It's nice because you can shape the pillow how you want and it just holds the shape. So I make a little dip for my head and keep the edge higher and it's the perfect support. It's also somehow perfect for sleeping on my side too. The wool adds some soft coziness to it. The pillow is just a bit heavy but I like it. It feels substantial and like it's nice quality. I don't know if I'll ever buy another type of pillow again. I got the 16x19 with zip to save a bit of money and it's smaller than a normal pillow but plenty big for an adult to sleep on. My husband has a full size kapok contour pillow and now I feel like a full size pillow is just too big. I like not having any pillow in my face. I got the zipper but haven't needed to take out any filling. It came perfect for me.
vicente s (bay harbor islands, Florida)
August 01, 2020
Very comfortable and supportive
Barbara D (utica, Michigan)
July 20, 2020
The buckwool pillow ispefect for me because you are able to shape the pillow and adjust it as you **.
Trista J (Novi, Michigan)
June 26, 2020
We use it to sleep. Anyone who needs a comfortable and peaceful sleep. The quality is amazing. I wrote a review on the website. This pillow literally changed our lives.
Trista (Novi, Michigan)
June 26, 2020
I cannot even remember how I stumbled onto White Lotus Home but I'm extremely thankful I did. I bought two of these pillows after reading reviews, one for husband and one for myself. My husband has a horrible neck that causes him lots of pain and I was waking up everyday for the last couple years with a major headache. We had tried several new pillows and nothing worked. It took us a couple nights to adjust the pillows to our comfort but afterwards my husband said something to me (my husband didn't want me to buy new pillows and was teasing me!) about how good his neck was feeling. I think he struggled admitting a pillow helped with that but he seriously loves this pillow! I am waking up free of headaches! We both have so much more energy throughout the day and aren't as grumpy because we are sleeping sound through the night. I felt that yes, the buckwheat was strange but for me it is comfortable and didn't take anytime to get used to. It reminds me of a beanbag. The pillows are very heavy and made very well. We got the ones with a zip to adjust and it's worked out great. We both prefer the buckwheat side over the wool side. Organic, made in USA and a small business...all my favorite things in one place. They have made a return customer out of us. Thank you so much! Overall, I highly recommend this pillow.
Michelle A (Tulsa, Oklahoma)
April 02, 2020
very firm - glad I got the zippered version so I can take out some of the buckwheat if too stiff. The pillow does not break down like poly fill pillows I've always used.
Dawn B (Austin, Texas)
January 21, 2020
I got the travel size buckwool pillow. I thought I was getting a pillow with a zipper in it, but alas, no. Maybe I just overlooked this during the order process. There's not enough loft in it for me. And as much as I love wool, every time I've tried to sleep on it, it just doesn't work for me. I ended up buying a straight-up buckwheat pillow.
Sarah S (Puyallup, Washington)
January 02, 2020
If you wake up with stress and pain in your neck and upper back, you need a buckwool pillow. My neck has hurt for years every single day. The first night I used my buckwool pillow I woke up with no pain. Not kidding. It's been 3 weeks now and every morning I wake up completely astonished that my neck doesn't hurt. Amazing!
Rainer K (New York, New York)
December 10, 2019
Quynh Le
November 24, 2019
Hands down the best pillows we have ever owned. We got the standard size with zipper in case we want to customize the fillings. The pillows are very substantial, firm and yet stuff, and provide just the right amount of support. My husband said I didn't even bulge the first night we had the pillows. Highly recommend and will be looking forward to more White Lotus Home purchases!
Lynn L (Cheshire, Connecticut)
November 23, 2019
Lynn L (Cheshire, Connecticut)
November 23, 2019
Ellan C (Mooresville, Indiana)
October 27, 2019
The pillow is awesome! Exactly what I needed to sleep better and help my neck improve!
Magdala C (Union City, New Jersey)
October 16, 2019
The pillow is perfect and I like how it adjust to my needs whether sleeping on my side or back. I recommend this pillow for sleepers struggling to find a pillow to adequately support their neck. Excellent value for the quality
Martha G (Belton, Texas)
August 08, 2019
Ordered a pillow for my toddler who tends to get easily hot at night. Love the zipper option which allows us to remove or add material if needed.
Andrea O (Virginia Beach, Virginia)
July 30, 2019
I bought these particular pillows for my husband and myself. We have found that the buckwool provides good support for our neck and back while sleeping.
Shawnie G (Austin, Texas)
June 26, 2019
I would not recommend the pillow
Adid Priscilla S (North Bergen, New Jersey)
June 26, 2019
The quality of the product is excellent; however, I found the Buckwool Sleep Pillow to be a, bit, too, heavy; therefore, the rating of 4 stars .....
S B (Sterling Heights, Michigan)
June 26, 2019
Eddie B (Brooklyn, New York)
June 26, 2019
Soft and comfortable pillow.
Maureen Madden
December 15, 2018
The buckwheat + virgin wool pillows are so so comfortable - again after having a variety over the years - and I will tolerate the weight - they are HEAVY - and in fact lightened them by removing some wool and buckwheat (I had the zipper cover so could do it).
I absolutely love the buckwool pillow! It's so nice to have two different sides to your pillow, depending on what your desires are that night. It's a little heavy, but totally worth it!
Caroline Wyrosdick-Webb
April 23, 2018
I have been sleeping on this buckwheat pillow for the past week. I have actually been sleeping soundly and also have had less problems with a sore neck and back upon waking. I find this pillow very supportive, and it turns out it is therapeutic for me as well. I am just having to hide it from my husband and son as they like to use my pillows!! Haha
Customer
February 09, 2018
Pamela C (Chapel Hill, NC)
February 09, 2018
Michelle H (Patchoug, New York)
February 09, 2018
Use it for sleep. I would recommend it. Really like the ability to remover or add fill with the added zipper
MARY L (Brooklyn, New York)
February 09, 2018
Excellent and safe pillow.
Got 2 of the travel pillows, great quality and made in the USA! Will order again from White Lotus.
Absolutely the best sleeping pillow on the market. I only sleep on the buckwheat side. I sleep warm and this pillow does not make me sweat at all. Love it, love it, love it. Buy it is all I can say
Jennifer
November 27, 2017
These pillows are exceptionally comfortable. They are very heavy and supportive. I like having the option of the wool side or the buckwheat side.
My partner and I bought two of the buckwool pillows for our bed. We both like them a lot, and I no longer have the neck pain I was having with my previous pillow. The only drawbacks were: the sound of the buckwheat moving around took a little time to get used to and my partner found the pillow too big and wished we had ordered pillows with zippers so he could take some of the wool out. Overall, great pillows!
5.0 out of 5 stars Five Stars Very great quality materials. Awesome company! July 18, 2016 Size: 12x16 Travel
Melissa Masterson
March 07, 2017
5.0 out of 5 stars My kids love these pillows!!! July 15, 2016 Size: 12x16 Travel I have purchased every type of white lotus pillow( except the green foam) so I could see which one I preferred. I was surprised to learn I liked them all and my kids absolutely love the buckwool ones! I bought three travel size for my kids to try and now they are begging me for full-size pillows for Christmas. Finally a gift I know I won't regret buying :-) can't say enough great things about White lotus's amazing quality products and customer service.
5.0 out of 5 stars Quality December 6, 2016 Size: 20x30 Queen | Verified Purchase This is a beautiful pillow. Made in the U.S.
Chelsea Hollowayon
March 07, 2017
4.0 out of 5 stars November 28, 2016 Size: 12x16 Travel | Verified Purchase A little firm for my taste, but a good product otherwise.
By Houstonon
March 07, 2017
4.0 out of 5 stars November 16, 2016 Size: 12x16 Travel | Verified Purchase This pillow has helped with my neck tension. It is small and firm so it makes using my CPAP much more comfortable too.
crazyglue007
March 07, 2017
A little hard but maybe the pillow just need a breakdown period.
By Amazon Customer
March 07, 2017
5.0 out of 5 stars Clean Comfort! on October 31, 2016 Size: 20x26 Standard Verified Purchase I've ordered three buckwool pillows and will be ordering more for family members. These pillows are more comfortable than any other pillow I've used. This combination of buckwheat hulls and wool is genius. Wish I knew about this product years ago.
Amazon Customer
March 07, 2017
I have chronic neck and shoulder pain, and sweat profusely, especially at night. I've tried contour, memory foam, cooling gel, down, down alternative, polyfilled ... and now matter how cheap or expensive the pillows are, I usually have to change pillows every few weeks. I was hesitant to buy this pillow because of the price. My sweat tends to render the firmer pillows useless because they stop supporting my neck. Now, I've been using this pillow for the past 60 days. The buckwheat is amazing because I can increase and decrease the amount of support I need each night. And the wool has been AMAZING! I still sweat, but it sucks the sweat up so I am much more comfortable, and it doesn't add to my body heat. And, it remains firm despite my sweatiest nights! I was skeptical, but out of close to a hundred pillows I've tried, this is the only one that fits all of my needs. And I was delighted to see that it was actually made, in New Jersey, on the date I ordered it, so my young daughter said that it was made just for me. Yes, this is the perfect pillow, and it seems to have been made just for me.
Is the pillowcase on the buckwool pillow waterproof?
No, the outer cover of our buckwool pillows is not waterproof. You are welcome to purchase waterproof pillow protectors here: https://www.whitelotushome.com/bedding/waterproof-organic-pillow-protector.html
Hello, what is the weight of the Toddler pillow? Does it have a zipper?
Hi! Our Buckwool toddler pillows weigh 2.5 lbs. and can come with or without a zipper. Thanks!
If I need a little more height in my newly purchased buckwool pillow, how much buckwheat hull do you recommend adding?
So glad to hear this Caroline!

If you are looking for thicker but a bit softer is fine, please add wool if you prefer to keep it firm and thicker, please add buckwheat :)

https://www.whitelotushome.com/wholesale-fibers/



Marlon

Thank you for choosing White Lotus Home!

Please leave a review! It is so valuable to our small business.
does the 16x19 buckwool pillow have a zipper option? i couldn't see where to select that
Yes, all of our pillows do for sure. Thanks, Marlon
Hello, what is the difference between the zip and non-zip versions? Does the zip version allow the removal of material to adjust the thickness?
The zipper options allow you to adjust the pillow to your own personal comfort level by adding or removing the fill. Yes, it allows you to adjust the thickness and some clients like to remove all of the fill and wash the outer casing from time to time. If you have any further questions feel free to email info@whitelotushome.com or call us at 732-828-2111.
where is your cotton twill from? Where is your buckwheat hull from?
Our Cotton Twill is GOTS certified and the Buckwheat is US Grown Certified Organic.