Shredded Natural Latex Bean Bag
WLHSLBB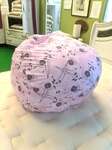 $1,273.00


Sleep Safe NOW Pay Later!
?
✅Stock items ship in 48 hours, new ones are handmade in 1 - 4 weeks. STOCK LIST!
White Lotus Home Shredded Natural Latex Bean Bags
Our handmade bean bags are made from our own shredded natural latex encased in a cotton twill casing, plus a removable organic cotton cover of your choice!!
Bean bag chairs are fun and comfortable. Eco-friendly bean bag chairs are even better because they give you peace of mind that you are doing right by the environment. Limit your carbon footprint with our eco-friendly bean bag chairs.
In many colors and sizes, you are sure to find the perfect one for you. Get yours, today.
The approximate weight of our Shredded Natural Latex Bean Bags:

Small 36" 43-45 lbs
Medium 42" 53-55 lbs
Large 48" 68-70 lbs

Our Natural Latex provides a soft and bouncy feel without the sharpness or gradual loss of elasticity of springs. And while all latex is a man-made material, our natural latex is derived from rubber tree sap and not synthetic elastic. This limits off-gassing and unnecessary addition of untested chemicals. Additionally, all our latex is made in the USA via a variation of the Dunlop Process called the Continuous Pour Process, which we believe makes for the most consistent and even latex product on the market.
Natural Latex for a Sweat-Free Snuggle
Unlike its sweaty cousin, memory foam, natural latex is temperature neutral, so it won't make you sweat to sleep on. Responsive and soft like memory foam, yet durable, this is a material that will last for years, and never offgas. Natural latex isn't just comfortable — it's 100% biodegradable, mold and mite-resistant, and even naturally antimicrobial, meaning that a latex mattress stays fresher longer.
Shredded Latex is an ideal filling for pillows, bean bag chairs, and other Do-It-Yourself projects!
The more you buy, the more you SAVE.

EMAIL us for larger bulk fiber orders: info@whitelotushome.com or call us at 732-828-2111.
Our natural latex is Oeko-Tex Class 1 Certified, as well as FSC Certified, and the plant that makes it in the USA is GOLS Certified, but are not currently sourcing GOLS certified Raw material.
This is how to measure our Bean Bags.
SMALL 36"
MEDIUM 42"
LARGE 48"

What do you think of this product?
Share your thoughts with the White Lotus Home community.