Wholesale Shredded Natural Latex
WSSL0102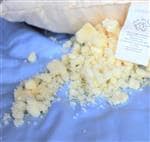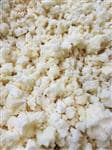 $16.94


Our Natural Latex provides a soft and bouncy feel without the sharpness or gradual loss of elasticity of springs. And while all latex is a man-made material, our natural latex is derived from rubber tree sap and not synthetic elastic. This limits off-gassing and unnecessary addition of untested chemicals. Additionally, all our latex is made in the USA via a variation of the Dunlop Process called the Continuous Pour Process, which we believe makes for the most consistent and even latex product on the market.
Natural Latex for a Sweat-Free Snuggle
Unlike its sweaty cousin, memory foam, natural latex is temperature neutral, so it won't make you sweat to sleep on. Responsive and soft like memory foam, yet durable, this is a material that will last for years, and never offgas. Natural latex isn't just comfortable — it's 100% biodegradable, mold and mite-resistant, and even naturally antimicrobial, meaning that a latex mattress stays fresher longer.
Used in: Pillows

Shredded Latex is an ideal filling for pillows, bean bag chairs, and other Do-It-Yourself projects!
The more you buy, the more you SAVE. EMAIL us for larger bulk fiber orders: info@whitelotushome.com or call us at 732-828-2111.
Our natural latex is Oeko-Tex Class 1 Certified, as well as FSC Certified and the plant that makes it in the USA is GOLS Certified, but are not currently sourcing GOLS certified Raw material.

What do you think of this product?
Share your thoughts with the White Lotus Home community.
Sheila A (Philadelphia, Pennsylvania)
January 03, 2021
I ordered this to replace the wool batting in two White Lotus Buckwool pillows: the batting had lost volume (this is normal), and I was ready to try something different. There was more than enough latex to do that, and the pillows are now much more comfortable. There is a rubber smell to the pillows now, though it's only noticeable from close up, and only in the one without a pillow protector. This is to be expected, and not the fault of the product, so I am considering getting a second pillow protector.
Alicia P (MINT HILL, North Carolina)
June 26, 2019
Bean bag Quality was good
Is it possible/easy to mix the latex with kapok for use in a pillow?
Those two materials are very different but we have had some customer experiment with mixing fibers and have stated it may have worked. We have not done so yet though, so we can not provide any additional feedback. And while I do believe it to be possible, I am truly not sure if it would be easy to evenly distribute shredded latex and kapok. If you try and it works, please let us know.

How many pounds of shredded latex would I need to fill a 37" round bean bag chair? 8 cubic feet capacity ?
Normally 40 to 50 lbs would do the trick for beanbags.

Thank you for choosing White Lotus Home!
Sales and Customer Service Department
Call: 732-828-2111 from 10 am to 6 pm Monday to Saturdays
How much volume does 5lbs fill?
Pillow Sizes & Weights: Shredded Natural Latex
As all White Lotus Home products are unique, listed weights are approximate.

Pillow Size Weight Exterior Case
Standard Shredded Latex Sleep Pillow ∙ 20 x 26" ∙ 4.5 lbs. ∙ Organic Cotton Sateen
Queen Shredded Latex Sleep Pillow ∙ 20 x 30" ∙ 6 lbs. ∙ Organic Cotton Sateen
King Shredded Latex Sleep Pillow ∙ 20 x 36" ∙ 7.5 lbs. ∙ Organic Cotton Sateen
Shredded Latex Body Pillow ∙ 20 x 72" ∙ 14 lbs. ∙ Organic Cotton Sateen
Shredded Latex Travel Pillow ∙ 12 x 16" ∙ .8 lbs. ∙ Organic Cotton Sateen
17 x 17" Shredded Latex Decorative Pillow ∙ 17 x 17" ∙ 1 lb. ∙ Organic Cotton Twill
20 x 20" Shredded Latex Decorative Pillow ∙ 20 x 20" ∙ 1.3 lbs. ∙ Organic Cotton Twill
24 x 24" Shredded Latex Decorative Pillow ∙ 24 x 24" ∙ 1.5 lbs. ∙ Organic Cotton Twill

If you have any additional questions, please let us know.