Wholesale Evergreen Eco-Foam
WSEF027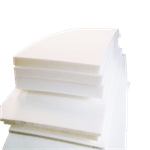 $98.76


Sleep Safe NOW Pay Later!
?
Ask about our PICKUP Prices & Save a TON!
✅Stock Fabrics & Fibers ship in 3 - 6 days. STOCK LIST!
If you are close to our NJ location and want to arrange pickup of your order, ask about our great pick-up prices and save a ton!
Please note that all prices include free shipping to the contiguous USA. However, if your order is for 500 lbs. or more and your shipment is being delivered to a rural area, residential location or you require a liftgate at delivery, additional fees may apply. We will send you an updated final price including ONLY the extra fees.
Want to save 10% or more on each fiber or fabric? Sign up as a wholesaler!
Wholesale Evergreen Eco-Foam
If you're looking for a light and firm substance to provide a level surface, foam is the ideal fiber for you.
Our evergreen foam is manufactured 100% in the United States from a mixture of natural plant-based oils and conventional non-toxic polyols. All foam is a man-made product derived from some kind of oil, and the foam we use is certified to be derived from blended natural ingredients. Our foam is as green as foam gets, with no heavy metal additives and no petroleum-sourced chemicals of any kind!


Furthermore, we add no dyes or fire retardant chemicals to the foam we receive, which itself is made compliant with new regulations requiring that this material be devoid of any synthetic fire retardant agent.


All foam is comprised of oils. These oils, regardless of origin, form the organic compound polyurethane --- it's an umbrella term that describes the chemical compound, not the source. While most conventional oils will use damaging petroleum as their base, our Evergreen Foam will only use soy, castor, and other vegetable oils. To process the liquid oil into a foam product, polyols are added; polyol is sugar-based alcohol derived from castor and vegetable oils that burn off in the manufacturing process. In short, even though foam is a man-made product, all components of our Evergreen Foam are naturally derived from plant-based oils. It's as natural as foam can come!


You can think of the process much like baking a whisky cake: the batter starts out as a liquid, but baking chemically transforms the mixture from liquid to solid, while the alcohol burns off almost entirely.
If a customer is looking for the most natural product possible, we would recommend mattresses and bedding made from raw fibers such as cotton, kapok, and wool: these are unprocessed and close to their natural source. However, we do try to offer foam cores and all-foam mattresses, by special request only, for comfort, budgetary, and sensitivity reasons.


I've attached a
letter
from the foam manufacturer. You will find page 10 most relevant, as it provides certification that the product is created without fire retardants, formaldehyde, nickel, mercury, parabens, and other hazardous materials.
Please note: If you order a product containing foam, your product tag may say that your item contains "Urethane Foam." Don't be alarmed! Polyurethane is just the term for the organic compound prevalent in foam; the important thing is this urethane is not petroleum-derived.


If you're still curious about our foam, please see our certifications attached, and don't hesitate to email or call!
Weight Density: 1.8 LBS
Used in: Mattresses and Toppers.
Foam sheets are commonly used for cushion projects, and quotes for custom sizes are available.
The more you buy, the more you SAVE. EMAIL us for larger bulk fiber orders: info@whitelotushome.com or call us at 732-828-2111.
Weight of FOAM PIECES:
| | | | | | |
| --- | --- | --- | --- | --- | --- |
| 2" Evergreen Foam | LBS | | | 6" Evergreen Foam | LBS |
| TWIN | 6 | | | TWIN | 22 |
| XLT | 7 | | | XLT | 26 |
| DOUBLE | 8 | | | DOUBLE | 30 |
| QUEEN | 10 | | | QUEEN | 36 |
| KING | 13 | | | KING | 40 |
| | | | | | |
Fibers & Fabrics: NO RETURNS
Dear friends, due to the nature of our business and the many folks with chemical and allergic sensitivities using our products, we can not accept any returns on
Raw Fibers or Fabrics.
Please try and be 150% sure before you make a final Fibers or Fabric purchase. If you need a sample,
please ask and we will send you free samples.
No refunds or returns accepted on any Fibers of Fabrics orders. There is no exception to this rule, please call, email or text your questions, we are here to help.
What do you think of this product?
Share your thoughts with the White Lotus Home community.
Erica C (Ontario, CA)
November 20, 2022
It arrived quickly and ok
Veronica H (Covington, GA)
November 23, 2021
use for mattress toppers, (eco foam) works wonderfully, no off gassing, love them.
Diana F (Loveland, Colorado)
June 06, 2020
Ecofoam is the first foam I have found that I do not react to. It's very supportive and comfy. Thank you so much for this product.
Holly O (Marietta, New York)
February 09, 2018
Added on top of futon for added comfort.
Can this foam be washed? I would try in a large industrial machine if so. I ask as I have had mine for some time and it has begun to grow mold.
Hello there!

We have washed our shredded foam and dry it on low heat and leaving it out in the sun, but we DO NOT recommend it, since we are not 100% sure how folks are going to wash and dry it. It does take 2-3 times to dry and it may loose is share a bit but it works and it worth it if you feel is time for a full clean up. If you can, wash it manually and let it dry in the sun to avoid any issues. Hope this helps. Would love to hear how this turns out, if you need to replace any foam, know that we sell it in bulk as well: https://www.whitelotushome.com/bedding/wholesale-shredded-evergreen-eco-foam.html
Have a great day!
This is made from soy. Have you had anyone with a soy allergy be able to use it?
We have not had someone stated this has happened to them before. If you would like a free sample, we will be glad to send you one, please email us your full name and address to info@whitelotushome.com. Thank you.
Hi! I see the dimensions for Twin are 35 x 70, which is smaller than standard (38 x 74). Is it possible, and how much would it cost to get a 2 x 38 x 74 piece? Thank you!
We can do either of two things, order it custom cut for you a 2x38x74 would cost $96. Or, you can order the Queen size which measures 2x54x75 for $92 and cut it yourself to your specified dimension. If you would like to proceed with a custom order, please email us at info@whitelotushome.com.
I work with a manufacturing company that uses foam sheets that are laminated together for cnc machining. Is this foam able to be laminated together?
We apologize but this is not something we have done before, so it is not something we could answer. If you send us your address, we can send you a small sample of the foam for your own testing. Please email info@whitelotushome.com.

I have multiple chemical sensitivity. Would your eco-green foam be free of any chemical smells? Our organic cotton bed from you is shifting with our body weight. Would a mattress topper help avoid that? The green foam seems to only come in 2 or 6 inch size. Natural latex has a smell to it and makes me react. Do you think the green eco foam would work for me?
Please let us send you a free sample for you to test out the foam, we offer free samples of all our natural fibers and fabrics. We understand how hard it is to find bedding products that could work with your sensitivities and that is why it is important we provide you with a sample. We have been using this foam because of the fact that it has worked for so many people, with different levels of sensitivities. Please reply or email info@whitelotushome.com your address so that we can send you a free sample of foam.
Hi, which is firmer -the eco foam or natural latex? Thanks!
We consider the foam to feel firmer than the natural latex. The natural latex has a springlike supportive feel versus the denser supportive feel of the eco-foam.
Please will you let me know: What is the difference between the 5X Twin Evergreen Eco Foam Wholesale size 2 X 35 X 70, and the Twin Evergreen Eco Foam Wholesale size 2 X 30 X 70. So, basically, my main question is: what does the 5X mean? Also, I have a very irregularly sized sleeping platform. So, unfortunately, I need a smaller than twin mattress. Is the Evergreen Eco Foam firm enough such that, if I purchase say 2 of the Evergreen 2 X 30 X 70 inch pieces, and if I place those one on top of the other, well then those might create a supportive enough "mattress?" Thank you!
Hello! 5x stands for 5 times that size. So that option would give you 5 of that dimension. We do recommend at least 5 inches of thickness for everyday sleep and would also recommend the foam be encased in something so that it holds its shape and does not break down quickly. Let us know if we can be of further assistance.