Shredded Eco-Foam Bean Bag
WLHBB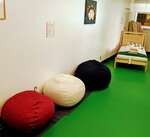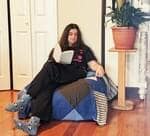 $279.00


Sleep Safe NOW Pay Later!
?
✅Stock items ship in 48 hours, new ones are handmade in 1 - 4 weeks. STOCK LIST!
White Lotus Home Shredded Eco-Foam Bean Bags
Our handmade bean bags are made from our own shredded plant-based EVERGREEN FOAM and made in a Cotton Twill fabric of your choice!
Bean bag chairs are fun and comfortable. Eco-friendly bean bag chairs are even better because they give you peace of mind that you are doing right by the environment. Limit your carbon footprint with our eco-friendly bean bag chairs.
In many colors and sizes, you are sure to find the perfect one for you. Get yours, today. Need an EXTRA Bean Bag Cover?
The approximate weight of our Shredded Eco-Foam Bean Bags is as follows:

Small 36" 9-10 lbs
Medium 42" 12-13 lbs
Large 48" 17-19 lbs
The bean bag measurements are of the width of the bean bag casing before it is filled.

Need more fill for your Bean BAG? You can buy our SHREDDED EVERGREEN FOAM by the lb.

Our evergreen foam is manufactured 100% in the United States from a mixture of natural plant-based oils and conventional non-toxic polyols. All foam is a man-made product derived from some kind of oil, and the foam we use is certified to be derived from blended natural ingredients. Our foam is as green as foam gets, with no heavy metal additives and no petroleum-sourced chemicals of any kind!
Furthermore, we add no dyes or fire retardant chemicals to the foam we receive, which itself is made compliant with new regulations requiring that this material be devoid of any synthetic fire retardant agent.

All foam is comprised of oils. These oils, regardless of origin, form the organic compound polyurethane --- it's an umbrella term that describes the chemical compound, not the source. While most conventional oils will use damaging petroleum as their base, our Evergreen Foam will only use soy, castor, and other vegetable oils. To process the liquid oil into a foam product, polyols are added; polyol is sugar-based alcohol derived from castor and vegetable oils that burns off in the manufacturing process. In short, even though foam is a man-made product, all components of our Evergreen Foam are naturally derived from plant-based oils. It's as natural as foam can come!

You can think of the process much like baking a whisky cake: the batter starts out as a liquid, but baking chemically transforms the mixture from liquid to solid, while the alcohol burns off almost entirely.

If a customer is looking for the most natural product possible, we would recommend mattresses and bedding made from raw fibers such as cotton, kapok, and wool: these are unprocessed and close to their natural source. However, we do try to offer foam cores and all-foam mattresses, by special request only, for comfort, budgetary, and sensitivity reasons.

I've attached a letter from the foam manufacturer. You will find page 10 most relevant, as it provides certification that the product is created without fire retardants, formaldehyde, nickel, mercury, parabens, and other hazardous materials.

Please note: If you order a product containing foam, your product tag may say that your item contains "Urethane Foam." Don't be alarmed! Polyurethane is just the term for the organic compound prevalent in foam; the important thing is this urethane is not petroleum-derived.

If you're still curious about our foam, please see our certifications attached, and don't hesitate to email or call!
Foam Density: 35 ILD


Weight Density: 1.8 LBS

No FR's Added to Any of Our Foams!

Need more fill for Bean BAG? You can buy our SHREDDED EVERGREEN FOAM by the lb.



This is how to measure our Bean Bags.
SMALL 36"



MEDIUM 42"



LARGE 48"

What do you think of this product?
Share your thoughts with the White Lotus Home community.
We bought the small bean bag for our young daughter, and we love the filling - very comfortable and springs right back into shape. The zipper busted right after we got it, but customer service sent us a replacement cover right away. We also have three mattresses from this company, and we've been pleased with every product we bought during the last eight years. We'll probably buy another bean bag for our son.
Amanda M (El Cerrito, CA)
May 18, 2022
I love it! Would recommend to kids and adults!
These bean bags are awesome! I love everything from White Lotus and when I redid my attic I knew we needed some bean bags to tuck into the low ceiling corner hang outs. I was stoked when I saw this product on the White Lotus website. The large ones are LARGE, we probably could have done with the medium but my retriever isn't complaining that he fits too :)