Classic Bride Exclusive | Our Preppy Baby Nursery Reveal | September 2016
PUBLISHED SEPTEMBER 20, 2016
Editor's Note:This post is sponsored – I was sent several items for the nursery and all are marked as "c/o" throughout the post. I'm so grateful for wonderful sponsors like these that allow CB to stay up and running. All opinions are my own.

After months of planning this magical little room, I can hardly believe I'm finally sharing the end results because that means we're really really close to meeting this dapper little prince who's been residing in my growing belly for the past 8 1/2 months (eek!). J&I are both so over the moon with how W's nursery has turned out and we simply can't wait to welcome our precious bundle of joy home to his own blue and ivory oasis. I hope you enjoy this inside look and I'm excited to share more baby news with you soon!

As soon as we found out we were having a little boy (when we cut a beautiful cake together to reveal blue icing at the darling shower our Virginia church threw for us!), I knew I wanted the nursery to be a soothing retreat outfitted in shades of blues and whites accented with toile, gingham and a few stripes.
The first item I chose that really set the tone for the room was the idyllically patterned
Tayse Ambience rug
(c/o
hayneedle.com
). The soft colors and gentle pattern evoked a calmness and serenity that I fell in love with and as soon as J&I unwrapped the rug and rolled it out onto the hardwood floor, everything started feeling real. I know it sounds odd for a rug to create such emotions but this beautiful rug changed a plain "blah" room into our son's very special nursery.
After I had the rug, it made it much easier to go curtain shopping. I knew I wanted a blue-and-white toile-like pattern and I found the perfect fit with the Clara Floral Rod Pocket curtains (c/o Country Curtains). The creamy background and soft floral pattern makes me so happy and I love that I'll be able to use these beauties in other rooms later on as Baby W grows up. I also opted to order insulating liners which are easily added to the curtains with add-a-rods (both c/o Country Curtains) as I know the New England winters can be pretty brutal. We definitely want W to stay warm and toasty!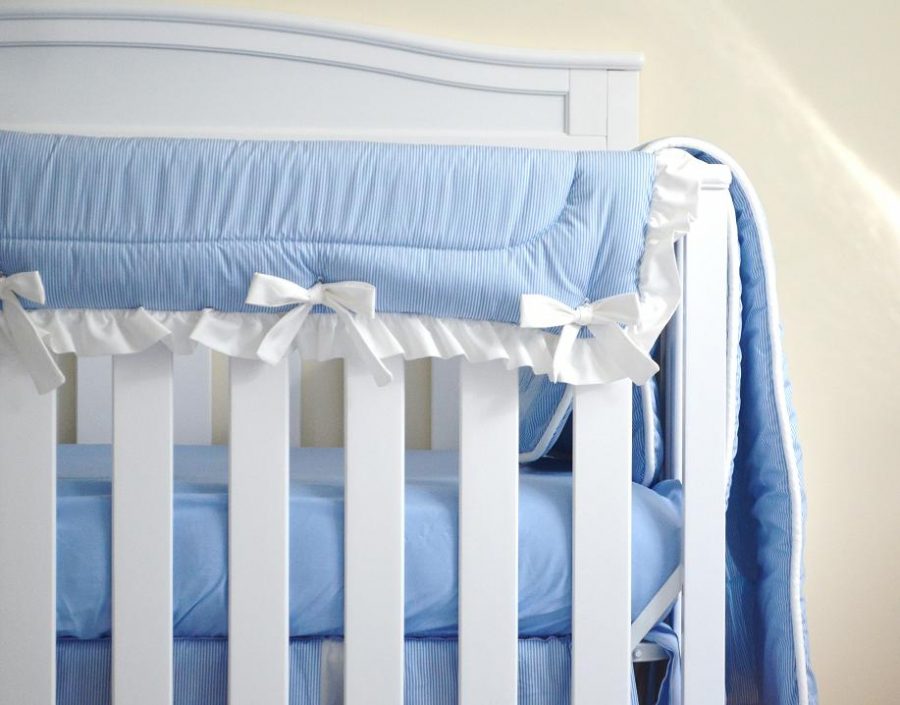 The crib was hard for us to decide on so we chose to find the perfect bedding first and I'm so glad we went with Carousel Designs. They sent me several swatches of fabric of my choosing so I could see how they would really look with our curtains and rug which was such a help! Once we narrowed down the fabrics, J&I were able to use the online Nursery Designer toolthat Carousel Designs has and we literally designed our own custom crib bedding (c/o Carousel Designs) in less than an hour. I am so pleased with the quality and how the fabrics seamlessly blend with the other elements in the room!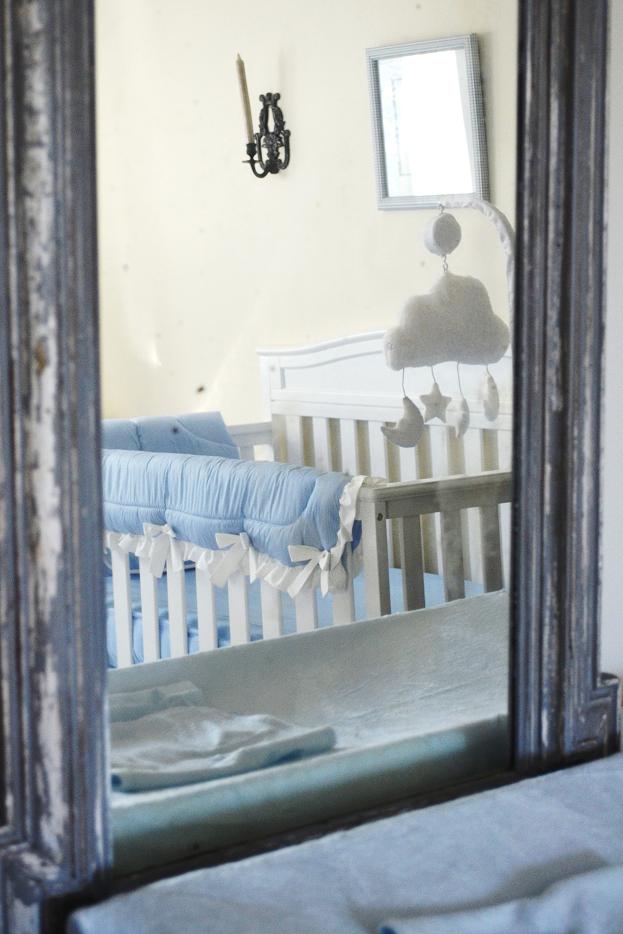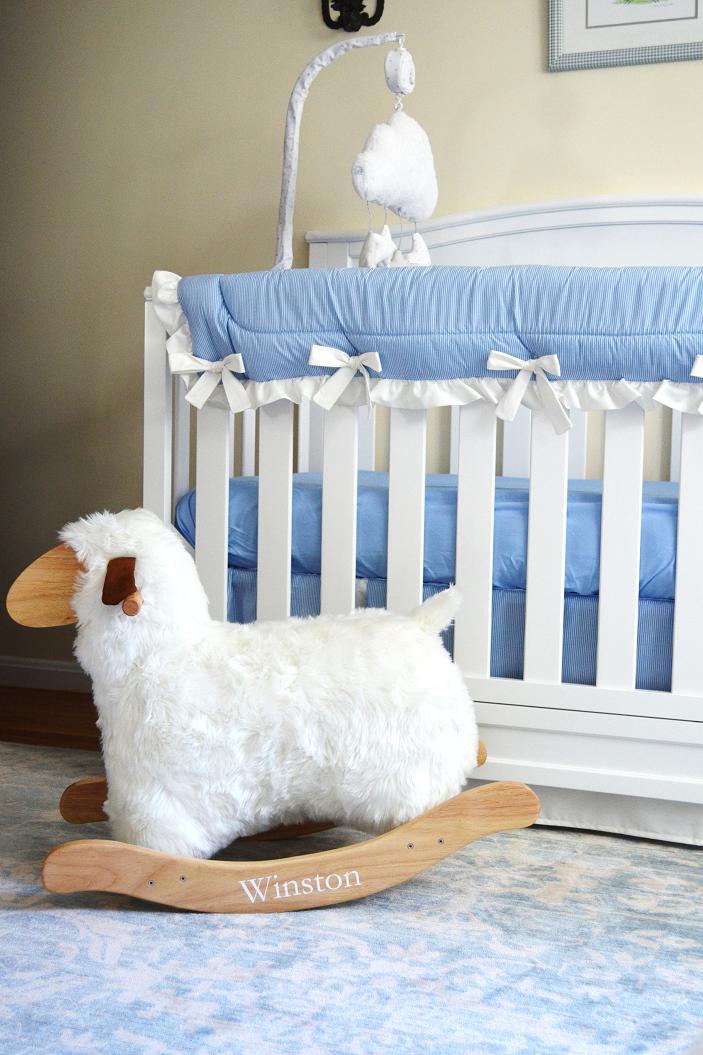 After we had the bedding selected, I knew I wanted a white crib that was simple but still stylish. The Emery 4-in-1 Crib (c/oDelta Children) was the perfect fit as it didn't take away from the beautiful bedding but still oozed chicness. As soon as the crib arrived, my husband wanted to tackle putting it together which turned out to be a breeze! J&I are both pretty horrible at handy stuff like assembling things but the instructions were so clear and everything was so well labeled that I don't think a single bad word was uttered – WIN! We also love how sturdy and stable this crib is and that it converts into a toddler bed, day bed and full-size bed. It's also JPMA certified for safety which definitely puts my mind at ease. You can shop this crib here.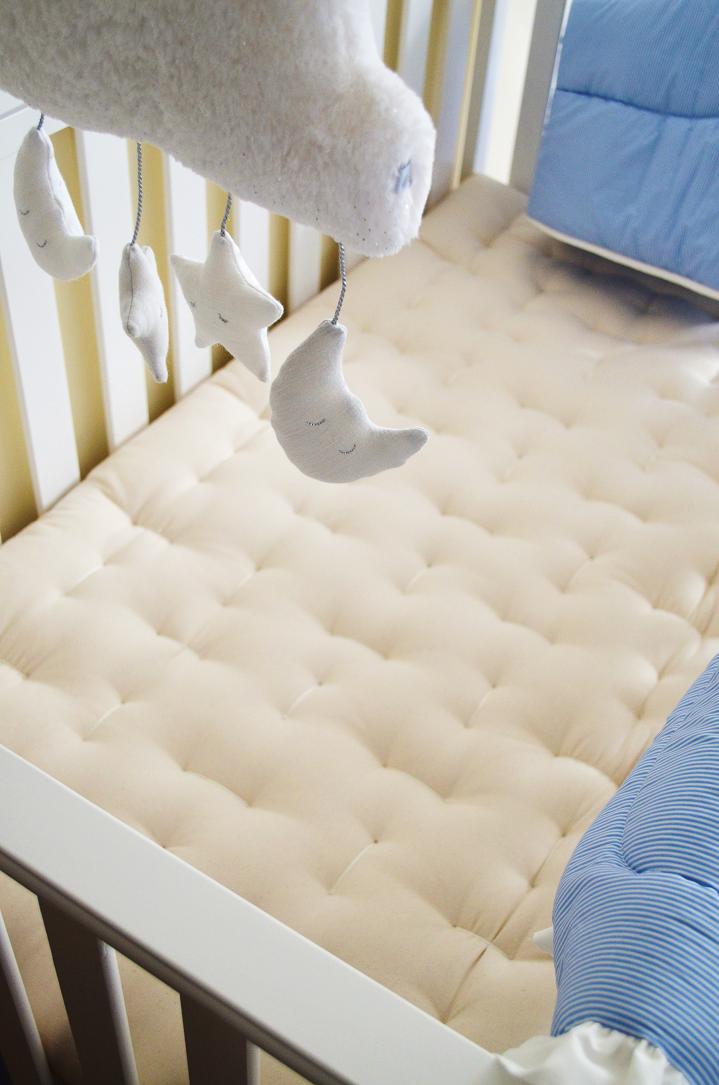 To us, the crib mattress was just as important a choice (if not more!) as the crib itself. A few years ago, J&I invested in an organic latex mattress for our own bed because we wanted something ultimately healthy, environmentally friendly, supportive and comfortable – I guess you could say we're a little picky! And we wanted all of those important things for our sweet little baby, too, which is why we chose to go with the Organic Cotton & Wool mattress c/o White Lotus Home. I love that by going with this mattress, we are avoiding any chemicals to pass the fire test as wool acts as a natural fire retardant. Our mattress is made with USDA Certified Organic Cotton and the outer fabric is also 100% USDA Certified Organic Cotton. The crib mattresses from White Lotus Home are also made extremely firm to help reduce SIDS. To create the firmness, they put in extra layers of cotton – usually 18-20 layers of cotton which is about 26-30 inches thick. Next, they compress the mattress for three days so that it compacts into a 3.5 inch thick solid firm mattress. Obviously, this is very labor intensive but it is the only way to get a very firm natural or organic crib mattress and I'm so glad that I can rest easy knowing our little babe will be sleeping on a chemical-free organic mattress. And if you use the code CLASSIC at checkout with your crib mattress purchase at White Lotus Home through the end of 2016, you'll save 15% off your purchase! xo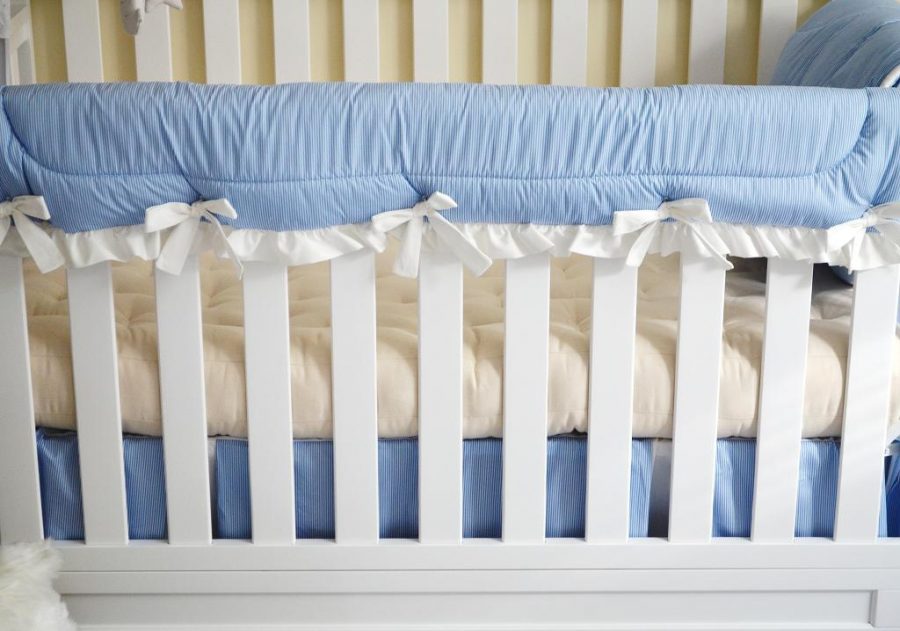 Once the crib was all set, we realized we really needed a mobile and after reading about how important it is for babies to track movement, we felt like it would be good for his development skills (as well as making the crib even more adorable!). We chose the darling Gray and White mobile c/o Just Born because we loved the sparkly cloud and sweet stars and moons. It winds up to play Brahm's Lullaby which is classic and soothing. I'm so excited to see W watch the stars and moons twirl above him as he (hopefully!) drifts off to peaceful sleep!
The antique French bookcase in the corner was actually unintentional. When we first moved into the house in June, I had planned on making this room the office but after a few weeks, it just made sense to make this room the nursery because it had beautiful hardwood floors and a cozy nook with huge closets. The bookcase is super heavy and after looking at it for a second, I realized it would be perfect for little W's room and so we decided to keep it in the nursery. My husband and I filled it with books from our childhoods and many books that our Virginia church gifted us at our baby shower. I found the antique bronze hunting dog bookends on Etsy and the darling blue ceramic piggy bank is c/o Pearhead. And I'm so looking forward to using the age block set (c/o Pearhead) to take photos of W and chart his growth! I'm planning on just charting month-by-month but the blocks have numbers 0-9 and you can choose days, weeks or months so there are lots of options!
Finding artwork for the nursery proved to be trickier than I thought it would be. I stumbled upon the Kelly Rightsell print of the preppy frog (above the crib) at a local consignment shop and scooped it right up – I couldn't love it more if I tried! And I found the whale print by Two if By Sea Studios (c/o Minted) after I decided that our little boy's room really needed a touch of nautical New England since he'll be born right here in Boston. My Mom also cross-stitched a beautiful alphabet sampler that has its very own room to itself in the cozy nook.
After choosing our glider and ottoman style and fabric (Best Home, Natasha style), I knew we needed a sweet pillow to finish the look and the monogrammed white linen pillow c/o The Pink Monogram is just perfect and I love that it can be a part of W's room as he gets older! Seeing his monogram makes me smile every time I walk in the nursery!
I'm so tickled that I was able to order the Ubbi diaper pail (c/o Ubbi) in a light blue that so perfectly matches the nursery and I'm actually a little excited to use it as I've heard such amazing things about the ease of using it. It holds an average of 35 diapers, has a super-easy sliding lid with rubber seals and no special bags are required. We also opted for the matchingdiaper wipes dispenser (c/o Ubbi) as I think it looks a lot more streamlined and I like that it has a window to monitor the number of wipes. The Peter Rabbit lamp is from my childhood nursery and the giraffe I found at a flea market years ago in Germany.
Our changing table is actually J's old office desk – I just turned it around so the drawer is facing the wall. I knew we'd need storage for diapers and all the other goodies that go with changing tables so I chose two Colonial Mills Boat House Utility Baskets in light blue (c/o Luxe Decor) to put beneath the table. I love the neutral tones but the simple blue edging makes them coordinate perfectly in the room. They're also really versatile storage pieces and I plan on using them later for toy storage.
As this is our first child, I had no idea how many items there are out there that can make life better for mama and baby and I was pretty excited to find out about the Niche Feeding Pillow (c/o Nook Sleep Systems) which can be used to make breastfeeding more comfortable or as a calm place for your infant to hang out. Can't wait to use this!
I've always had my Dad's bronzed baby shoes from when he was a child and I thought they'd be a perfect legacy piece in W's room. We also moved our old stereo in and bought some CDs with soothing sounds and hymns. We even found a lullaby album by Jewel!
I also just adore this cozy Winter Sleepsuit Bag in Mint (c/o ergoPouch) and can't wait to tuck W into it as the months get chillier. My favorite part about the sleep suit bag is that it converts from a sleeping bag to a sleep suit with legs – making the transition from W's bassinet or crib to the car or baby sling super easy! Alina Sack, the founder of the company, was inspired to develop the first ergoPouch sleeping bag with her first son who was a challenged sleeper. I really love that all products in the luxurious and innovative ergoPouch collection are made from natural fibers including organic cotton, bamboo and merino.
And I just have to share two of my favorite baby essential items! The Maxi-Cosi Mico Max 30 infant car seat (c/o Maxi-Cosi) is so gorgeously stylish, I can't get over it! And after taking it to the police station (to make sure it was properly installed), I'm really loving how easy it is to pop in and out of the car so we can use it as an infant carrier, as well. The premium European car seat company definitely offers the most fashion-forward and comfy options out there – they even have a luxe line by Rachel Zoe – beyond chic!
Quinny is the sister brand to Maxi-Cosi and they offer equally fashionable strollers. J&I can't wait to take Baby W for a safe spin around the neighborhood in our gorgeous Buzz Xtra stroller (c/o Quinny). My favorite part is that the Maxi-Cosi Mico Max 30 infant car seat fits in our Quinny stroller to provide the perfect fit for a newborn! I'm also really impressed with how easy it is to fold and unfold – it literally takes one push of a button!
And I'm super excited about the All About Baby Chalkboard (c/o Pearhead). I can't wait to learn W's likes and dislikes and all his funny quirks and share them with friends and family. And it's great that this will be easy to erase and clean each month.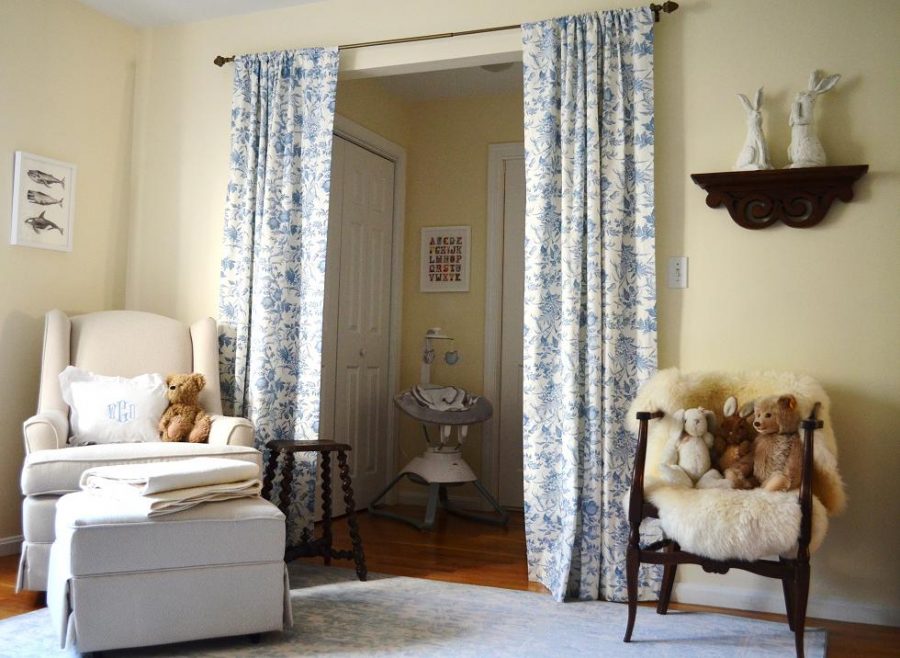 I hope you enjoyed this inside peek at our baby's nursery! Let me know if you have any questions. Xx
Credits: Photography and styling by Sarah Darcy of Classic Bride blog |Tayse Ambience rug c/o hayneedle.com | Glider and Ottoman by Best Home, Natasha style | Clara Floral Rod Pocket curtains, 84? length with insulating liners and add-a-rods, c/oCountry Curtains | Monogrammed White Linen Pillow c/o The Pink Monogram | White cube bookcase by IKEA | Light blueDiaper pail and diaper wipes dispenser c/o Ubbi | Emery 4-in-1 Crib c/o Delta Children | Organic Cotton & Wool mattress c/o White Lotus Home | Piggy bank and Age block set c/o Pearhead | All About Baby Chalkboard c/o Pearhead | Three Stacked Whales Limited Edition Art by Two if By Sea Studios c/o Minted | Custom crib bedding c/o Carousel Designs: Custom Crib Skirt in Blue Mini-Stripe, Solid Antique White inset and trim; Ice Blue crib sheet; Custom Crib Comforter with piping – back and front in Blue Mini-Stripe, trim in Solid Antique White; Custom Crib Rail Cover with Ruffle – front in Blue Mini-Stripe, Back in Ice Blue, Ruffle and ties in Solid Antique White | Maxi-Cosi Mico Max 30 Car seat c/o Maxi-Cosi | Quinny Buzz Xtra stroller c/o Quinny | Niche Feeding Pillow c/o Nook Sleep Systems | Winter Sleepsuit Bag in Mint c/oergoPouch | Colonial Mills Boat House Utility Baskets in light blue c/o Luxe Decor | Blue & White table lamp from HomeGoods | Gray and White mobile c/o Just Born | White sheep rocker from Pottery Barn Kids | Wooden chair, antique bookcase, barley twist stool and rocking horse: All sourced at European flea markets