Kapok Decorative Pillow Inserts
KDPI01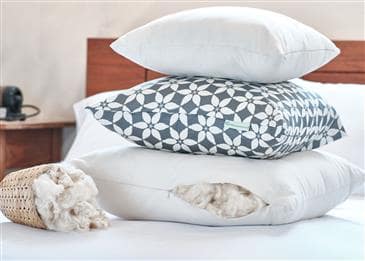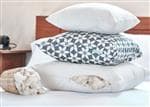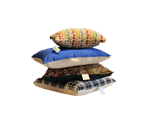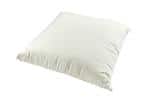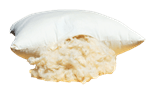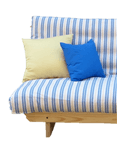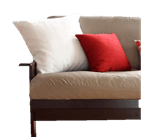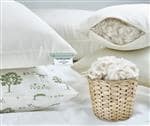 $65.00


Sleep Safe NOW Pay Later!
?
These Decorative Pillows are firmly filled to be supportive, stand tall and hold thier shape! Looking for a softer, cozy, fluffier feel at a lower ⬇️ cost? You can find those here.
Kapok Decorative Pillow in GOTS Organic Case
✅Stock items ship in 48 hours, new ones are handmade in 1 - 4 weeks. STOCK LIST!
Lighter than cotton and 100% vegan, our handmade kapok pillows offer a natural pillow alternative that's 100% customizable, sustainable, and perfectly supportive. Encased in our durable organic cotton twill and available in a variety of shapes and sizes, these pillows are perfect for accenting couches and guest beds.
Kapok Fiber
Kapok is a natural fiber that comes from the Ceiba Tree in Central America. Kapok fibers come from the tree's seed pods, which shed seasonally, meaning there is no machinery required to harvest it. With a silky and fluffy consistency, kapok has the benefits of being fluffy like down, but plant-based like cotton, making it a wonderful vegan down alternative.
Zippers for Custom Firmness
Not sure how firm you like your pillows? Get your pillow with a zippered case and add or remove filling to suit your own preferences. Simply store any excess material in a moisture and pest-proof container, or order more kapok fiber from our Wholesale Fibers section. When your pillows are ready for a fluffing, simply unzip, empty, and restuff.
The Organic Cotton Twill fabric used for this product is GOTS certified, imported from Pakistan.
HISTORY OF KAPOK
Kapok fibers were in the all-natural life preservers used by G.I.s in World War II.
In the 1920, explorers conquering Mt. Everest typically wore high-altitude boots with kapok insulation, leather outers, gaiters and crampons
Kapok fibers are one eight (0.08) the weight of cotton.
Kapok was one of the first ancient non-food plants cultivated across Southeast Asia.
Kapok was routinely used for pillows before goose down; Kapok is Retro Green.
HERE'S A GOOD ONE THAT SUPPORTS WHY KAPOK IS BETTER THAN GOOSE DOWN:

In theory, as the down moult naturally, the birds shouldn't mind if it's taken. The reality: goose down is the byproduct of keeping millions of birds around the world in cages, the lion's share before they are slaughtered for cheap meat, or foie gras. Therefore, buying down products carries the high risk of making you complicit in this industry.

Kapok is a vegetable down. It's been used for years in the maritime industry because of its buoyancy. In the 1940s, all sorts of items - life belts, seating cushions, mattresses — were filled with Kapok, which is water repellant and enables it to keep afloat from 30 to 35 times its weight. Ordinary cork can only support 5 times its weight. — article in Grey River Argus, 16-October 1907, which was published 107 years ago to the day!!!
Kapok Pillow Sizes and Weights
| | | | | |
| --- | --- | --- | --- | --- |
| Size | Fill | Size (inches) | Weight (lbs) | Case |
| Rectangular | Medium | 12x21 | 1.30 | Organic Cotton Twill |
| Small Square | Medium | 17x17 | 1.5 | Organic Cotton Twill |
| Medium Square | Medium | 20x20 | 2.5 | Organic Cotton Twill |
| Large Square | Medium | 24x24 | 3 | Organic Cotton Twill |
| Round Bolster | Medium | 21x8 | 4 | Organic Cotton Twill |
What do you think of this product?
Share your thoughts with the White Lotus Home community.
Alice Mercer D (Southern Pines, NC)
November 22, 2022
Kapok is a wonderful product. I asked questions until I tried. Now I'll continue purchasing these inserts.
D Edward S (Niagara Falls, NY)
November 21, 2021
anyone who likes firm top notch quality
Joan F (Fair Oaks, California)
September 05, 2020
I made pillows to match my ottoman and filled them with these pillow forms. The forms are if excellent qualify and I would recommend to anyone wanting really good stuffing!
Lisa F (Rockville Centre, New York)
September 01, 2020
Love these pillows for sofa and bedroom! I replaced all of my synthetic pillow inserts with these and I love the quality!
Diane N (NEW BRIGHTON, Pennsylvania)
May 27, 2020
I used these inserts for a customer that wanted nice, soft, yet substantial pillow inserts that were organic. These were perfect.
Michelle
November 21, 2019
I have purchased many Kapok Pillows from WLH. They are a truly amazing company. Their products and customer service are top notch! I'm blessed to have found them. Not only have I purchased many of their products, but I won a couple of pillows as well!
Donna T (Wakefield, Massachusetts)
June 26, 2019
Missi P (Orange, California)
June 14, 2019
Super High quality. I like the look of down but wanted something that was animal friendly. This Kapok pillow is the perfect solution.
Kelley C (Brooklyn, New York)
February 09, 2018
Great quality, I tell everyone about this company.
Susan J (Baton Rouge, Louisiana)
February 09, 2018
Used as bedroom pillows. High confidence in chemical-free aspect, so overlooked the slightly lumpy feel. My husband loves his, still, though it is quite worn at this point and should be replaced. The quality is/was excellent and held up well beyond expectations.
Allia W (Raleigh, North Carolina)
February 09, 2018
Is The kapok White Lotus Home uses in pillows or to sell as a bulk fiber, certified organic?
The kapok we have been using since 2008 or so, is not organic certified. It is a fiber that grows in the rainforest just like bamboo and there has never been much of a request or need for organic certification.

It comes from Indonesia, since it does not grow in large quantities in the USA due to our lack of rainforest weather. However, we are able to get it GOTS Certified organic as soon as we are able to buy over 20 tons at a time. Something we are going to consider doing in the next year or so. Nothing compares to kapok. Softer and lighter than down, perfectly compressible for pillows, and naturally harvested from the Ceiba tree, kapok is the ideal filling for a pillow. Kapok is harvested from the seed pods that are dropped from trees in tropical rainforest regions, meaning your purchase of kapok is helping to preserve the life of a tree and encourage local economies in Indonesia and other tropical regions. Almost no work is required to turn the raw material into bedding fiber: it's manually picked clean, spun, and sent to us! If you like clean and sustainable products, you'll love kapok. And if you love soft pillows, you'll settle for nothing else. Used in: Sold as a Raw Bulk Fiber, Making Pillows and meditation zafus and cushions.

The more you buy, the more you SAVE. EMAIL us for large bulk fiber orders: info@whitelotushome.com or call us at 732-828-2111.

does kapok deter dust mites like wool? is the kapok itself organic or just the casing you use?
It is known to be naturally hypoallergenic but it is not certified organic. The outer casing of our pillows will always be organic.