Natural Shredded Latex Pillows (Washable)
SLSP082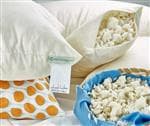 $140.00


Sleep Safe NOW Pay Later!
?
✅Stock items ship in 48 hours, new ones are handmade in 1 - 4 weeks. STOCK LIST!
Natural Shredded Latex Pillow in GOTS Organic Case
For soft washable pillows you can sink into, nothing beats our natural shredded latex pillows. Encased in soft and smooth organic Sateen Cotton, our natural latex pillows stay cool and last much longer than conventional memory foam pillows.
Available in sizes from travel to body pillows, White Lotus Home carries a latex pillow for everyone.
Shredded Natural Latex - Our softest pillow; great for people who want a super soft pillow that is breathable; great for people with dust or mold allergies
🐥 Soft & Fluffy, similar to memory foam pillows

💨 Breathable & Temperature Neutral

🌱 Hypoallergenic & Ethically Sourced

❎ Free from off-gassing

✅ Mold & Mite-resistant, and even Naturally Antimicrobial

🌿 Encased in luxurious GOTS Certified Organic Sateen Cotton

🌾 100% Vegan & Biodegradable for a totally guilt-free purchase

🔁 Durable & Long Lasting for a sleep investment you can rely on
Natural Latex for a Sweat-Free Sleep
Unlike its sweaty cousin, memory foam, natural latex is temperature neutral, so it won't make you sweat to sleep on. Responsive and soft like memory foam, yet durable, this is a material that will last for years, and never offgas.
Natural latex isn't just comfortable — it's 100% biodegradable, mold and mite-resistant, and even naturally antimicrobial, meaning that a latex mattress stays fresher longer.
Zippers for Custom Firmness
Not sure how firm you like your pillows? Get your pillow with a zippered case, and add and remove filling to suit your own preferences. Simply store any excess material in a moisture and pest-proof container, or order more
shredded latex
from our
Wholesale Fibers
section.
The Organic Cotton Sateen fabric used in this product is GOTS Certified and Imported.

These are the ONLY White Lotus Home pillow you can put in the wash, you would just have to dry them twice to get them fully dry!
Here's how it works!
If your washable shredded latex pillow ever needs a little freshening, you'll follow these 3 simple steps:
STEP 1 - Yes, put the entire pillow in your washer matching in hot or cold water on your washer's gentle cycle

STEP 2 - Put it in your dryer, on your regular heating setting. You may need to run a second drying cycle, so make sure to move the shredded latex around so that it dries up faster!

STEP 3 - Enjoy your fresh, clean shredded latex pillow, and repeat as needed!
See more information from our supplier
here
! Here is the
OEKO-TEX
certification for our Latex. Our natural latex is Oeko-Tex Class 1 Certified, as well as FSC Certified and the plant that makes it in the USA is GOLS Certified, but are not currently sourcing GOLS certified Raw material.
Shredded Latex Pillow Sizes and Weights
| | | | |
| --- | --- | --- | --- |
| Size | Size (inches) | Weight (lbs) | Case |
| Standard | 20x26 | 4.5 | Organic Cotton Sateen |
| Queen | 20x30 | 6 | Organic Cotton Sateen |
| King | 20x36 | 7.5 | Organic Cotton Sateen |
| Body | 20x72 | 14 | Organic Cotton Sateen |
| Travel | 12x16 | 1.5 | Organic Cotton Sateen |
Cleaning Your Pillows
These are the ONLY White Lotus Home pillow you can put in the wash, you would just have to dry them twice to get them fully dry. However, we always recommend spot cleaning our pillows — never saturate them with any liquid. We always recommend to our customers that they add one of our protective Barrier Cloth pillow covers, to ensure spills never get out of hand.
To spot clean, we suggest a mild solution of three parts water to one part vinegar in a spray bottle, but for particularly stubborn spills, a mild detergent is perfectly fine to add to the bottle as well.
Always ensure your pillow is thoroughly dried after a spot cleaning, either by using a hair dryer or placing it in the sun to air out.
What do you think of this product?
Share your thoughts with the White Lotus Home community.
Monica O (Mattapoisett, MA)
September 22, 2022
I have never found a truly comfy pillow until I tried the natural shredded latex pillow from White Lotus. I did remove a little bit of the shred to customize it to my perfect fit (I got the model with a zipper opening). I always feel rested after sleeping on this pillow. I tend to fall asleep on my side and switch to my back during the night. This pillow is versatile enough to accommodate both sleeping styles!
TAMAR R (DAVIS, California)
July 04, 2021
Bought one for myself and then for a friend when I learned he loves a heavy pillow like his grandmother's feather pillow. Love to use this as a body pillow and also to prop myself up to read in bed. Beautifully made, highly recommend.
Arminda G (Topeka, Kansas)
June 26, 2021
I took some of the latex out to try it a few different ways. It is still very comfortable so far!
Judy V (Ballinger, Texas)
February 02, 2021
This one is my FAVORITE!!
Aaron G (Chippewa Falls, Wisconsin)
January 04, 2021
Use it for nightly sleep and the occasional nap. I would recommend to my friends and family. Good quality product.
Deanna W (Fairfax, Vermont)
September 12, 2020
I love this pillow! I gave it a 4 only because I like my White Lotus kapok pillow just a tiny bit more. I would suggest the zippered case so you can adjust the fill. It great for both my back and side sleeping! It's easy to make it contour to my position.
Robert S (Santa Fe, New Mexico)
September 03, 2020
1. The small pillow was not what I thought it would be. I now use it as a cushion on my lap to rest my laptop computer. That works for me, but note a small backrest for sitting on the couch. 2. The large pillow has two "flaws" relative to my expectation: It is not as soft as I expected and there is no Zipper that would allow me to remove some of the stuffing. I counted on the zipper being there. My wife plans on using it as a backrest when sitting up in bed.
Vicki R (Canton, Georgia)
November 01, 2019
I got mine with a zipper which I highly recommend. I was able to get my pillow to my perfect level of comfort.
Kristen C (Richmond, Virginia)
August 16, 2019
I bought this for neck pain and a pinched nerve and it has worked wonders. I love you can adjust the fill to your liking.
Lindsay M (Brentwood Bay , British Columbia)
August 03, 2019
Excellent quality. Once I removed a bit of the latex to adjust the height for my body size, the pillow was perfect. Very comfortable and doesn't leave creases from pressure near my eyes like other pillows do. Very happy with my new pillow.
Barbara J (Glen Carbon, Illinois)
June 26, 2019
I like the pillow. It took a while to get the stuffing amount correct in order to reduce my neck discomfort. It's a stiffer feel but holds it's shape.
I have the WLH Kapok Pillow and the WLH Natural Shredded Latex Pillow. I absolutely love them both! The quality is impeccable and they are soooo comfy.
Amanda T (Leesburg, Virginia)
February 09, 2018
We use the pillows on a daily basis and often fall asleep on them on the weekends. I would recommend the pillows to anyone that wants throw pillows for their couches. We have the organic cotton, but also tried one of the latex pillows and like them all. \nThe quality is excellent. We don't have covers on them and have washed them once or twice and they have retained their shape and the filling hasn't turned odd from washing. Very durable with every day use.
Christine G (San Leandro, CA)
February 09, 2018
Love this pillow! Not too firm, not too soft, it's perfect!
Shelly F (Toluca lake, California)
February 09, 2018
I love how it is so full, I took some materials out and made a 2nd pillow with it. Great value!
Carolyn C
December 11, 2017
I LOVE this pillow. It is the perfect thickness and support. I recommended it to a friend and he is also happy with his purchase.
Michelle
December 03, 2017
These pillows are incredibly comfortable. I love that I can adjust them to my thickness preference by removing/adding some of the filler - and they'll last for so long! A really great product.
These pillows have the perfect level of firmness for us and have held up really well!
Can you show certification that the Natural Shredded Latex Pillow, or your products in general haven't been treated with PBDE or any kind of flame retardants? Nor have they been treated with formaldehydes. Again, asking for proper certification.
Sure, Mariana,

Please note that the shredded natural latex we use, we shred ourselves in New Brunswick, NJ. We use the scraps from all other natural latex we use to make our own mattresses and toppers. Is one of the many ways to try and upcycle. On this page: https://www.whitelotushome.com/bedding/wholesale-latex-from-the-rubber-tree.html you will see more about this and the certification held by our made in the USA vendor. We personally do not treat any of our products with any PBDE or any kind of flame retardants. We simple do not have any in our entire facility. The way we pass our fire test is by using wool as the only fire retardant in our mattresses.

Thanks for your question! Marlon
Does this pillow contain formaldehyde? Can you supply certification?
Hi, our shredded latex is all natural and we do have a OEKO TEX certification for the latex. https://www.whitelotushome.com/bedding/shredded-wholesale-nautral-latex.html. We can send you a free sample if needed, kindly provide us with your address at info@whitelotushome.com.
Would the natural shredded latex sleep pillow with a zipper in the queen size (20x30in) fit in any 20x30in zippered pillowcase, or would you recommend using a standard me (20x26) pillow for such a case?
A 20x30 Natural Latex Pillow, should fit fine in a 20x30 Pillow case.


Does this product contain the flame retardant chemical, PBDE?
Thanks for your interest in our Natural Shredded Latex Sleep pillows. All of our sleeping pillows -- including the natural latex ones in which you are interested -- do not contain PBDE or any kind of flame retardants.