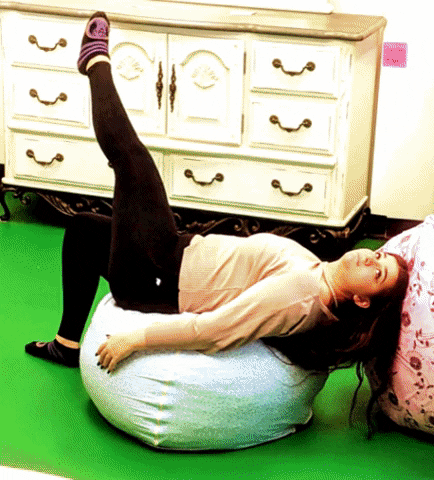 If you missed last week's announcement, we'll happily shout again that the Kapok Bean Bag is FINALLY HERE!!! 🎉🎉🎉
Our bestselling Kapok pillow just got a BIG, TOUGH sibling who can take a beating and bounce back (but he's really just a big softy on the inside).
Wondering what your life might look like with one of these big bags of fluff in your home?
While movie nights, video games, and book reading are a great start, here are 4 fun ideas you probably haven't thought of…
#1️⃣: Practice Mid-Air Poses
Take a leap, snap a shot, and come down on a super soft landing space!
The only thing more fun than diving onto a fluffy bean bag is having photos to look at (and share) afterward. 🤣
#2️⃣: Kick the "Kapok" Out of It
Now we don't mean that you should actually burst this bean bag chair and tear the stuffing out (you'd be missing out on an epic seat!). However, these soft yet resilient bean bags do make a great punching bag in a pinch. You can take the frustration out safely with these! Just like she did in the video! 👊
#3️⃣: Play a Game of Pass the Bean Bag
The bigger the bean bag, the bigger the challenge!
(Just don't throw it too hard, or you might knock over your receiver.) 🤭
Did you miss the viral planking challenge of '09? Now's your chance to jump back in!
Get your planks straight and keep your core tight all while protecting those elbows on a super soft yet firm bean bag chair. 💪
And as if all that fun wasn't enough, our all new Kapok Bean Bag is a pretty good guy on the inside! Here's why…
Kapok is a natural fiber that comes from the seed pods of the Ceiba Tree in Central America and Indonesia. With a silky and fluffy consistency, it has the fluffy feel of down feathers, but is plant-based like cotton, making it a wonderful vegan down alternative!
White Lotus Home's Kapok is:
🐥 Soft & fluffy, similar to down pillows (minus the animal products)
🌳 Vegan & Sustainable for a guilt-free addition to your home
🌱 Hypoallergenic & Ethically sourced
There is so much to love about this amazing fiber! We know you'll love it too.
Treat yourself to fun, comfort, and sustainability all in one!
732-828-2111 | TEXT ONLY 732-352-3628 | info@whitelotushome.com
745 JOYCE KILMER AVENUE, STE E NEW BRUNSWICK, NJ 08901