Green Cotton & Wool Boulder Dreamton Mattress
GCBLDDRM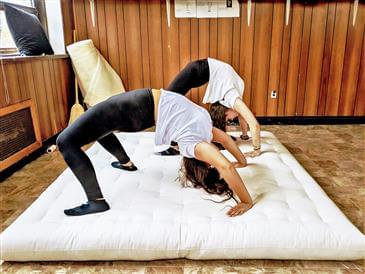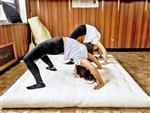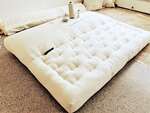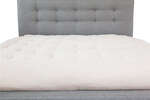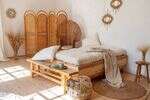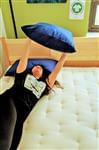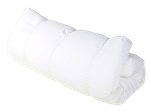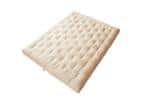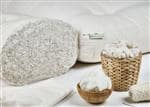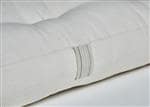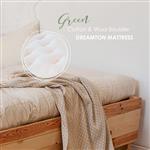 $867.00


Sleep Safe NOW Pay Later!
?
✅Stock items ship in 48 hours, new ones are handmade in 1 - 4 weeks. STOCK LIST!
Is this you?
✔ You know you need a good, supportive mattress in order to wake up feeling the best in the morning.
✔ You enjoy sleeping on your stomach or back.
✔ You experience back, neck, or joint problems.
✔ You often sleep with a partner or pet.
If you've said an enthusiastic "YES!" to all 4 points…The GREEN Cotton & Wool BOULDER Dreamton Mattress is your key to better sleep!
Bigger, firmer, and more luxurious than ever, the Boulder Dreamton mattress is everything its wool and Green Cotton counterpart is, but with 15% more cotton and twice as many tufts for a firm mattress that's all about support. The firmest mattress we make, the Boulder is comprised of a Green Cotton core with a wrapping of our pure wool. Deliciously solid, the Boulder starts as thin as six inches and can be made up to eight inches thick. It comes in all standard and custom sizes. They offer an organic and hypoallergenic alternative in every size.
What Is Green Cotton?
A more affordable option to our organic cotton products, our Green Cotton is grown in the United States — it just isn't certified organic. This more affordable material is slightly firmer than organic cotton, but the real beauty is in what it doesn't have:
NO dyes

NO perfumes

NO flame retardants
Grown by farmers right here in the US, Green Cotton is a fabulous cost-saving material that doesn't put you in contact with harmful chemicals typically found in conventional cotton.
Wool from Happy Sheep
Here at White Lotus Home, we hold our shepherds to the highest standards of quality and ethics. Our sheep are raised on rotating pastures to prevent erosion and overgrazing, and their beautiful wool is never treated with chemicals or flame retardants. Wrapped in a layer of the finest wool we source, the Boulder Dreamton mattresses are naturally antimicrobial and dust mite resistant, and require no flame-retardant chemical treatments to be safe. Wool is comfortable in the summer and winter, thanks to its natural insulative properties.
Sleeping on the Green Cotton and Wool Boulder Dreamton Mattress
The Boulder Dreamton is a mattress without springs, and as such won't transfer motion between sleepers. We recommend putting it on a box spring set or platform bed, or even using it as a floor bed. A slatted bed frame is recommended for air circulation and the slats should be at least no more than 2" - 2.5" apart from each other. When the slats are more than 2.5" apart, that may affect the longevity and comfort of your mattress. Firm and supportive, the Boulder Dreamton offers our firmest feel, in healthy and non-toxic materials you can feel good about curling up against.
Standard Mattress Sizes & Weights
Lower weights generally reflect a Latex Core or Evergreen Foam Core mattresses, while higher weights are more typical of a Boulder Style (extra firm) mattress. As all White Lotus Home products are unique, all dimensions and weights are approximate. A variation of up to 1" in all directions is appropriate.
| | | | | |
| --- | --- | --- | --- | --- |
| Mattress Style | | Dimensions | | Weight |
| Twin 6" Mattress | ∙ | 39 x 75 x 6" | ∙ | 70 - 80 lbs. |
| Twin 7" Mattress | ∙ | 39 x 75 x 7" | ∙ | 75 - 85 lbs. |
| Twin 8" Mattress | ∙ | 39 x 75 x 8" | ∙ | 75 - 90 lbs. |
| XL Twin 6" Mattress | ∙ | 39 x 80 x 6" | ∙ | 75 - 85 lbs. |
| XL Twin 7" Mattress | ∙ | 39 x 80 x 7" | ∙ | 75 - 85 lbs. |
| XL Twin 8" Mattress | ∙ | 39 x 80 x 8" | ∙ | 85 - 95 lbs |
| Double/Full 6" Mattress | ∙ | 54 x 75 x 6" | ∙ | 85 - 95 lbs. |
| Double/Full 7" Mattress | ∙ | 54 x 75 x 7" | ∙ | 90 - 100 lbs. |
| Double/Full 8" Mattress | ∙ | 54 x 75 x 8" | ∙ | 95 - 115 lbs. |
| Queen 6" Mattress | ∙ | 60 x 80 x 6" | ∙ | 105 - 120 lbs. |
| Queen 7" Mattress | ∙ | 60 x 80 x 7" | ∙ | 110 - 130 lbs. |
| Queen 8" Mattress | ∙ | 60 x 80 x 8" | ∙ | 120 - 135 lbs. |
| King 6" Mattress | ∙ | 76 x 80 x 6" | ∙ | 145 - 165 lbs. |
| King 7" Mattress | ∙ | 76 x 80 x 7" | ∙ | 155 - 175 lbs. |
| King 8" Mattress | ∙ | 76 x 80 x 8" | ∙ | 160 - 180 lbs. |
| Cali-King 6" Mattress | ∙ | 84 x 72 x 6" | ∙ | 145 - 165 lbs. |
| Toddler Mattress | ∙ | 28 x 54 x 3.5" | ∙ | 20 - 30 lbs. |
Shipping
All orders from White Lotus Home ship FREE in the contiguous United States.
If your order qualifies, our dedicated Dream Team will reach out to you at least 3 days before your tentative delivery date. To see if you qualify for our White Glove Delivery Service, click here.
Larger orders may need to ship via freight services.
Flipping Your Mattress
We recommend you flip your White Lotus Home mattress approximately every three months if placed on a slatted surface, and every month if on a solid surface (like a box spring) to avoid compaction and allow the materials to air out.
Cleaning Your Mattress
We always recommend spot cleaning our mattresses — never saturate them with any liquid. We always recommend to our customers that they add one of our protective Barrier Cloth mattress covers, to ensure spills never get out of hand.
To spot clean, we suggest a mild solution of three parts water to one part vinegar in a spray bottle, but for particularly stubborn spills, a mild detergent is perfectly fine to add to the bottle as well.
Always ensure your mattress is thoroughly dried after a spot cleaning, either by using a hair dryer or placing it in the sun to air out.
| | |
| --- | --- |
| Core: | |
| Firmness Style: | |
| Fabric Case: | |
What do you think of this product?
Share your thoughts with the White Lotus Home community.
Cary S (Boulder, CO)
August 04, 2023
Best natural cotton futon on the market anywhere.
Cary S (Boulder, CO)
July 10, 2023
This is the most amazing futon mattress in the world. There is no comparison.
Martha S (North Benington, VT)
October 11, 2022
Very much like being able to buy a mattress that is biodegradable. It is very firm and for me requires the topper for good comfort. The two combined are perfect.
Babette R (Austin, TX)
September 19, 2022
We use our mattress nightly. I could never consider any other type. For anyone who wants to wake up feeling rested, peaceful and aligned this mattress is highly recommended regardless of the firmness. It is about the quality of the materials and the craftsmanship. It is superior. It is a beautifully handmade mattress.
Jackie T (Vienna, VA)
March 27, 2022
Gauri N (St. Louis, MO)
February 21, 2022
Mattress is very comfortable!
Love this mattress! My husband and I have slept on one for the past five years and just bought a new, larger one as part of a bedroom upgrade. (The old one is still in great shape). We love this mattress because its firm prevents us from rolling into each other. It's also much cooler than memory foam mattresses and it doesn't have any chemical smell. On top of that, White Lotus's customer service has been excellent for both of our purchases. This is one company I truly enjoy doing business with. Thank you!
Mateusz K (Skokie, IL)
January 10, 2022
Good firm mattress. No issues so far. Smells a bit odd, but I'm assuming that's part of the charm of the natural materials (and most new mattresses smell far worse).
Alora M (Seattle, WA)
November 21, 2021
I use this as my every night bed. This is my second white lotus Boulder mattress. Would recommend for someone who prefers a very firm mattress.
Louis A (Tucson, AZ)
November 14, 2021
I have recommended this mattress to friends with back pain.
This mattress is great! It's very firm and doesn't seem like it will sag, but also is not hard. I've had it for a couple months and sleep very comfortably on it--no back pain. I got a 6" full and it is heavy, but it does have sturdy cotton handles on the sides to help you move or flip it. Thank you for the wonderful mattress!
Kevin D (Cascade, Colorado)
February 21, 2021
Ariel Ryan
January 22, 2021
2 years ago I was researching mattresses and came across White Lotus. I was pregnant with my 2nd and needing a mattress for my daughter so the crib could be used for baby. I knew I wanted an all natural mattress for her and was trying to figure out how to save up for it before my baby arrived. I signed up for a contest during my research and weeks later I received an email that I had won a mattress. I was completely surprised and assumed it was a scam as I was still saving up to be able to buy one. I called the customer service to notify them of the email- I really didn't think it was real. She assured me that it was and I was so taken back, I started tearing up. The mattress arrived and my daughter was so excited for her new big bed, that the transition from her toddler mattress to the new Twin size, was not an issue at all. It was an amazing gift to know she is sleeping comfortably and safely and will continue to as mattress will last a long time. I have since been back to White Lotus to buy us all Kapok pillows. I am a customer for life- thank you again White Lotus!
Katherine O (Keller, Texas)
January 15, 2021
Feels like we are in heaven - and feels good knowing we are not sleeping in a chemical laden mattress .....never slept so well in years - highly recommended
Hannah C (Greendale, Wisconsin)
November 30, 2020
Have been sleeping on it every night and we love it! We wanted a very firm mattress and this fits the bill. I would recommend not only this mattress but this company to anyone that needs a new mattress. The quality is clearly better than any mattress I've ever owned. It is handmade but very durable.
Francis J (Minneapolis, Minnesota)
August 14, 2020
This mattress is nice and firm! Maybe we should have got the 8" instead of the 7" because sheets don't fit very tight and my partner does not like creases in the sheets, but thats on us. The mattress firmness level is awesome!
Andrea O (Virginia Beach, Virginia)
March 25, 2020
We ordered this mattress for our son to move him out of a crib to a "big-boy" bed and he is stoked. I am excited because, like our daughter, I know that he is sleeping on a healthy mattress! Since *** all of our bedding (mattresses and pillows) has been purchased from White Lotus.
This is my third mattress from White Lotus. I'm very pleased w/this mattress. I hadn't ordered the one wrapped in wool (w/in a cotton cover of course) before, cuz I was afraid it would bother my immune issues, but this time I did and it's perfect. They all come w/a slight odor from the natural materials, but it does dissipate over time. This mattress is very comfortable, yet very firm which I love. I highly recommend it if you like a firm mattress w/no flame retardants.
Juddha T (Morgantown, West Virginia)
June 14, 2019
Use for sleeping. Recommend to everyone. Great quality.
Maureen Madden
December 15, 2018
I have many products from WHITE LOTUS and honestly, like them all! Am impressed with their philosophy of sleep and design! The Boulder mattress is the best mattress I have had, and have had many over the years. In an effort to achieve comfort related to scoliosis and MS mobility, I have tried many and conclude that the Boulder offers the most comfort, support.
I really like this mattress. It is firm and really helped ease my back problems I was having with previous mattresses that were too soft. When I bought the mattress I paid a little extra for handles, which is incredibly helpful for rotating the mattresses and move in/move out.
I love this mattress! It is very firm as described, super supportive; it also acts as a natural temperature regulator because of the wool and I don't get too hot or too cold sleeping on it. It just feels very comfortable and the way a bed should feel. I would highly recommend to anyone who likes a firm mattress!
How heavy is the Queen size mattress and can it be rolled or folded up for storage?
Queen mattresses range in weight between 100 - 120 pounds, depending on the style. As all White Lotus Home products are unique, all dimensions and weights are approximate. All of our mattresses can be rolled or folded for ease of storage --- in general, you may find greater success folding a Boulder-style mattress.
I am interested in the Boulder mattress. You recommend to be used either on a Platform Bed or box springs. I have been told that box springs do not provide enough air circulation for the cotton/wool mattresses. What is your opinion on this? Would there be a difference in mattress longevity and growth of mold using box springs vs. platform bed? Also, what is the average life expectancy of the Boulder mattress that will be used nightly? Thanks.
Hello,

Thank you for your inquiry. We have had customer use it on a box spring but do ask that you flip and rotate it more regularly. Please feel free to review our FAQs for specific answers. Here is some information found there that can be helpful:
What is the lifespan of a White Lotus Home mattress?
With proper care, your White Lotus Home mattress should have a long, healthy life. While an exact life expectancy is dependent on factors such as usage, regular flipping and rotating, and exposure to moisture, the following chart offers a general guideline:

Organic Cotton or Green Cotton Dreamton: 7-10 Years
Organic Cotton or Green Cotton & Wool Boulder Dreamton: 10 Years
Organic Cotton or Green Cotton & Wool Latex-Core Dreamton: 12-15 Years
Organic Cotton or Green Cotton & Wool Evergreen Foam-Core Dreamton: 10-15 Years
Evergreen Foam Mattress: 7-10 Years
All-Latex Mattress: 15-20 Years
Do note that these only represent an average expectancy. Many customers find that their handcrafted mattresses long exceed those averages --- the longest on record was a customer whose mattress was over 30 years old!

Cotton as a raw fiber tends to compress slowly over time, and if you prefer a firm sleep surface, you may find that your mattress ages better. Mattresses with an inner core will be a little more resilient and tend to wear a more evenly. By adding a core of Latex or Foam, the natural compression process is slowed. For this reason, the lifespan of a Foam Core or Latex Core mattress tends to exceed that of an all-cotton mattress. Our All-Latex Mattress is the most durable, as the raw material itself does not begin to break down for at least 15 years. As it is a solid block of natural latex foam, it will not compress and should maintain its shape over time.