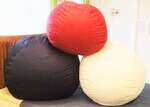 $405.00


Sleep Safe NOW Pay Later!
?
Natural Kapok Fiber Bean Bags in Cotton Twill fabric
If you like resting your head on a kapok pillow, how about resting your whole body on one?? Our bestselling Kapok pillow just got a BIG, TOUGH sibling who can take a beating and bounce back (but he's really just a big softy on the inside).
Grab your favorite cuppa and get cozy with Kapok! This bean bag feels like a big, warm bear hug. It's so comfy you might not want to get up!
The approximate weight of our Kapok Bean Bags:

Small 36" 30 lbs
Medium 42" 34 lbs
Large 48" 44 lbs

Our handmade bean bags are filled with natural Kapok fiber and encased in a cotton twill fabric. Yes, it also includes a zipper so that you can add more fiber if you ever need to.

Bean bag chairs are fun and comfortable. Eco-friendly, Natural, and Chemical Free bean bag chairs are even better because they give you peace of mind that you are doing right by the environment. Limit your carbon footprint with our eco-friendly bean bag chairs. Safer & a healthier option for your home, business, kid's room, living room, playroom, or game room.
With many color options and 3 different sizes, you are sure to find the perfect one for you. Get yours, today. Yes, we do custom-size bean bags also. Email your custom request to sales@whitelotushome.com

This bean bag is handcrafted in the fabric color selected when you place your order. Here are 100% cotton and organic cotton removable covers that you can add to your order.
Kapok Fiber
Kapok is a natural fiber that comes from the Ceiba Tree in Central America. Kapok fibers come from the trees seed pods, which shed seasonally, meaning there is no machinery required to harvest it.
With a silky and fluffy consistency, kapok has the benefits of being fluffy like down, but plant-based like cotton, making it a wonderful vegan down alternative.
Kapok - Vegan & Sustainable alternative to down pillows!
🐥 Soft & fluffy, similar to down pillows (minus the animal products)

🌳 Made with vegan, sustainable fiber from the Ceiba Tree

🌱 Hypoallergenic & Ethically sourced

🌾 Encased in pure 100% cotton

👌 Hand-stuffed to avoid lumps & customizable so you can find the perfect firmness

You can purchase additional Kapok fiber by the lb here.

This is how to measure our Bean Bags.
SMALL 36"



MEDIUM 42"



LARGE 48"

What do you think of this product?
Share your thoughts with the White Lotus Home community.
Libbie O (Belgrade, MT)
January 26, 2023