Organic Cotton Crib Mattress
ORGCRIB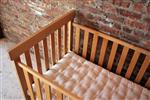 $971.00


Sleep Safe NOW Pay Later!
?
We know that your choice of crib mattress is just as important (if not more so!) than the crib itself. That's why White Lotus Home had worked for over 35 years to create the ultimate in healthy, earth-friendly, supportive and comfortable sleep environments for infants.
Our natural crib mattresses are made differently from any other crib on the market: each is crafted by hand, one-at-a-time.
Our all-cotton
Dreamton
Crib mattresses take three days to craft by hand. Each crib contains an inner core of unbleached, untreated cotton batting --- almost twice as many layers as a standard Toddler Mattress. The initial 18 to 20 layers of cotton, measuring about 26-30" thick, are compressed during a process spanning three days. This labor-intensive technique results in a final product measuring 3.5" thick. In an effort to reduce the risk of SIDS, the crib style is immensely firm --- so much so that it cannot be bent or folded. We value our customers and want to ensure that all mattresses used for infants and small children meet the most stringent of safety standards as set by the Consumer Product Safety Commission. Each crib contains an interior cotton core wrapped in a layer of virgin lambswool from within an unbleached, 100% cotton case. For Organic Cotton Mattresses, all cotton components (the exterior case and interior core) consist of GOTS Certified Organic Cotton.
While standard crib mattresses normally measure 27x52 inches or 27.5x52 inches, all White Lotus Home Organic Cotton Crib mattresses measure 28x54x3 inches. The reason ours are handmade to be a little bigger is that we use only natural fibers that compress really well. In order to make sure children sleep on the safest mattress possible, making sure the crib mattress fits nice and snuggly is the best way to go. We have been handcrafting them this way since 1981. We do make custom sizes if you prefer a different size, please do let us know.
Organic Cotton Crib Mattress ∙ 28 x 54 x 3.5" ∙ approximately 26 lbs.
To purchase a mattress without wool or other flame retardants, you must submit a doctor's prescription before your order can be crafted and shipped. The note must be written on a prescription block or a formal letterhead, though the latter must include a DEA Number to be considered valid under Federal Regulation 1633. For legal reasons, we cannot accept notes from practitioners who cannot dispense medication, which includes a number of chiropractors, acupuncturists, and naturopaths. The note may read as follows: "My patient requires a chemical-free mattress." You are welcome to purchase a mattress without wool or other flame retardants before obtaining a formal prescription. We will place the item on hold: you will maintain your place in our Production Queue, preventing any delays with your order, but we are unable to craft the mattress until an acceptable prescription is received.
Toddler mattresses are recommended for children 12 months and older, as the surface is far softer than a crib mattress. Both styles generally measure the same length and width to fit snuggly within crib frames, convertible frames, and toddler beds. As your child grows, you also have the option to add a Mattress Topper for a layer of cushion and softness above the density of the crib mattress.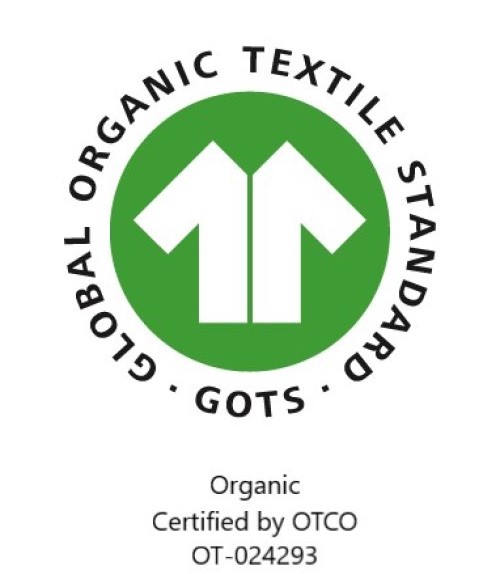 View our GOTS organic certificates for Organic Tilth (OTCO).
White Lotus Home handmade crib mattresses are made differently from any other crib you can buy. We have been making this type of crib since 1981, making a natural product that is safer and healthier for your baby. We believe that a firm cotton crib mattress is the greatest sleeping surface any amount money can buy and your newborn deserves to start his or her life, sleeping without harsh chemicals. All White Lotus Home natural mattresses are handmade in the USA, some take one, while others take about five hours to make. The crib takes up 3 days to make, in order to get the firmness necessary to reduce the risk of SIDS and provide the firm surface a newborn needs.
How is it made? We place about 20 layers of US Grown Green Cotton or 100% USDA and GOTS Organic (depending on your choice) cotton batting on top of each other, which piles high at about 24 to 30 inches high, we then compress these layers into a case that is only 3.5 inches thick. This is the hardest part of creating this great crib for your little one. We then crush this crib for 72 hours before we hand tuft the crib and ship it out. It takes an artisan about 6 months to learn how to create a White Lotus Home crib.

Every parent or parent-to-be needs should read these two documents: a letter to Mothering Magazine on the relationship between SIDS and conventional cribs versus natural cribs, and a detailed explanation of the cribs.

Read the latest on SIDS, or learn more about how White Lotus Home children products may help reduce the risk of SIDS.
What do you think of this product?
Share your thoughts with the White Lotus Home community.
Adam L (LOUISVILLE, CO)
April 14, 2022
We wanted a safe, chemical free mattress for our little one, and this ticked all the boxes. It's really well made, just like our Organic Cotton and Wool Dreamton! They're still little right now, but we'll be using this as their toddler bed mattress too, with maybe the addition of a topper to make it a bit softer.
Brianna L
February 28, 2019
We bought 2 of these crib mattresses for our sons and couldn't have been happier! Both of our boys have medical concerns so having a healthy place to sleep really matters to us. Both of our boys slept like a dream on them which is priceless to new parents! These mattresses also fit well in a standard size crib but a deeper pocket sheet fits the best.
Rebecca Hess
January 26, 2018
My daughter, son and nephew all got to enjoy sleeping on our green cotton crib mattress when they were babies. Wanting a vegan option, we got the prescription to get it made without wool. The quality and feel of the mattresses was incredible and the fact that it made it through 3 kids speaks to it's durability. We used an organic cotton waterproof pad to protect it and never had any issues. I definitely recommend using a natural moisture barrier instead of covering this beautiful mattress in plastic 😊
Do these mattressed pass flammability test? If yes, do you have flame retardant in it? if not, cotton as it is can not pass the test I am pretty sure
Yes, all White Lotus Home mattresses pass the FR1633 testing. It does it with pure wool, we wrapped about 2 inches of wool as the outermost layer. However you can get one with out wool as long as you have a doctors note. Please see our Frequently Asked Questions for more details or email us at info@whiteloshome.com Thank you!