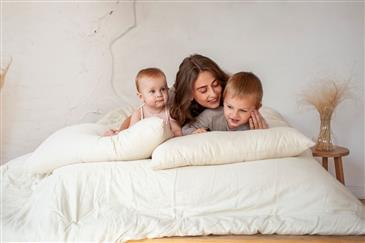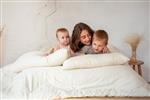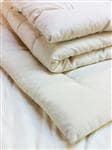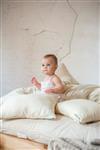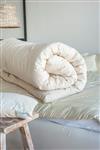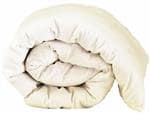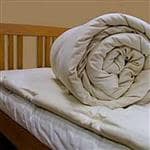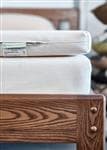 $410.00


Sleep Safe NOW Pay Later!
?
Handmade Natural or Organic Toddler Toppers
Ready to move your baby to a toddler bed or want to add a little extra softness to their toddler bed set up? Any of these great toppers add just enough to any firm sleeping surface.
Organic Cotton Topper - Soft, Supportive, & Pure - 100% Organic Comfort You Can Trust

Luxurious softness, supreme comfort, and ultimately, a restful night's sleep. This 100% organic topper gives you a 100% natural sleeping surface, free from all artificial materials and chemicals. Once this topper is on your child's bed, they'll melt into a 2" thick cushion of all-natural soft yet supportive 100% organic cotton comfort. This topper is also available in a 4" thick option for double the plush body-cradling comfort. This item is a GOTS certified product.
Available sizes:
28" x 54" x 2"
28" x 54" x 4" EXTRA
Wool Topper
Pure wool layers are used to give your child a cloud-like feel while being encased in a luxurious organic cotton twill fabric. This topper is also available in 2" thick or 4" thick options. Since wool is a temperature regulator, it will wick moisture from your child while they sleep and keep them cool. Have a child with dust allergies? Wool is a natural dust mite repellant so they can sleep through the night!
Available sizes:
28" x 54" x 2"
28" x 54" x 4" EXTRA
Green Cotton Topper
This Green Cotton Topper is made with a 100% Cotton case and the inside is 100% Green Cotton layers. Our Green Cotton is grown and aggregated in the United States, and even though it is raised with traditional agriculture methods, our local green cotton is pre-rinsed and manually cleaned before it arrives. We call this cotton "green" because it is growing in the USA, there are no dyes, perfumes, or fire retardants added to it after it is harvested. Green cotton is slightly firmer than organic cotton, and there's plenty to feel good about!
Available Sizes
28" x 54" x 2"
28" x 54" x 4" EXTRA
Natural Latex Topper
The most resilient topper we handcraft. Made with a 2" natural latex core, wrapped in a layer of pure wool, the slight springiness of the natural latex provides just enough give or comfort that helps anyone sleep through the night, so why not spoil your toddler? The outer casing is made from our organic cotton sateen fabric.
Available sizes:
28" x 54" x 2"
Evergreen Foam Topper
Want some softness but no springiness? Then this is the topper to get. The Evergreen foam topper made with a 2" foam core wrapped in Pure US Wool and encased in a 100% cotton casing. This eco-friendly foam topper has been very well received by our customers that want a conventional topper look but want to sleep in a natural environment.
Available sizes:
28" x 54" x 2"
What do you think of this product?
Share your thoughts with the White Lotus Home community.
Would you be able to custom make a certain size for me? Say... 52x 52?
Thank you for your email. Yes, we would be able to do that. Please tell us which kind (Wool , Organic Cotton, Green Cotton) and we can send you a quote. The price should be around the price of a twin or double size.