All Organic and Green bedding, ships for FREE in the contiguous US!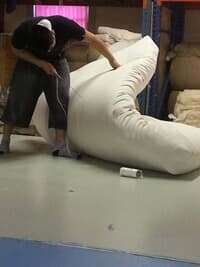 We offer a variety of natural bedding options. Our natural bedding products help you achieve a comfortable and healthier night's sleep. We recommend our cotton or wool mattress pads for any and every mattress. Wool Toppers are multi-functional, softening your sleeping surface while regulating your body's temperature and acting as a natural dust mite repellent.
CARE All our bedding is NOT washable, spot cleaning and dry cleaning is highly recommended. Hanging out your bedding on a nice sunny day helps keep your natural bedding clean and fresh. Placing wool, kapok and cotton pillows in a dryer at AIR-ONLY would help keep them nice and fluffy for a while.
Our Cozy Wool or Cotton Duvets and Sheets are luxurious, safe, and eco-friendly alternatives.
Stowaways make the perfect guest bed and come in a variety of colors and all standard mattress sizes. It can be easily stored and can be used to increase your current comfort level in your existing mattress.
Our bedding is made up of the natural fibers. We handcraft all of our soft goods in the USA.. If you do not see the natural bedding you are looking for, please email sales@whitelotushome.com with your specifications and we will send you a quote.
Because we know how hard it can be to shop for a natural mattress online, we offer a way for you to try them first: SAMPLES available.
All products sizes and weights
Organic & Natural Fibers: All our mattresses and bedding are made with the finest fibers on Earth. For details about our Buckwheat Hulls, Organic Cotton, Green Cotton, Kapok, Pure Wool and Latex please visit this LINK!


Shipping to: Alaska, Hawaii and International is available by calling, or after placing your bedding order online. We will simply get back to you with the best quote.
Natural Handcrafted in the US, Bedding by White Lotus Home