US HANDMADE MATTRESS WITH ECO-FRIENDLY FOAM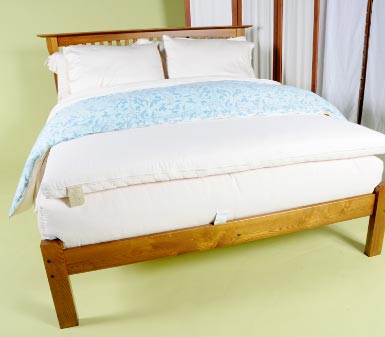 FREE SHIPPING in the contiguous US!
We do ship all over the world, for the added cost to ship, please send your address and list of products you want to purchase to info@whitelotushome.com. Thank you!
The Evergreen Foam Mattress - Handmade in the US by White Lotus Home.
Our Evergreen Foam System includes a 7" inch mattress.
This affordable mattress system has been well received by our customers that want a firm yet responsive feel while sleeping on a Natural bed.
For more information on our Evergreen Foam, please see the Evergreen Foam Product Page here.
Please note, unlike our other mattresses, standard Mattress height for an Evergreen Foam Sleep System is 7". The Topper is 3". Custom heights are available, please contact sales@whitelotushome.com for more information.
White Lotus Home natural mattresses are available in standard sizes. We also custom make mattresses, cushions, covers, and pillows to your specifications.
Because we know how hard it can be to shop for an organic or natural mattress online, we offer a way for you to try them first: SAMPLES available.
Organic & Natural Fibers: All our mattresses and bedding are made with the finest fibers on Earth. For details about our Organic Buckwheat Hulls, Organic Cotton, Green Cotton, Kapok, Pure Wool, Latex and EverGreen Foam, please visit this LINK!
NOTE: Because White Lotus Home does not add perfumes, formaldehyde, or dyes to our natural fibers and materials, some of our items will retain their natural scent. Samples of all of our fibers are available for free by contacting our sales department by email, sales@whitelotushome.com or by calling 732-828-2111.
---
{{/if}}