Do you have back & neck pain?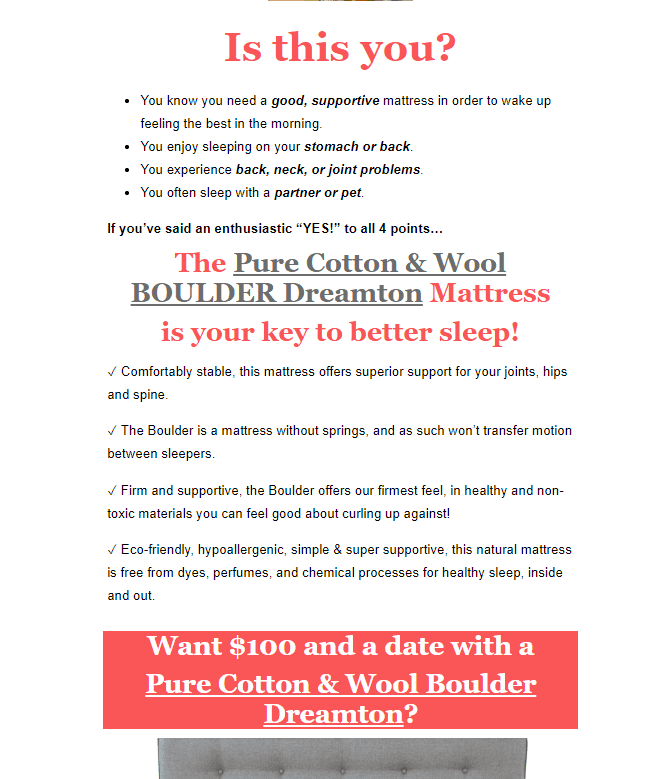 Do you have back & neck pain? | VIEW IN BROWSER
MATTRESSES | FUTONS | TOPPERS | PILLOWS | NEED IT NOW? | BEDDING | MORE | DUVETS
---
Is this you?
You know you need a good, supportive mattress in order to wake up feeling the best in the morning.
You enjoy sleeping on your stomach or back.
You experience back, neck, or joint problems.
You often sleep with a partner or pet.
If you've said an enthusiastic "YES!" to all 4 points…
is your key to better sleep!
✓ Comfortably stable, this mattress offers superior support for your joints, hips and spine.
✓ The Boulder is a mattress without springs, and as such won't transfer motion between sleepers.
✓ Firm and supportive, the Boulder offers our firmest feel, in healthy and non-toxic materials you can feel good about curling up against!
✓ Eco-friendly, hypoallergenic, simple & super supportive, this natural mattress is free from dyes, perfumes, and chemical processes for healthy sleep, inside and out.
Want $100 and a date with a


Reply YES to reserve your $100 cash and schedule an appointment at White Lotus Home!


Too far away from New Jersey to come visit?


Not feelin' it?
In an effort to help small businesses compete with the GIANTS who often gain our sales by offering Prime kind of services. White Lotus Home, it's retailers and website partners, are now offering OPTIMUS turn-around times! INTERESTED?
745 JOYCE KILMER AVE STE E. NEW BRUNSWICK, NJ 08901 INFO@WhiteLotusHome.com | 732-828-2111
FOLLOW US
Questions? Contact us today 1-877-426-3623