Need a little extra support?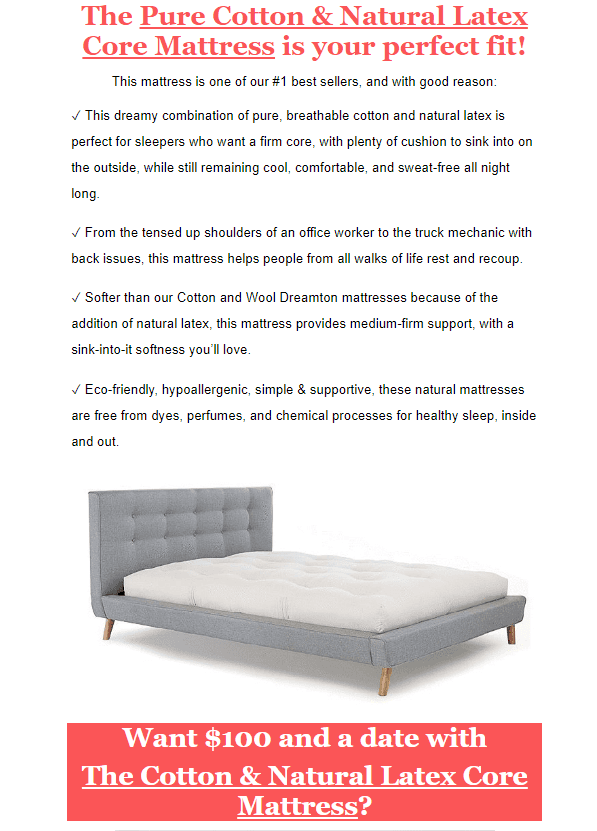 MATTRESSES | FUTONS | TOPPERS | PILLOWS | NEED IT NOW? | BEDDING | MORE | DUVETS
---
Does this sound like you?
You like a soft mattress, but still need a little support for perfect, comfortable sleep.
A sleeping surface that breathes sounds like heaven to you.
You often have a partner or pet sleeping alongside you.
You're like Goldilocks & the three bears. Your bed can't be too soft or too hard, and you can't be too hot or too cold. Your mattress has to be just right for you to get the best sleep.
Sound familiar? If so...
This mattress is one of our #1 best sellers, and with good reason:
✓ This dreamy combination of pure, breathable cotton and natural latex is perfect for sleepers who want a firm core, with plenty of cushion to sink into on the outside, while still remaining cool, comfortable, and sweat-free all night long.
✓ From the tensed up shoulders of an office worker to the truck mechanic with back issues, this mattress helps people from all walks of life rest and recoup.
✓ Softer than our Cotton and Wool Dreamton mattresses because of the addition of natural latex, this mattress provides medium-firm support, with a sink-into-it softness you'll love.
✓ Eco-friendly, hypoallergenic, simple & supportive, these natural mattresses are free from dyes, perfumes, and chemical processes for healthy sleep, inside and out.
Want $100 and a date with


Reply YES to reserve your $100 cash and schedule an appointment at White Lotus Home!
Too far away from New Jersey to come visit?
Not feelin' it?
Keep an eye on your inbox for a letter from
Ready to play?
Check your inbox next week to be introduced to the first contestant
In an effort to help small businesses compete with the GIANTS who often gain our sales by offering Prime kind of services. White Lotus Home, it's retailers and website partners, are now offering OPTIMUS turn-around times! INTERESTED?
745 JOYCE KILMER AVE STE E. NEW BRUNSWICK, NJ 08901 INFO@WhiteLotusHome.com | 732-828-2111
FOLLOW US
Questions? Contact us today 1-877-426-3623