ATTN Seamstresses, Crafters, & DIY'ers!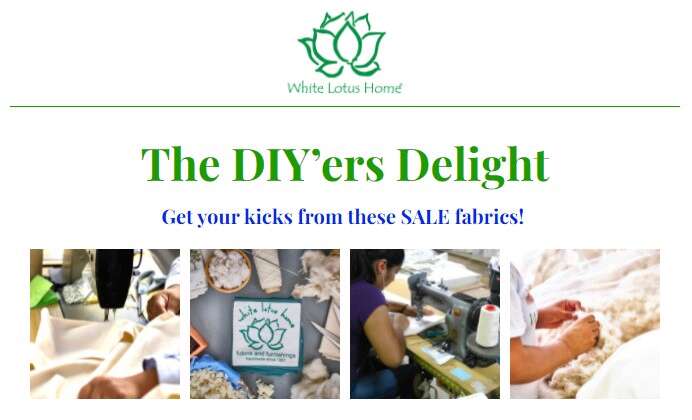 In today's issue:
Get the silky-smooth scoop on Organic Sateen
Some solid sewing ideas for this truly versatile fabric
Shop our End of Season

SALE Organic Fabrics!
Have You SATEEN 👀 These Prints?!
Treat yourself to a splash of color while you wait for spring to arrive.
🌷
The last weeks of winter are often the hardest. Afterall, we've been facing cold temperatures and gray skies for months!
A little color in your home, wardrobe, or crafting space could be just the pick me up you need to pull through this winter on a high note. That's why we've decided to clear out some of our fabric inventory and treat our lovely community to an End of Season Sale!!
Go wild shopping and rest assured because this silky smooth Organic Cotton Sateen fabric is held to the highest standards when it comes to health and sustainability.
Our Organic Cotton Sateen is:
Pesticide and insecticide free

100% natural and biodegradable

Safe for sensitive skin

Eco-friendly, consuming 91% less water to grow than regular cotton

Ethically made, protecting farmers from pesticide exposure
What to Sew from Sateen?
Some Solid Ideas for this Super Soft Organic
🌱
Fabric
Aside from being supremely soft, this fabric is wonderful for a number of more practical reasons, too. It's light, breathable, and more comfortable and even healthier than synthetic alternatives like polyester. That makes cotton sateen a good choice for a wide array of projects, like:
Pillow Cases:

Whether you need a

new case

for your

sleeping pillow

or some colorful

throw pillows

for your couch, Sateen offers a soft and breathable surface to lay your head or lounge on.

Child's wear:

Soft and comfortable yet durable, Sateen can also be a great choice for longer-lasting children's clothes.

Pajamas:

There's a reason we make

our sheets

from Sateen! Offering luxurious comfort and breathability,

Organic Cotton Sateen

is truly delightful to sleep in.

Wide Leg Trousers, Ruffled Skirts, or Shirt Dresses:

Since this fabric is wrinkle-resistant, it's especially useful for a fashionable design.😀
Let your imagination run wild, then tag us on Instagram @whitelotushome with your creations for a 5% OFF Coupon! 😁
We can't wait to see what you create! ✂️
Indulge in Pure Organic Luxury for Less!
Take 20% off Organic Fabrics with Coupon Code: Sateen at checkout!
OFFER ends at 11:59 PM EST on 02-24-2022!
*Plus, get an extra 5% off if you pay via Zelle, check, or cash!