T-ROLL PILLOW ONLY
TROLLPILON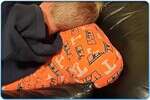 $69.00


Sleep Safe NOW Pay Later!
?
T-ROLL PILLOW (only, no cover) - 20"L x 16"W x 2" H
This ONE pillow offers multiple uses.
There's simply NO comparison! No specialty pillow is as multi-faceted with endless capabilities as the T-Roll.
Uniquely designed and proven therapeutic benefits make the T-Roll the obvious choice!
Superior back and neck support.
Use it while sitting for extended periods.
Great for vehicles, cars, and home lounging.
Great for prenatal and pregnancy use also.
Homeopathic rehabilitation.
Intimate comfort.
This T-Roll Pillow is filled with natural Kapok fiber that is in a 100% Cotton case.
Made for Laxback, LLC.
Founded by Langtry Hill

Patent in September 2017!

What do you think of this product?
Share your thoughts with the White Lotus Home community.