NEWS RELEASE - Earthfest White Lotus Home Anniversary Celebration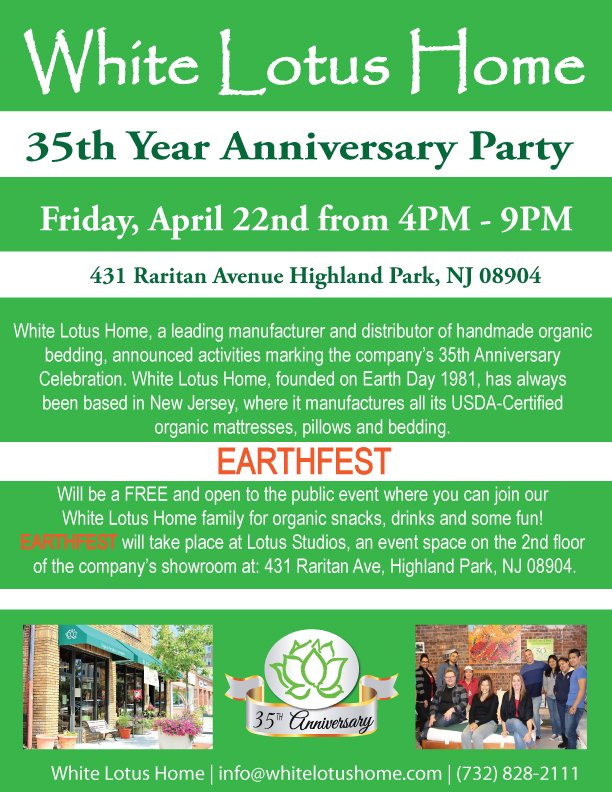 HIGHLAND PARK, NJ – White Lotus Home, a leading manufacturer and distributor of handmade organic bedding, announced activities marking the company's 35th Anniversary Celebration. White Lotus Home, founded on Earth Day 1981, has always been based in New Jersey, where it manufactured all its USDA-Certified organic mattresses, pillows and bedding from pure wool, cotton and other natural products.
On April 22nd, 2016, White Lotus Home will sponsor Earthfest, a celebration of Earth Day at its Highland Park factory and showroom to mark the company's 35 years in business. "Everyday is Earth Day at White Lotus Home," said Marlon Pando, White Lotus Home's president. "We're a thrilled for so many years to share our passion for the health benefits that come from a Green lifestyle. We're proud to call New Jersey home. We've been part of the community from the start. That will never change."
Earthfest, which is free and open to the public, is scheduled from 4 pm to 8 pm at Lotus Studio, an event space above the company's showroom at 431 Raritan Ave, Highland Park, NJ. The diverse gathering of political leaders, community organizers, local small businesses, artisans and green grocers. White Lotus artisans in Highland Park manufacture and sell housewares and bedding made from eco-friendly products free of toxic materials and fire retardants. The products are sold by a network of 100 online resellers and retail outlets in the U.S. and Canada. The company also manufacturers Private Label products, which are resold by ultra-luxury and regional brands.
"As the Internet continues to make the world a smaller place to do business," explained Elizabeth Pando-Nieves, White Lotus's vice president who oversees Private Label and wholesale operations, "we can reach our customers in all of the Americans? and Canada and major cities in the world, particularly in the Caribbean, South and Central America."
About White Lotus Home. 
White Lotus Home is a leading manufacturer and distributor of organic bedding dedicated to our customers, our employees and our planet. Founded in 1981, our company provides consumers with certified organic bedding created by hand from pure American-grown cotton, wool and other natural products. White Lotus Home is dedicated to educating consumers about indoor air quality and toxic chemicals in mattress foams, glues, and fire retardant substances. Our showroom and fabrication plant in Highland Park, N.J., supplies a network of 100 online resellers and retail outlets in the U.S. and Canada. White Lotus believes that quality and fair value are more important than low prices and a quick profit. We oppose the exploitation of the planet and its inhabitants. Above all, our people, products and business practices are socially, politically and environmentally responsible.
MEDIA CONTACTS
Marlon Pando
President
White Lotus Home
George E. Jordan
Griot MediaWorks