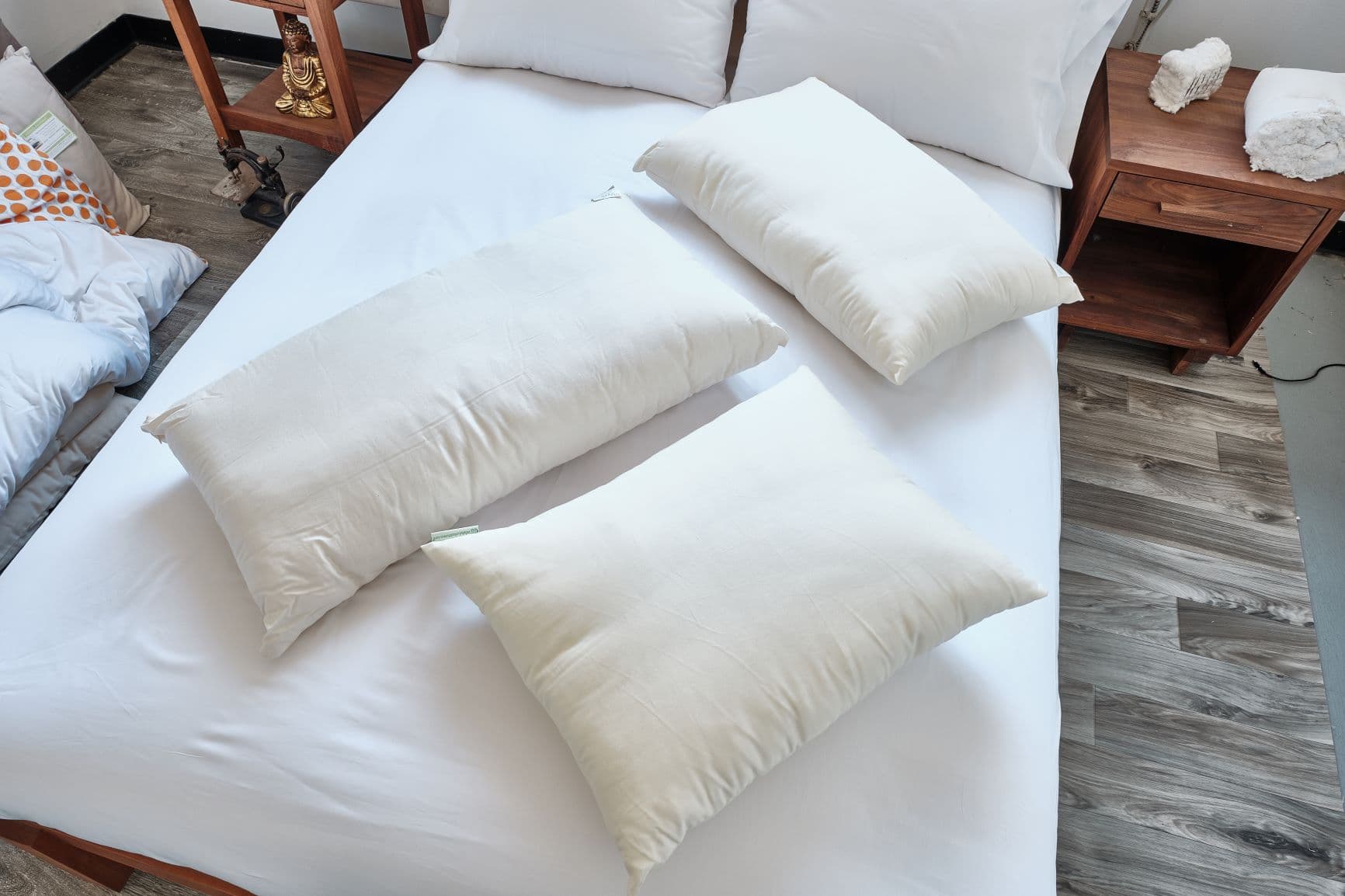 Find the perfect pillow
Whether you're preparing for the new school year or replacing your tried-and-true favorites, now is the perfect time to stock up on handcrafted pillows by White Lotus Home!
How to Choose a Natural Pillow...
The best inner fill for your needs would depend on your comfort level. Do you enjoy a firm, dense pillow, or something fluffy and giving? Do you look for a pillow with a low profile? Do you like the feel of a traditional pillow, or are you open to organic buckwheat? Each fiber has its own "personality", and our Organic Bedding Professionals are here to help you find your best match.
Let's find a match...
The Goldilocks of pillows, Green Cotton pillows are a medium-firmness that's just right and are wonderfully breathable in warm climates. Encased in soft and smooth organic Sateen Cotton, these pillows can be fluffed, refilled, and reused for years to come.
Meet our hybrid pillow — the half buckwheat hull, half wool pillow that conforms to your body, but gives you an escape from the rustling of seed hulls. Perfect for sleepers sensitive to the fine noises buckwheat hulls can make in a pillow casing, our unique Buckwool pillows offer the best of both worlds:
The quiet, plushness of wool
The conforming support of buckwheat hulls
Best for people with neck or back pain who still want a soft, breathable pillow; Great middle ground for many, can be flipped from wool side to buckwheat side depending on personal preferences.
For the best support while you travel! A smaller version of our standard pillows, our 12x16 Travel Contour pillows are small enough to take with you on the plane or in your suitcase! They always include a zipper so you can add or remove fill when needed. Come in Kapok, Organic Cotton, Green Cotton, Wool, and Buckwheat.
Change it up!
All of our pillows are offered with or without a zipper. If you are unsure of which firmness to purchase, we recommend you select a pillow with a zipper. The zipper allows you to adjust the inner fibers to reach your own personal comfort level, as you can add or remove filling to your liking.
Many pillows, such as cotton and wool, may compress over time: purchasing a pillow with a zipper allows you to add fibers back over time to maintain your preferred level of comfort. Others, such as kapok, may absorb the healthy oils from your face and hair and may benefit from the occasional manual readjustment. Consider it insurance for your bedding!
Quick VIDEO on How to Find the Best Pillow
Shop Our Natural & Organic Pillows...
White Lotus Home
Facebook | Twitter | Instagram | Pinterest | White Lotus Home Blog